Acacia Mining Says It's Worth Far More Than Barrick Offered
(Bloomberg) -- Acacia Mining Plc said it's worth a lot more than the takeover offer drafted by Barrick Gold Corp., showing the African gold miner is digging in its heels in a long dispute with its majority shareholder.
Acacia released a report by a consultant on Tuesday that put its "preferred value" at 271 pence a share. That's 35% more than Barrick's informal proposal to buy the company in an all-stock transaction currently valued at 201 pence a share. Barrick said in a statement that it's reviewing the report against its own due diligence study of Acacia's assets.
Barrick, which owns 64% of Acacia, also said its request to postpone making a firm offer until July 19 had been approved by the U.K. Takeover Panel. The company plans to meet early next week with Acacia and the consultant, and provide an update to shareholders.
The extension drags out the contested takeover battle even longer and comes after Barrick was already granted a three-week delay. In an interview in June, Barrick Chief Executive Officer Mark Bristow said he would use the time to lobby minority shareholders, but had no intention of raising the bid price.
The price being offered is "laughable," James Rasteh, founder of Coast Capital LLC, said by phone Wednesday. "Not only is it undervalued, we think Barrick has shown an extraordinary disregard for minority shareholders." Coast Capital owns less than 1% of Acacia shares outstanding, he said, and doesn't hold Barrick.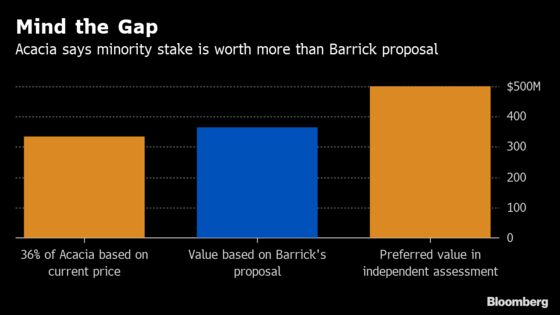 The clock is ticking as Acacia, stuck in a public battle with Tanzania's government since 2017, has seen its shares collapse by more than 60%.
Top officials in the East African country won't engage with Acacia in any way, Bristow said last month, raising the possibility the situation could get even worse. But Rasteh said a deal negotiated by Barrick Executive Chairman John Thornton, which is now being advanced by Bristow, is value-destructive.
"He seems to be using his existing vehicle to sop up these assets at the most opportune time at a ridiculously low valuation," Rasteh said of Bristow. "There are a number of investors who are of the view that a lawsuit is warranted here and we would be of that view as well." He declined to say who the other investors are, or to comment further.
A spokeswoman for Barrick didn't immediately respond to a request for comment.
Two years ago, Tanzania imposed an export ban on Acacia and handed the miner a $190 billion tax bill. Since then, the company's position in the country has deteriorated further, while its relationship with Toronto-based Barrick has become increasingly strained. Acacia has been seeking to work out some of its Tanzanian issues through international arbitration, which was expected to begin in London this month.
Acacia's board continues to believe a Barrick buyout would be an attractive solution at a fair price, Acacia said in its statement. If the board were in a position to recommend an offer, it would also discuss staying the arbitration, it said.
Bristow surprised the market in May with an informal plan to buy out Acacia's minority shareholders for $285 million in stock, a discount of about 8.5% based on closing prices of both companies at the time.
To contact the reporters on this story: Danielle Bochove in Toronto at dbochove1@bloomberg.net;Elena Mazneva in London at emazneva@bloomberg.net
To contact the editors responsible for this story: Phoebe Sedgman at psedgman2@bloomberg.net, ;Luzi Ann Javier at ljavier@bloomberg.net, Steven Frank, Joe Richter