Abu Dhabi to Deepen Egypt Ties With Deals Worth $2 Billion
Abu Dhabi to Deepen Egypt Ties With Deals Worth $2 Billion
(Bloomberg) -- An Abu Dhabi wealth fund agreed with Egypt to invest about $2 billion by buying state-held stakes in some companies, including the North African nation's largest listed bank, according to people familiar with the deal.
Part of the agreement with ADQ involves it buying about 18% of Commercial International Bank, said the people who asked not to be identified as the talks are confidential. 
Along with the CIB portion, which comprises about half the overall deal, ADQ is buying stakes in four other companies listed on Egypt's stock market, including Fawry for Banking & Payment Technology Services SAE, the people said.
ADQ was not available to comment, while Fawry declined to comment.
Fawry and CIB outperformed the benchmark EGX 30, which is at its highest since January. Fawry jumped as much as 11%, the most since May 2021, after the news. CIB rose as much as 6.3%. They led gains amid a broad rise in banking and financial shares after the central bank raised interest rates in an unscheduled meeting on Monday.
Such funding would be welcome for Egypt, where the economy is being put under increasing pressure from the shockwaves of Russia's invasion of Ukraine. The central bank held a special policy meeting Monday and hiked interest rates for the first time since 2017, while the currency weakened sharply.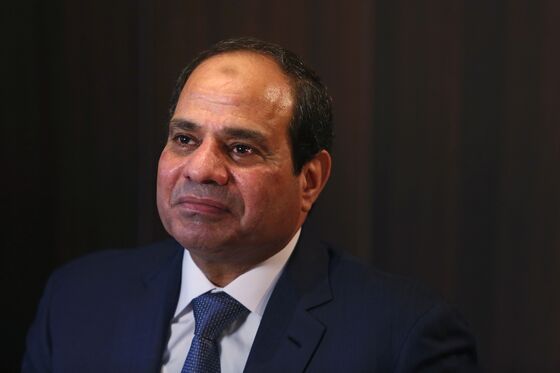 Fitch Ratings has warned the conflict in Ukraine will cause "reduced tourism inflows, higher food prices and greater financing challenges."
The UAE has been a key backer of Egyptian President Abdel-Fattah El-Sisi, offering much needed economic support in the form of investments or other assistance. Egypt and the UAE set up a $20 billion joint strategic platform in 2019 to invest in a range of sectors and assets. It's run through Egypt's sovereign wealth fund and ADQ.
The Arab world's most populous country is also in talks with the International Monetary Fund on possible support that could include a loan, according to people familiar with those discussions.
ADQ last year bought an Egyptian pharmaceuticals company from Bausch Health Cos., while also investing in a UAE supermarket chain expanding in the North African country. Aldar Properties PJSC, backed by Alpha Dhabi Holding PJSC, meanwhile agreed to buy an Egyptian developer known as Sodic.