ABB India Submits Bid For 4,500 Electric Vehicle Charging Stations 
ABB India bids for charging stations under government's electric vehicle tender.
The Indian arm of Swiss power equipment and robotics company ABB has submitted a bid to provide 4,500 charging points as part of the government's tender to procure electric vehicles to push cleaner transport.
"We already provide electric vehicle charging infrastructure in some of the European cities," Sanjeev Sharma, managing director of ABB India, told BloombergQuint in an interview on the sidelines India Economic Summit 2017 of the World Economic Forum in New Delhi today.
The government will buy 10,000 electric sedans through state-run Energy Efficiency Services Ltd. in its first step toward making all cars electric by 2030. Tata Motors Ltd. and Mahindra and Mahindra will supply 500 cars in the first phase.
"India not only needs to consume green, but also generate green. That would require enough electric vehicle manufacturers in the country," Sharma said. "Right now, there is just Tata Motors and Mahindra and Mahindra. We need global majors to come in as well so that consumers have a choice."
ABB India is talks with original equipment makers to supply the electric vehicle charging infrastructure. "If you are generating and consuming green power, the cost for the infrastructure is going to be very competitive," he said.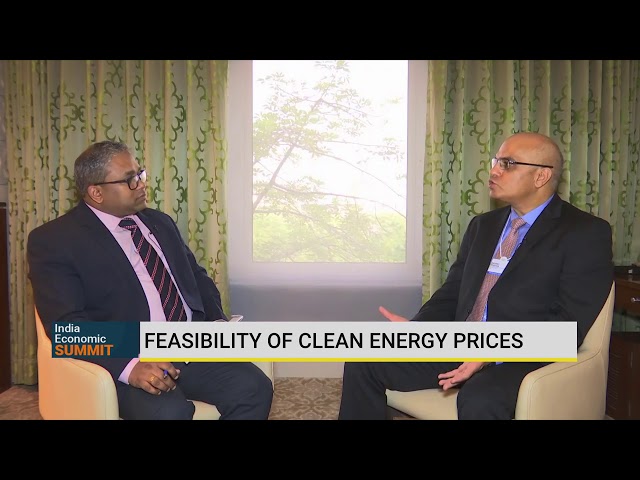 Renewable Push
The electric vehicle push ties up with the government's plan to have a solar power capacity of 100 gigawatts by 2022. The target is to reduce oil imports, the biggest contributor to India's trade deficit.
ABB India sees an opportunity.
"Currently, there is just 16 GW of solar power on the ground. We support our customers with solar invertors. We happen to have the largest share of the market. We help the customers to connect the solar farms to the grid," said Sharma.
The company is implementing Adani Group's Kamuthi Solar Power Project, a 648-megawatt solar farm spread over 1,200 acres. ABB is supplying solar inverters, automation and grid connection for that project.
The recent fall in solar power tariffs is not much of a concern for ABB. Grid parity should be reached sooner than later when prices of generating one unit with thermal power will be close to the cost of renewable energy, Sharma said.
"That's where you have a tipping point where renewable energy becomes viable," Sharma said. "And that's where you see the long-term energy players are consolidating. We have not seen any let up in investments."
There are some adjustments, especially in wind generation, due to a slowdown triggered by regulatory changes, he said.
(Updates an earlier version to correct that ABB is now based in Switzerland)