Day Traders Are Taking Over Korea's Stock Market
A Legion of Day Traders Is Taking Over Korea's Stock Market
(Bloomberg) -- While amateur traders have stormed into equity markets the world over amid the pandemic, the craze among retail investors in South Korean stocks is going to another level.
Day traders have accounted for 87.5% of the total value traded in the nation's shares so far this month through Sept. 8, according to data provided by the Korea Exchange. That's up from 51.4% for all of March.
Known for their love of risk, individual investors appear to be changing the contours of South Korea's broader market. They are the force behind the benchmark Kospi index's 64% rebound from its March low -- the strongest performance in Asia in that period -- having bought a net 25.6 trillion won ($21.6 billion) worth of stocks since then even as foreign funds and institutional investors sold. In the U.S., the Robinhood craze means that retail investors now account for roughly 20% of equity trading, up from 15% historically, according to Bloomberg Intelligence analysis.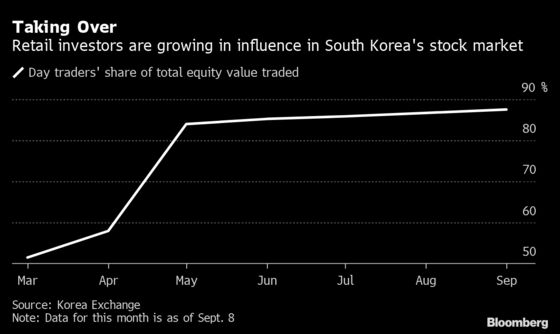 "Retail investors appear to be seeking short-term profits after hearing their next-door neighbors earned lots of money from stocks after the March selloff," said You Seung-Min, chief strategist at Samsung Securities Co.
The activity of Korean short-term traders in September hasn't been limited to typical darlings like preferred stocks or shares of healthcare firms. They have also dominated trading in blue-chip companies like Samsung Electronic Co., about 81% of value traded this month through Sept. 8, and SK Hynix Inc., almost 76%.
"Unlike previously, they are trading large-cap stocks as well because they believe some large-size firms may be able to make a huge profit amid the spread of the Covid-19," You said.
Retail's tentacles are also being seen in the IPO market. A report showed that individual investors submitted orders for 1,524 times the amount of stock made available to them for the recent sale by Kakao Games Corp. Its stock surged 160% from its initial public offering price in Thursday's trading debut in Seoul.
Short-term traders have accounted for almost 65% of the value of Kospi stocks traded so far this year, versus 47.5% for all of 2019, according to the Korea Exchange.
The total balance of margin financing by Korean retail stock traders has surged to a record 16.9 trillion won as of Sept. 8, according to data from Korea Financial Investment Association. Seoul-based Shinhan Investment Corp. said on Sept. 3 that it will stop the practice of allowing investors to trade shares with borrowed money for risk-management purposes as the brokerage reached its own limit for the lending service.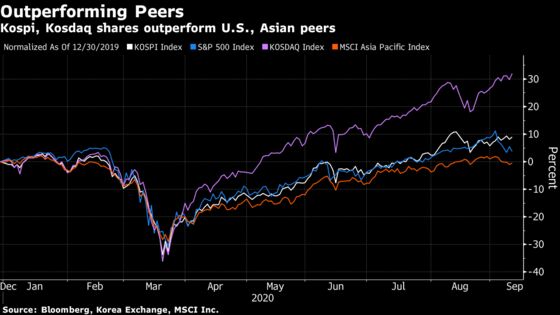 Stocks that have seen day traders command 95% or more of their value traded this month include Foosung Co., Doosan Heavy Industries & Construction Co. and Shin Poong Pharmaceutical Co. -- a firm that is developing a coronavirus drug and has seen its shares surge more than 1900% year-to-date.
Meanwhile, the growing stature of small traders is prompting some investors to flag concerns about the threat they could pose to the broader market should a risk event prompt them to make sudden withdrawals.
"The influence of retail investors in the stock market is significantly rising every day," said Kim Daejun, an analyst at Korea Investment & Securities Co. "They are buying a rosy future which is hard to predict."