China Developers' Funding Source at Risk in Sales Crackdown
China Developers' Funding Source at Risk in Sales Crackdown
(Bloomberg) -- China's debt-laden developers face a potentially devastating blow to their biggest source of financing, as authorities consider putting an end to the practice of selling apartments before they are finished.
Guangdong's provincial housing authority is considering scrapping so-called pre-sales, according to a document seen by Bloomberg News. The system allows developers to receive the entire sale proceeds upfront before construction has finished, which they then use to finance further land purchases and developments.
The overhaul would threaten to remove the biggest funding channel for developers, after authorities tightened other financing options from bond sales to borrowing from shadow banks. Such a move would place further strain on the sector, which is facing a record $23 billion maturity wall in the first quarter of 2019.
Shares of Chinese developers slumped in Hong Kong trading Monday. Country Garden Holdings Co., which has relied on pre-sales to help fuel its meteoric growth, fell as much as 8 percent before closing 5.6 percent lower. China Evergrande Group declined as much as 4.9 percent and closed down 3.6 percent. A gauge of 22 major Chinese developers, most traded in Hong Kong, slid as much as 4 percent, the most in almost six weeks.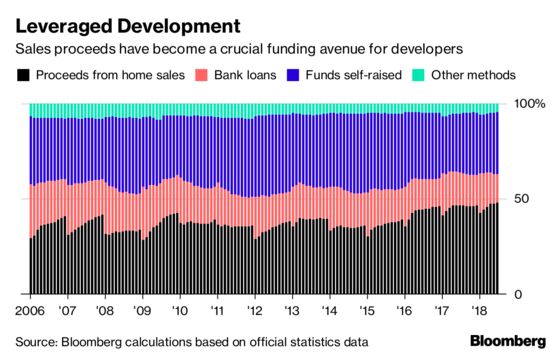 Authorities want to move away from pre-sales to curb risk in China's real estate market, which by some estimates accounts for as much as 20 percent of the country's gross domestic product.
The current system fuels excessive property investment and has attracted incompetent developers into the industry, according to the document. Ending it would help reduce the sector's high leverage and tackle related financial risks, the document said.
In a worst-case scenario of a complete overhaul, "about a third of small developers will disappear," said Zhao Ke, property analyst at China Merchants Securities Co. "It will substantially stretch developers' cash flow and intensify their funding pressure."
The official Guangzhou Daily on Sunday said the changes under consideration are still at the opinion-gathering stage.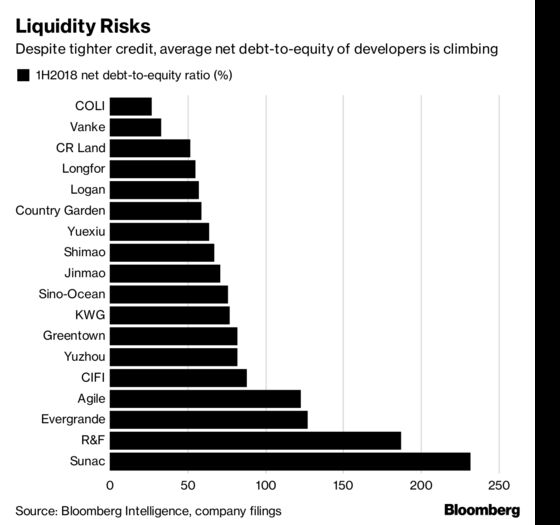 Country Garden's rise to the nation's biggest developer by sales from seventh within two years highlights how the pre-sales system can fuel growth. It takes just 9.6 months on average for the builder to break even from land purchases, according to an investor presentation for fiscal 2017.
That's much faster than elsewhere in the world. While properties are commonly sold before projects are completed, buyers typically don't need to pay the entire amount upfront, Zhao said. If they pay, funds will be held in escrow until the project is finished.
| | |
| --- | --- |
| U.S. | Buyers' funds placed in escrow managed by law firm until completion |
| Japan | Buyers only pay full amount after project completion |
| Germany | Buyers pay in installments by construction phases |
"The biggest pros of the pre-sales system is to add leverage and expedite turnover, which is necessary in encouraging supply during a housing shortage," said Chen Jie, a professor specializing in the property market Shanghai University of Finance and Economics. "Yet nowadays, it spurs excessive expansion by developers, which prompts financial risks."
It's not the first time authorities have looked to curb pre-sales. In 2016, Shenzhen sold its first parcel of land with a requirement only finished properties could be sold, billed by the official Xinhua News as an 'exploration' of reforming the pre-sales system.
In June, Zhongshan city auctioned its first plot of land barring pre-sales. And neighboring Jiangmen city has drafted rules to cancel pre-sale activities from October.
Cracking down on pre-sale rules would fit President Xi Jinping's exhortation at last year's party congress that homes are not for speculation, said Yan Yuejin, a property analyst at China Real Estate Information Corp. in Shanghai. Xi's comments, widely interpreted as a sign of the government's determination to curb property speculation, have done little to cool house prices.
"Now is the time to start wide trials to cancel pre-sales, or at least to establish new rules putting buyer funds in trust," said Chen. "Buyers' money should no longer be used as ammunition for developers to buy pricey land and expand in full swing."
To contact Bloomberg News staff for this story: Emma Dong in Shanghai at edong10@bloomberg.net
To contact the editors responsible for this story: Katrina Nicholas at knicholas2@bloomberg.net, Peter Vercoe
With assistance from Editorial Board