Trump's Overconfidence May Bring 'Major Miscalculation': JPMorgan
Concerns for the markets and economy include "second-round" effects from trade battles, said the report.
(Bloomberg) -- JPMorgan Chase & Co. strategists are starting to make forecast and strategy changes around the potential that President Donald Trump gets so overconfident in the robust economy and markets that he makes a "major miscalculation."
The worry is that "U.S. economic and equity market resilience despite tariffs will embolden the President on all geopolitical fronts -- autos, Nafta and particularly Iran -- and thus risk a major miscalculation from sanctions that are tough to calibrate," strategists led by John Normand wrote in a note Sept. 21.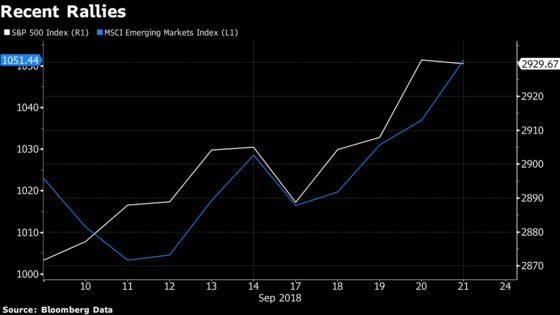 The strategists said that's part of the reason the firm has boosted oil-price forecasts, with a spike in Brent to $90 a barrel "likely" on revised estimates of how much crude demand from Iran might drop as countries respect the U.S. sanctions due to begin in November.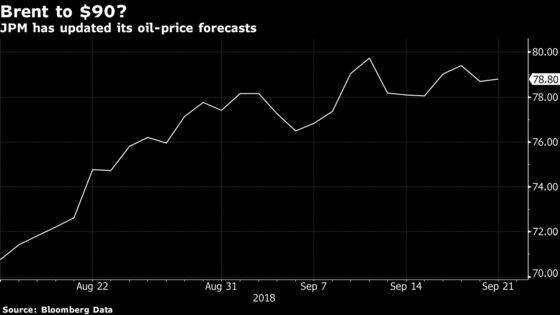 JPMorgan also is starting to factor into its strategy a growing potential for a "Phase III" of the U.S.-China trade war next year affecting all Chinese imports. That could, the strategists say, lead to weaker Chinese growth and hit the commodities complex -- not to mention U.S. stocks.
"For U.S. equities, 25% tariffs on all imports from China could take $8 off consensus 2019 EPS projections of $179 and reduce next year's EPS growth from 10% to 5% year-on-year," the note said, citing a Sept. 12 report from JPMorgan strategists led by Dubravko Lakos-Bujas. The $179 refers to average Wall Street estimates for the S&P 500.
"Even with a forward multiple of 17, an EPS downgrade this large would end the U.S. stock rally unless some other offset materialized."
Concerns for the markets and economy include "second-round" effects from trade battles, including hits to confidence, supply-chain disruption and and tighter financial conditions, the report said. It noted that improvements at the country level in key markets have been "incremental rather than transformational," citing Turkey, Russia, Brazil and Argentina.
Also, the Federal Reserve meeting this week presents some uncertainty, especially if the statement language changes to suggest the Fed is near the end of its hiking cycle.
"The deeper question is whether this week's rallies are the beginning of an unmissable strategic opportunity (lasting six months or more, delivering at least 10% upside) or just a more tactical one (lasting another week or two, delivering about 5% upside)?," the strategists wrote. "Across research teams, conviction is higher around the latter than the former."
To contact the reporter on this story: Joanna Ossinger in New York at jossinger@bloomberg.net
To contact the editors responsible for this story: Chris Nagi at chrisnagi@bloomberg.net, Bernard Kohn, Bob Brennan