Comcast's $39 Billion Sky Win Extends Media Empire to Europe
Comcast overwhelmed 21st Century Fox in a bidding war for Sky, offering $39 billion.
24 Sep 2018, 11:28 PM IST
(Bloomberg) -- Comcast Corp. won a bidding war for Sky Plc with a $39 billion offer for Europe's largest satellite broadcaster, staving off rivals 21st Century Fox Inc. and Walt Disney Co. to extend the U.S. cable giant's empire abroad.
In a rare auction overseen by U.K. regulators, Comcast bid 10 percent more than Fox on Saturday, all but assuring that investors in London-based Sky will tender their shares to the Philadelphia-based cable carrier. Fox, which is selling its 39 percent stake to Disney as part of a deal struck last year, is considering pledging the Sky shares to Comcast if Disney supports the move, people familiar with the matter said.
Should Comcast complete the transaction, Chief Executive Officer Brian Roberts will lead a global television and internet giant with customers from San Francisco to Berlin, helping contend with the rising threat from Netflix Inc. Roberts will face questions about the price tag from investors who have been nervous about the company's rising debt levels.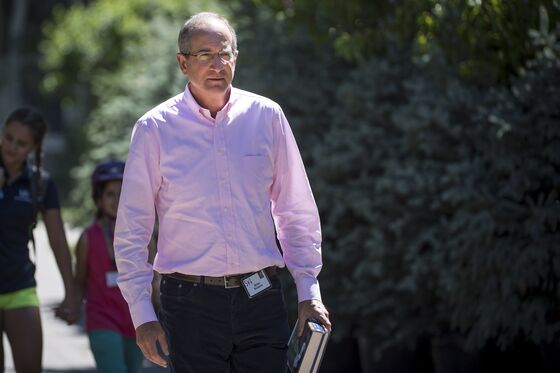 Still, the outcome marks a victory for the 59-year-old cable magnate after a string of M&A setbacks. Roberts, who spent Saturday in a London hotel orchestrating the auction, had previously tried to acquire the bulk of Fox -- only to be outbid by Disney.
"This is a great day for Comcast," he said in a statement. "Sky is a wonderful company with a great platform, tremendous brand and accomplished management team."
Buying Sky allows Roberts to expand the content and distribution model he has embraced since taking control of NBCUniversal seven years ago. With Sky, Comcast would deliver TV services to 52 million customers in the U.S. as well as European countries such as U.K., Italy and Germany, and add sought-after programming such as the rights to Premier League English soccer.
Comcast's emergence as the winner helps put an end to months of uncertainty over the future ownership of the TV company Rupert Murdoch founded in 1989. Independent directors at Sky have recommended accepting Comcast's offer, and investors have until Oct. 11 to tender their shares. Comcast doesn't have any antitrust hurdles to worry about, after clearing European Union approval in June.
While Sky shareholders are celebrating, Comcast's may feel uneasy. Investors have already expressed concerns about its M&A ambitions this year, sending its shares down more than 5 percent. Comcast's final bid of 17.28 pounds a share was well above the 15.67 pounds offered by Fox.
It remains unclear whether Disney will embrace the idea of selling Fox's 39 percent stake in Sky to Comcast. Fox said in a statement on Saturday that it was still "considering its options and will make a further announcement in due course."
The end of the bidding war is an emotional moment for Murdoch, since the 87-year-old controlling shareholder of Fox had been working for years to acquire the portion of Sky that his company didn't already own. An earlier attempt was thwarted in 2011 by a phone-tapping scandal at his U.K. newspaper business.
Bloomberg Intelligence analyst Paul Sweeney said he expects that Fox will capitulate. "I can't imagine they want to be a minority shareholder in this," Sweeney said. "It's a very bold price."
Fox struck a philosophical tone in the wake of the auction Saturday, depicting its loss to Comcast as a victory of sorts.
"Sky is a remarkable story and we are proud to have played such a significant role in building the incredible value reflected today in Comcast's offer," the company said.
The sweetened bid from Comcast -- 17 percent higher than the company's offer for Sky going into the auction -- exceeded expectations. It was well above the 16.53 pound average estimate of a Bloomberg survey.
"I'm pretty excited -- we've got a good price for it," said Sky investor Crispin Odey, founder of Odey Asset Management. The fund manager owns 0.6 percent of the shares, according to data compiled by Bloomberg. "I still think it may look a bit cheap in a couple of years."
In addition to its millions of European subscribers, Sky also gives Comcast original TV productions, such as the 1920s sex-and-crime saga "Babylon Berlin" and "Britannia," a period drama about the Roman conquest of Britain.
Netflix, meanwhile, has relied on other companies' broadband networks to distribute its lavish in-house productions and expand its global subscriber base to 130 million.
Crucially for Comcast, Sky has a growing video-streaming business. Roberts has said he was "terribly impressed" with Sky's market-leading Q box platform, which is also a rich source of data on customer viewing behavior. Comcast estimates that owning Sky will create $500 million in synergies, partly through selling Sky content in the U.S. and NBC programming in Europe.
Adding Sky would mean Comcast generates a fourth of its sales outside of the U.S., up from 9 percent now. It would also represent a victory in Comcast's checkered history of dealmaking. While Comcast acquired NBCUniversal and DreamWorks Animation over the past decade, it failed in attempts to buy Disney in 2004, Time Warner Cable Inc. in 2015 and Fox in July.
If Fox had outbid Comcast, Sky would have fallen into Disney's hands next year as part of its $71 billion Fox takeover deal struck in July.
That deal will bring Disney franchises such as the "X-Men" and hit shows like "The Simpsons." The loss of Sky partly stymies Disney CEO Bob Iger's goal of establishing more direct ties to consumers and expanding his international business.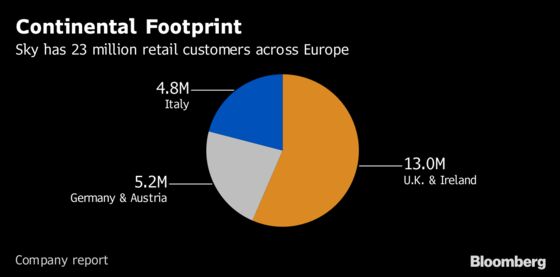 After losing out on Sky, Disney can now focus on the Fox integration. Already, the company is beginning to reshuffle its ranks. Ben Sherwood, who oversees the Disney Channel and ABC networks, was once in discussions for a job as a global news director for Disney. But he's now expected to leave the company after the Fox deal closes, according to a person familiar with the matter. Sherwood declined to comment.
--With assistance from Aaron Kirchfeld, Ruth David, David Hellier and Samuel Dodge.
To contact the reporters on this story: Joe Mayes in London at jmayes9@bloomberg.net;Gerry Smith in New York at gsmith233@bloomberg.net;Anousha Sakoui in Los Angeles at asakoui@bloomberg.net
To contact the editors responsible for this story: Rebecca Penty at rpenty@bloomberg.net, Nick Turner, Kenneth Wong