The Fight to Protect the Fed From Trump's Rate-Hike Barbs
Central bank Chairman Jerome Powell is working the halls of Congress.
(Bloomberg Businessweek) -- On July 19, Donald Trump broke with decades of presidential precedent when, in a television interview with CNBC at the White House, he openly criticized the Federal Reserve for raising interest rates, saying he was "not thrilled" by the policies of his newly appointed Fed chairman, Jerome Powell. That same day, Powell was making the rounds on Capitol Hill, visiting the offices of two Democratic lawmakers, Senator Ron Wyden of Oregon and Representative Michael Capuano of Massachusetts. Powell was fulfilling a promise he'd made in an interview just a few days before on the radio show Marketplace that he was "going to wear the carpets of Capitol Hill out by walking those halls and meeting with members."
So when Trump fired a warning shot across his bow, the Hill was a fitting place to be. Cultivating Congress, paradoxically, is a cornerstone of Powell's strategy to protect the Fed's freedom to conduct monetary policy without political interference. Economists say that independence, granted to the bank by lawmakers, is key to any modern economy's success. It wouldn't be the last Trump thump: A month later the president complained to donors in the Hamptons that Powell was not the cheap-money central banker he would have liked.
This is a crucial juncture for the 104-year-old central bank and its new chair. Not only is Powell having to manage the end of a decade of easy money through a series of rate hikes—a delicate maneuver that, if done poorly, could tip the country into recession or risk unleashing rampant inflation—but he's also dealing with a mercurial president who is riding a hot economy and has repeatedly gone public with his distaste for high rates. The next scuffle could come on Sept. 26, when the Fed is expected to raise rates again, the sixth hike since Trump became president but the first hike since he started grousing.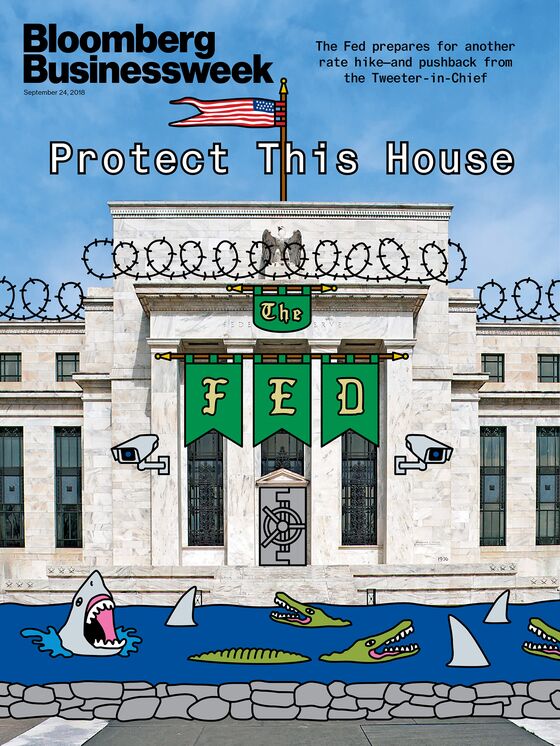 Trump can't fire Powell under the law, but he could try to remove him for cause—a very high bar that scholars say would have to go way beyond a mere policy disagreement. A bigger risk is that Trump's relentless attacks could erode the Fed's support in Congress and spur legislative efforts to hem it in by hardcore conservatives and populist liberals already suspicious of its power. It all amounts to a stress test for Powell, not only as a central banker but as a politician. "The Fed is in a critical point in its political history," says Peter Conti-Brown, a financial historian at the University of Pennsylvania's Wharton School. "Vital to the Fed's legitimacy is its mastery of lowercase 'p' politics—that is, managing relationships and staying close to the electoral process through the people's representatives."
That's exactly what Powell is doing. In his first six months in office, he's met or called lawmakers 48 times. Twenty-one of those contacts were with Democrats and 27 with Republicans. By contrast, his Democratic predecessor, Janet Yellen, had just 17 contacts with lawmakers, 13 of them with Democrats, in her first six months in the job. Powell has ordered his eight-person congressional-liaison staff to redouble its efforts to reach out to both sides of the aisle. And his fellow Fed board members—Randal Quarles and Lael Brainard—have joined in the charm offensive. A Democrat who donated to Hillary Clinton's campaign, Brainard recently met Republicans on the House Financial Services Committee, which oversees the Fed.
Like his two immediate predecessors, Powell seems to have a skill set perfectly suited for the moment. Ben Bernanke spent his academic career studying the causes and aftermath of the Great Depression, an expertise that came in handy when he led the Fed during the financial crisis in 2008 and the five years that followed. As an expert in labor markets, Yellen had the smarts (and patience) to nurture a lengthy and still ongoing jobs recovery during her four years as Fed chair.
While Powell may not be a Ph.D. economist like Bernanke and Yellen—he's a lawyer by training—he is more familiar with the ways of Washington. He grew up and earned his law degree there and made a fortune while working at D.C.-based private equity powerhouse Carlyle Group. He has deep connections to Washington's Republican establishment. He served in the U.S. Department of the Treasury under President George H.W. Bush in the early 1990s and is a member of the city's elite Metropolitan Club, located just blocks from the White House. He also has one trait that may serve him best of all: an ability to explain difficult concepts in a way that people who aren't pointy-headed economists (i.e., members of Congress) can understand.
Lawmakers who've met with Powell say he's in a listening mode. He's meeting with members of the two committees that have direct jurisdiction over the Fed and branching out to other influential lawmakers, including a half-hour meeting with House Majority Whip Steve Scalise in March. That's a good strategy, says French Hill, who served at Treasury with Powell and is now a Republican congressman from Arkansas. Should a crisis hit, "you don't want to be meeting people for the first time," he says.
Congressional staffers say Powell has some work to do in repairing relations. Once revered as the go-to source for economic analysis under Alan Greenspan, the Fed saw its reputation suffer during the financial crisis and slow-motion recovery that followed. Both Bernanke and Yellen worked to cultivate lawmakers, but relationships deteriorated during both their tenures. Bernanke was criticized for veering onto Congress's turf by propping up the housing market and rescuing individual financial firms. Yellen was seen—by House Republicans—as a liberal technocrat with too much discretion over the monetary dials.
On a personal level, Bernanke and Yellen were more comfortable at economics seminars than in the rough-and-tumble world of Washington politics. By contrast, Powell is more at ease in the halls of power and revels in pressing the flesh. In a way, he's approaching the relationship with Congress as a private equity investor might approach a valuable but beaten-down asset. With new management and some fresh investment, returns could be stellar.
Powell has also shown an ability to learn on the job. In his first monetary policy testimony, in February, black members of the House Financial Services Committee probed him on his concern about racial inequities. It's a common test for every chair, and Powell gave mostly by-the-book answers. Representative Al Green, a Texas Democrat, asked him when black unemployment was last around 3.5 percent to 4 percent. "I don't think it ever has been," Powell said. "It hasn't been since slavery," Green shot back. "That's the last time there was full employment for black people."
After the hearing, Powell reached out to many of those same members, including California's Maxine Waters, the committee's most senior Democrat. Five of his first 10 meetings with Democrats were with black House committee members. "I appreciate him for extending the hand of friendship," Green says. "I think that gets us off to a better start."
Powell is determined to demystify the Fed. Case in point: He opened his second press conference in June by noting that monetary policy decisions affect every American. He then delivered what he called a "plain English" summation of how the economy was doing and what the Fed was up to. And he's doubling his number of scheduled press conferences next year to eight.
Powell has kept his cool in the face of the heat from Trump. Those who know him say he's not easily flustered. The chairman knows there's a limit to what the president can do. Trump could try to pack the Fed board with policymakers sympathetic to his concerns, as Ronald Reagan did in an unsuccessful challenge to then-Chairman Paul Volcker's authority. But so far, Trump's Fed nominees have been mainstream, including recently confirmed vice chairman and monetary expert Richard Clarida, who will cast his first vote on rates in September.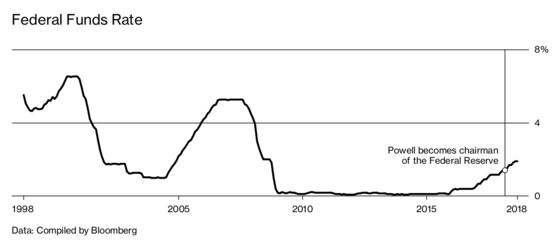 Powell undoubtedly knows that the tradition of presidents not commenting publicly on Fed policy is of recent vintage, instituted at the behest of Robert Rubin when he was Treasury secretary under Bill Clinton. Powell was a member of the preceding administration—serving the senior Bush—which had overtly and covertly sought to pressure Greenspan to keep interest rates low in the runup to the 1992 election. (There's no evidence that the future chairman was himself involved in the effort.) Six years later, Bush told interviewer David Frost that he blamed Greenspan for his loss to Clinton. "I reappointed him, and he disappointed me," Bush said.
For all that, there's no doubting the power of the presidential pulpit. In what could be seen as an effort to steer clear of providing Trump with another target, Powell has tried to avoid commenting on the president's controversial trade and economic policies, repeatedly saying the country's central bankers should "stay in our lane."
Powell is also building relationships with members of the Trump administration. As has been the custom of past Fed chairs, he regularly meets with Treasury Secretary Steven Mnuchin to discuss all things economic. Those sessions look to be paying off. Mnuchin, who played a key role in persuading Trump to nominate Powell, told CNBC on Aug. 28 that the Fed chairman was "phenomenal." Perhaps owing to Mnuchin's influence, Trump said two days later that he didn't regret appointing Powell to the top job at the Fed. "I put a man in there who I like and respect," Trump said in an interview with Bloomberg News.
Still, Powell can't afford to take anything for granted—or expect more shielding from Mnuchin. Trump's barbs came as the economy continued to barrel ahead, on course to rack up its fastest growth since 2005. What most likely bugged the president was the impact of the Fed's rate increases in the currency markets, pushing up the value of the dollar and making U.S. exports less competitive at a time when Trump is waging trade battles. The danger down the line is that Trump's fusillade will intensify if growth tails off—something many economists predict will happen in the 2020 presidential election year as the benefits of the tax cuts fade and the bite from Powell's rate hikes deepens.
Given that future threat, Trump's comments have already planted seeds that may grow to undermine the Fed's stature and its ability to execute aggressive policies in the next recession. "Any victory that Powell and the staff will achieve against an angry, tweeting president will be Pyrrhic," says Conti-Brown of Wharton. "The question isn't how do you win that battle. It's how you minimize losses."
The Fed's authority to carry out interest rate policy free from political interference is a fragile thing. Its independence is not enshrined in statute, as it is at many other central banks. (The Fed and its 12 regional branches owe their existence to Congress, which created the system in 1913.) There's always a risk that lawmakers will chip away at the bank's independence, especially if they're looking for someone to blame for a weak economy—something likely not lost on Powell.
In the end, faced with an erratic Tweeter-in-Chief who's quick to disparage anyone he disagrees with, Powell knows he has no choice but to follow the advice of a former mentor to "control the controllable." —With Elizabeth Dexheimer, Erik Wasson, and Sarah Foster
To contact the editor responsible for this story: Matthew Philips at mphilips3@bloomberg.net