Everybody Wants to Take a Bite Out of Big Tech
(Bloomberg Opinion) -- For the last couple of years, the downsides of connecting the world online have received more (deserved) attention than they ever have before. As part of that rethinking, technology companies have been engaged in a slow-moving debate with U.S. elected officials and the public about how to make the internet less of a toxic cesspool. 
If you believe that the tech superpowers will emerge largely unchanged from this more critical reassessment of the internet, Wednesday's events should put that optimism to rest. We got fresh evidence that multiple U.S. government institutions are crawling all over the tech companies and questioning what they do — increasing the odds of regulatory, legislative, legal or financial blows. 
I'm not talking about the U.S. Senate hearing on Wednesday, which was a good faith effort to discuss how to prevent foreign government abuse of U.S. social media, falsified internet videos and drug dealing online. Nor am I talking about the House of Representatives session during which Twitter Inc.'s CEO was taken to task for how his company polices the internet hangout.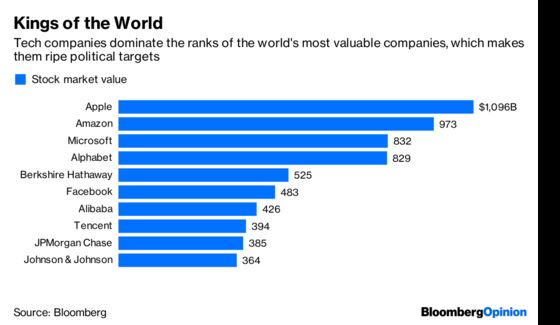 Those were sideshows to the biggest tech news out of Washington on Wednesday. In a statement issued between the Senate and House hearings, the Department of Justice picked up on right-wing criticisms of internet companies and implied the government is considering using its legal authority to look into the claims. The Justice Department said it would convene a meeting of state attorneys general to "discuss a growing concern that these companies may be hurting competition and intentionally stifling the free exchange of ideas on their platforms."
I wasn't sure from the statement if the Justice Department wants to examine whether tech companies are violating competition laws — a question that is a fair subject for debate or investigation — as a connected or separate issue from largely disingenuous complaints from President Donald Trump and others that internet companies are unfairly silencing conservative voices online. Either way, the country's top legal authority is hijacking serious questions about the power of internet companies and turning it into political pandering. 
Maybe Attorney General Jeff Sessions will convene one meeting and then drop the matter. Or maybe not. Regardless, the Justice Department engaging in bad-faith inquiries of tech companies should terrify the industry and its investors. 
And the statement was a jolting reminder that multiple U.S. government institutions are at various states of war with tech companies. There's the White House, of course, which has at times bashed Amazon.com Inc., Google and Twitter. The Federal Trade Commission has scheduled a series of public meetings about the digital economy and the market power of the tech giants. Senator Orrin Hatch also recently asked the FTC to reopen an antitrust investigation into Google.
At the Federal Communications Commission, the chairman has repeatedly criticized big internet companies. Members of Congress are pursuing potential legislation that would impose more restrictions on the sector. Outside the federal government, California recently passed a vigorous new law on digital data privacy, and various state attorneys general are trying to crack down. 
This is not business as usual. The political scrutiny is coming from so many fronts that it seems impossible for the internet superpowers to mold the outcomes to suit their interests.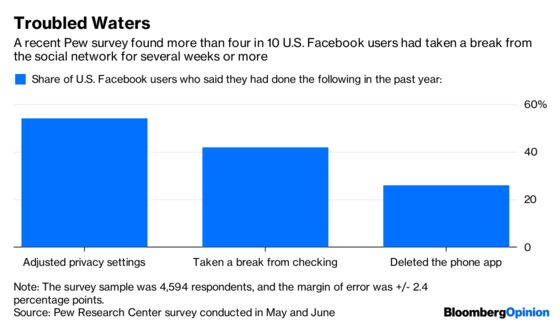 There are also signs that political backlash is contributing to shifting consumer sentiment about at least some of the U.S. internet powers. Pew Research Center in June said the vast majority of survey respondents who identify as Republicans or right-leaning independents believe social networks censor political speech that the companies find objectionable. (A majority of Democrats and left-leaning independents believed this, too.) The dominant belief that the internet powers are politically motivated censors is a dangerous phenomenon for tech companies.
In another worrisome sign, Pew this week released a survey of U.S. Facebook users that found 42 percent had taken a break from the social network for several weeks or more during the last year. Pew said that Republicans and Democrats were equally likely to have restricted their Facebook activity in some fashion. It's one thing on which a divided nation can agree: Americans want to pull back from Facebook. 
Political fights and souring feelings from users is a toxic stew for the U.S. internet powers. The last two years of technology crises have hurt the tech superpowers, and we're just beginning to see the fallout. 
To contact the editor responsible for this story: Daniel Niemi at dniemi1@bloomberg.net
This column does not necessarily reflect the opinion of the editorial board or Bloomberg LP and its owners.
Shira Ovide is a Bloomberg Opinion columnist covering technology. She previously was a reporter for the Wall Street Journal.