U.S. Hunger Is at Lowest in a Decade
(Bloomberg) -- The number of people facing hunger in the U.S. declined last year to the lowest since 2007 as unemployment fell, a key data point as Congress debates changes to food-aid programs as part of farm legislation.
About 40 million people were "food insecure" in 2017, meaning that at some point in the year their ability to obtain adequate food was in question, the U.S. Department of Agriculture said in an annual study released Wednesday. That represents a 2.8 percent decline from 2016. Hunger was most prevalent in New Mexico, with 17.9 percent of households affected, while Hawaii's rate of 7.4 percent was the lowest in the nation.
Falling hunger, tied in part to lower unemployment, comes as Republicans in Congress are trying to shift Supplemental Nutrition Assistance Program funds from food benefits to job training in a five-year reauthorization of U.S. Department of Agriculture initiatives known as the farm bill. Democrats are balking at the change, saying stricter work rules in a House bill punish the poor.
President Donald Trump said in a tweet Wednesday that stricter work requirements "will bolster farmers and get America back to work." Lawmakers speaking at a House-Senate conference committee meeting Wednesday said they believe a deal on food stamps is possible, although earlier efforts to come to agreement before the meeting fell through.
"A lot of compromising needs to be done," said Senator Pat Roberts of Kansas, chairman of the Senate Agriculture Committee.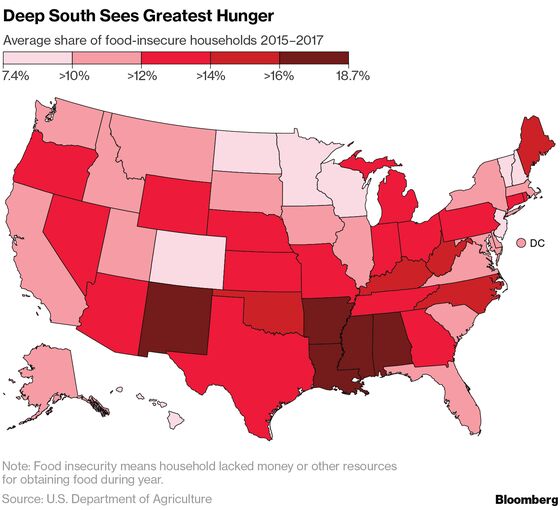 The so-called farm bill, which renews subsidies for farmers and crop-insurance companies, also allocates food aid for low-income families. Current law begins to expire on Sept. 30. The bill is H.R. 2.
U.S. unemployment was 3.9 percent in August, the lowest since 2000, as joblessness has gradually declined throughout the decade. Participation in the SNAP, commonly called food stamps, has also dropped. About 39.3 million people received benefits in May, the most recent month of data available. That's the lowest since December 2009. About 58 percent of food-insecure households reported using food stamps, free or reduced-price school lunches, or the Women, Infants and Children program last year.
The report was based on a survey of more than 37,000 households taken last December.
To contact the reporter on this story: Alan Bjerga in Washington at abjerga@bloomberg.net
To contact the editors responsible for this story: Justin Blum at jblum4@bloomberg.net, Elizabeth Wasserman