Land Reform Emerges as Battered Rand's Latest Pressure Point
Land Reform Emerges as Latest Pressure Point for Battered Rand
(Bloomberg) -- The emerging-market sell-off may have already battered South Africa's rand, but it could get worse as traders fret about a push for land reform that would have far-reaching economic consequences and is catching the attention of world leaders.
The currency plunged almost 10 percent against the dollar in August, its worst month in more than five years. It's down another 3.6 percent this week after the economy fell into recession. Derivatives markets are signaling even more pain to come as contagion from crises in Argentina and Turkey spreads and with traders on edge about the ruling African National Congress's plans for a constitutional amendment to permit expropriation of land without compensation.
Many investors, including Morgan Stanley, agree land redistribution is crucial to address lingering inequalities between white South Africans -- who own 72 percent of commercial agricultural land, according to a state audit -- and black citizens, almost 25 years after the apartheid system of government ended. But they're concerned about a lack of details and say it could undermine property rights, deter foreign investment and lead to penalties from other countries, according to Standard Chartered Plc and Morgan Stanley.
"Land reform is emerging as one of the key issues and it's clear markets remain nervous," said Razia Khan, London-based head of African research at Standard Chartered.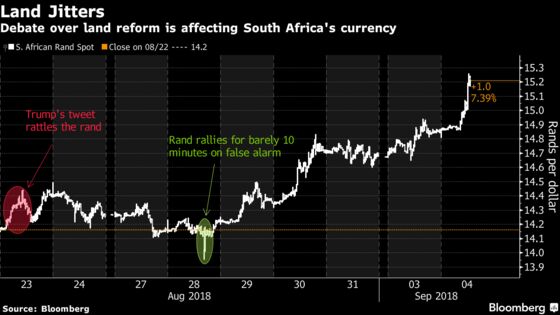 Reflecting investors' angst, the currency suddenly rallied on Aug. 28 after lawmakers announced they were withdrawing a bill on land expropriation. The surge ended barely 10 minutes later once traders realized it was a procedural move and that the constitutional change was being dealt with separately.
"This type of reaction might well become commonplace ahead of the 2019 general elections," said Nema Ramkhelawan-Bhana, the head of research at Rand Merchant Bank in Johannesburg.
Morgan Stanley said while it agreed that "injustices of the past need to be addressed," land reform was "brought up at just about every meeting" it had with U.S. investors earlier this year, with the "overwhelming majority" believing the proposal could hurt South African markets.
Deutsche Bank AG cited "risks around negative headline news" to do with land negotiations as one reason to short the rand on Aug. 30.
Currency traders are bearish. The premium of options contracts to sell the rand over those to buy it in the next three months, known as the 25 Delta risk reversal, has soared to 5.67 percentage points, the highest in three years and the highest level worldwide after Turkey's lira. The rand dropped 2.5 percent to 15.247 per dollar by 5:21 p.m. in Johannesburg -- its weakest on a closing basis since June 2016 -- after data showed the economy contracted for a second straight quarter between April and June.
In an extreme scenario, with wide-scale expropriation of land without compensation leading to credit-rating downgrades and debt defaults, the rand could weaken to 24 against the greenback by the end of next year, Investec Bank Ltd. Chief Economist Annabel Bishop said in a report on Sept. 3. A best-case scenario, with land reform benefiting the poor without undermining the economy, could cause the currency to strengthen almost 50 percent to 7.90 per dollar, she said.
U.S. President Donald Trump raised the prospect of South Africa being penalized when he tweeted on Aug. 23 he'd told Secretary of State Mike Pompeo "to closely study the South Africa land and farm seizures." U.K. Prime Minister Theresa May said in Cape Town last week that while she supported land reform, officials should "bear in mind the economic and social consequences."
Under Trump, the U.S. has ramped up sanctions against emerging markets, including Russia and Turkey, with the lira buffeted after Washington raised metals tariffs early last month.
"It may have been a passing thought which Mr. Trump has already forgotten, or it might be the beginning of a theme for him," said John Ashbourne of London-based Capital Economics Ltd. "But Turkey's experience highlights that even very limited sanctions would have a big market effect."
South African President Cyril Ramaphosa partially eased investor concerns when he wrote in the London-based Financial Times that any constitutional change wouldn't hurt the economy or the agricultural sector. Expropriation without compensation may be used in specific cases, for example when land is unused or buildings are abandoned.
"This is no land grab," he said. "Nor is it an assault on the private ownership of property."
Still, the premium investors demand to hold South African debt rather than U.S. Treasuries, known as the sovereign spread, climbed more than that of emerging markets overall in August, suggesting his plans are weighing on the country's assets.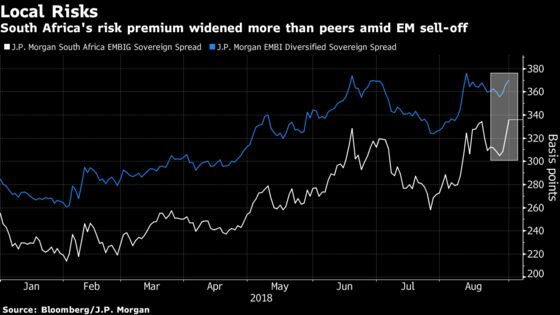 Part of the problem is that investors see few recent examples of successful land reforms elsewhere, according to Khan of Standard Chartered. Many recall neighboring Zimbabwe, where violent takeovers of white-owned farms from 2000 devastated the economy and sent investors fleeing.
"Whenever 'land' is mentioned, unfortunately it is the Zimbabwean experience, as flawed a 'reform' process as that was, that springs to mind," said Khan. "It's very difficult to point to instances, especially in sub-Saharan Africa, with well-known, positive examples of land reform. Greater clarity around the very specific circumstances in which there might be a case for expropriation without compensation would lessen market nervousness."
The issue is set to shadow the rand for several months at least. Even if lawmakers produce a draft amendment this year, it would take at least five months from that point for it to be signed into law, according to Citigroup Inc. analyst Gina Schoeman.
"Land reform is likely to cause repeated volatility in rand exchange rates," said Elisabeth Andreae, an economist at Commerzbank AG in Frankfurt. "It's a hot topic because the expectations of the general population and thus of a large proportion of the electorate on the one hand, and of companies and especially foreign investors on the other, are far apart."
To contact the reporters on this story: Paul Wallace in Lagos at pwallace25@bloomberg.net;Colleen Goko in Johannesburg at cgoko2@bloomberg.net
To contact the editors responsible for this story: Dana El Baltaji at delbaltaji@bloomberg.net, Robert Brand