Nafta Crunch Caps a Pretty Dreadful Week for Justin Trudeau
Nafta Crunch Caps a Horrible, No Good, Very Bad Week for Trudeau
(Bloomberg) -- This has not been a good week for Justin Trudeau.
It began with a surprise U.S.-Mexico trade pact that excluded Canada from a Nafta rewrite, sending the prime minister's negotiating team scrambling to strike a deal ahead of the Trump administration's deadline. Then a key pipeline he spent billions to nationalize got sideswiped by a court decision, and the most important ally in his climate change plan abandoned him. And now the White House has informed Congress of its intent to sign an new agreement with or without the northern nation.
While the 46-year-old leader has had plenty of political stumbles during his first mandate, the events of the last few days are among the heaviest blows Trudeau has taken on core economic files. They come just as his Liberal government prepares to reset its parliamentary agenda going into an election year.
"The opposition are going to try and paint this as an example of incompetence," said Robert Bothwell, a professor of Canadian history and international relations at the Munk School of Global Affairs at the University of Toronto.
Even before this week, Trudeau was having a rough go. The Group of Seven summit he hosted in June, meant to be a showcase of Canada's global leadership, was blown up by Donald Trump -- prompting questions about his strategy to handle the capricious U.S. president. Decades-old groping allegations surfaced, and a bitter diplomatic spat with Saudi Arabia erupted over a tweet.
A steady flow of asylum seekers has also dogged the refugee-friendly Trudeau government, making immigration and the border political issues in multicultural Canada. All that was on top of a bumbling trip to India in February, where he was mocked for parading through the country in a range of traditional outfits.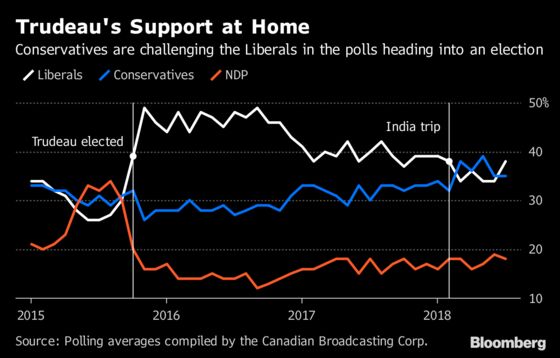 It has all been, strangely, not fatal so far. His poll numbers have actually improved since the start of July -- aided by a robust economy and one of the the tightest job markets in years.
"We obviously have a very positive situation for middle-class Canadians with the unemployment rate at really the lowest we've seen in 40 years," Trudeau's finance chief, Bill Morneau said Thursday when asked about the potential impact of the pipeline ruling and uncertain fate of the North American Free Trade Agreement. "There is a confluence of things that are making people feel anxious," he added.
Which is why this week's developments pose a major test. Trudeau's Liberals have staked much of their legacy on forging a grand bargain on resources -- tougher and more expensive environment rules for business he hoped would facilitate the construction of pipelines. While companies are complaining of higher costs, this court ruling nullifying government approval of the expansion project purchased from Kinder Morgan Inc. has put the prime minister on the defensive.
"Having only the United States as a market for 99 percent of our oil resources simply doesn't make sense anymore and that's why we believe that the Trans Mountain pipeline expansion is in the best interest of all Canadians," Trudeau told reporters near Toronto on Friday, playing down tensions that flared the night before when Alberta withdrew from the climate plan in protest.
It could have been worse. On Nafta, Friday came and went with questions still looming over a possible deal to avoid being frozen out of the 24-year-old trade deal's successor. Canadian negotiators ended the week unable to come to an agreement with the U.S. but pledged to keep at it -- and scored at least a temporary win when the U.S. said it would notify Congress of intent to sign a deal that could include Canada. Trudeau's team is being careful not be seen as caving into Trump, who since the G-7 seems to have gleefully taken to beating up his northern neighbor and top export market.
"We've made some progress, we've done some work together," Foreign Affairs Minister Chrystia Freeland told reporters after talks ended for the weekend. "For us, the only priority is a deal that's good for Canada and Canadians, and that protects Canadian interests and Canadian values."
She said high-level talks with U.S. Treasury Representative Robert Lighthizer will resume next week, which Trudeau no doubt hopes will be a better one.
To contact the reporters on this story: Josh Wingrove in Ottawa at jwingrove4@bloomberg.net;Greg Quinn in Ottawa at gquinn1@bloomberg.net
To contact the editors responsible for this story: Theophilos Argitis at targitis@bloomberg.net, Stephen Wicary