Climate Change Has Already Hit Home Prices, Led by Jersey Shore
Climate Change Has Already Hit Home Prices, Led by Jersey Shore
(Bloomberg) -- Sea-level rise is already hitting home prices along the Atlantic Coast, new data shows -- and nowhere harder than the tiny New Jersey town of Ocean City.
Between 2005 and 2017, increased tidal flooding erased $14.1 billion in relative home values across eight states, according to research by First Street Foundation, a Brooklyn-based nonprofit that seeks to quantify the effects of climate change on coastal communities. The group found that 820,000 homes are now worth less than they would have been otherwise, including 75,000 homes in New York State and 15,000 in Connecticut.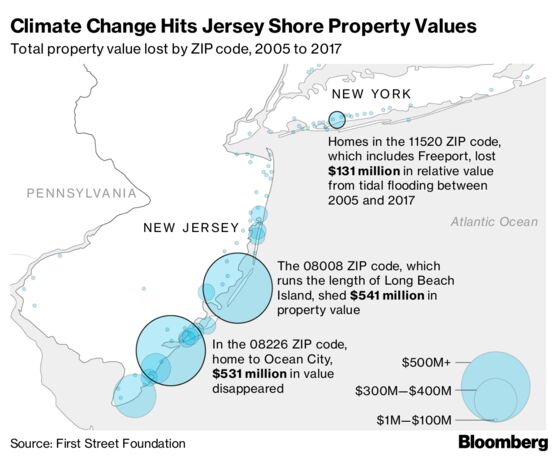 When First Street broke those impacts down by zip code, the most concentrated losses turned up in small New Jersey towns. Ocean City, New Jersey, with just 11,000 residents, has lost $530 million in potential increases in property value since 2005.
The state where climate change has hurt home prices the most is Florida, where rising seas and flooding wiped out $5.4 billion in relative value.
First Street reached those conclusions by comparing historical transactions of homes exposed to tidal flooding with like properties in similarly valued areas elsewhere, controlling for lot size and other variables to isolate the difference in price appreciation related to tidal flood risk. The model underlying their findings was published in a peer-reviewed paper in the journal Population Research and Policy Review.
The magnitude of property-value loss along the Jersey Shore suggests that Superstorm Sandy in 2012 caused potential home buyers to pay more attention to flood risks, according to Steven McAlpine, head of data science for First Street. The storm "accelerated the way sea-level rise impacts home value," McAlpine said in an interview.
A spokesman for Ocean City, Doug Bergen, questioned the findings, saying the assessed value of the city's real estate has risen substantially since 2005.
"The notion that any researcher could isolate and quantify the effect of one factor (flooding) on hypothetical past real estate windfalls is implausible," Bergen said by email. Still, he said the city is working to reduce the threat from flooding, including updating its drainage systems and pumping stations, raising its streets and requiring that new and renovated homes be elevated.
New Jersey is only the most pronounced example of a nationwide trend, warns Matthew Eby, First Street's executive director. He said the data shows that increased flooding is hurting property values around the country, and not just in places like Miami Beach and Charleston, South Carolina, that often appear in the news.
"When you look at this analysis, you see the exposure of the coastal U.S. is immense," Eby said. "You can see what's happening, and what's around the corner. This is surely the beginning."
To contact the reporter on this story: Christopher Flavelle in Washington at cflavelle@bloomberg.net
To contact the editors responsible for this story: Jon Morgan at jmorgan97@bloomberg.net, Elizabeth Wasserman
Get Your
Daily Newsletter
Get market moving news, top news & compelling perspectives
---