Toll Brothers Surges Most Since 2011 on Gain in Home Orders
Toll Brothers Shares Surge With Increase in Home Orders, Revenue
(Bloomberg) -- Toll Brothers Inc. surged after the biggest U.S. luxury-home builder reported rising orders, revenue and backlog, a sign to investors that wealthy buyers are feeling confident enough to make purchases despite talk of a housing slowdown.
The company reported a 27 percent increase in quarterly revenue and an 18 percent gain in signed contracts per Toll housing community. The value of the builder's backlog at the end of last month was $6.48 billion, up 22 percent and "the highest at third-quarter end in a dozen years," Toll Chief Financial Officer Marty Connor said in a statement.
Toll's shares rose as much as 14 percent, the biggest intraday jump since October 2011. They were trading at $39.24 at 12:23 p.m. in New York, up 13 percent -- the largest gain in an S&P index of homebuilders, which climbed 4.8 percent.
The Horsham, Pennsylvania-based homebuilder is among companies benefiting from a U.S. unemployment rate of 3.9 percent and an aging millennial population moving from renting to owning. Wealthy Americans are feeling positive, and that's a big boost to Toll, said Alex Barron, an analyst with the Housing Research Center in El Paso, Texas.
"Do you see any signs that the economy is slowing?" Barron said in an interview. "So why would wealthy people be scared to buy?"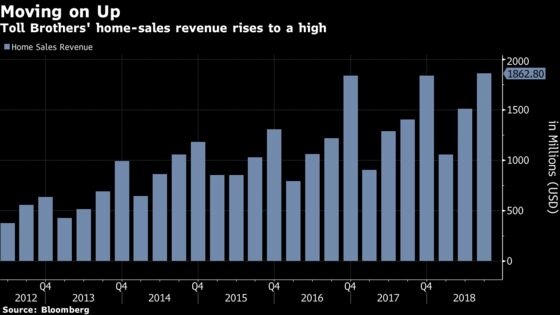 U.S. homebuyers in general are at risk of rising borrowing costs, with the average rate for 30-year mortgages at 4.53 percent, up more than a percentage point from a year ago, giving shoppers impetus to purchase before they go higher. Wealthy buyers are less sensitive to rate increases, according to Drew Reading, an analyst with Bloomberg Intelligence.
"What you're seeing in the stock is a relief rally because it's been hammered so much in the last year or so," Reading said in an interview. "Investors are relieved that it's not a broad-based slowing of demand at the high end."
More customers are paying with cash or purchasing with bigger down payments, Toll executives said on a conference call with analysts. The share of cash buyers was 24 percent, compared with the typical 20 percent.
Toll's strong deliveries were based on contracts often signed a year or more earlier, long before the increase in mortgage rates. While completed sales jumped 18 percent from a year earlier, orders were up 7 percent.
Surging prices have cut into affordability in pricey markets such as California, where Toll reported a 4 percent decline in net contracts, Reading said.
"It's important to pay attention to California -- it has become an increasingly big part of their business," Reading said. "Affordability constraints crimped demand there a little bit."
The company reported net income of $193.3 million, or $1.26 a share, in the third quarter, up from $148.6 million, or 87 cents, a year earlier. That beat the $1.03 average estimate of 18 analysts surveyed, according to data compiled by Bloomberg.
"Our double-digit growth in revenues, contracts and backlog and our strong earnings reflect the health of the new-home industry in general and our unique position in the luxury market," Toll Chief Executive Officer Doug Yearley said in the statement. The company's community count rose to 301 at the end of the third quarter, and is on track to reach 315 by end of the fiscal year, he said.
The cost to protect Toll Brothers' debt against default fell as much as 15.3 basis points after the company reported earnings to as low as 147.7 basis points, the biggest drop in more than two years, according to data provider CMA.
Toll also narrowed its revenue forecast for the full fiscal year to $6.76 billion to $7.22 billion. That would be the highest annual total in the company's history, CFO Connor said in the statement. In May, the builder projected full-year revenue of $6.64 billion to $7.31 billion.
Nationwide, the number of residential properties sold in which construction hadn't yet started rose to a four-month high, a sign builders will stay busy in coming months, according to the latest government data.
--With assistance from Claire Boston, Fei Fang Lim and Karen Lin.
To contact the reporter on this story: Prashant Gopal in Boston at pgopal2@bloomberg.net
To contact the editors responsible for this story: Daniel Taub at dtaub@bloomberg.net, Christine Maurus
Get Your
Daily Newsletter
Get market moving news, top news & compelling perspectives
---