A New Home for $90,000? Manufactured Housing Is Making a Comeback
A New Home for $90,000? Manufactured Housing Is Making a Comeback
(Bloomberg) -- While others walked away from manufactured homes, Don Glisson Jr. stuck around.
He's seen the industry's ups and downs in his 36 years working at Triad Financial Services, the third-biggest lender to buyers of factory-made houses in the U.S. The rock-bottom was in the early 2000s, when rival firms were getting fat on subprime loans.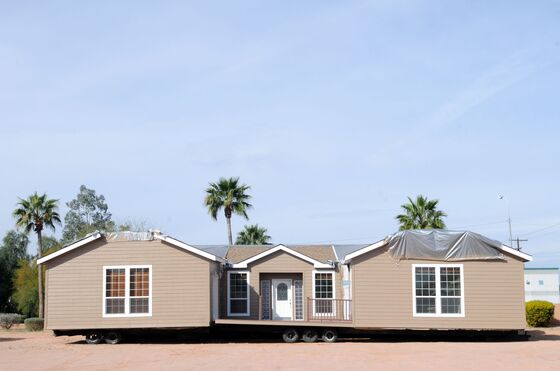 "I knew that would lead to disaster," said Glisson, chief executive officer of Jacksonville, Florida-based Triad. When sales of the homes plummeted and his competitors fled, Glisson booked profits by keeping his focus on borrowers with high credit scores. His discipline paid off: He once was satisfied if his company made $1 million in loans in a month. Now it does that amount in half a day.
Triad might reap further rewards for its persistence. It's one of a handful of firms that are poised to benefit from a nascent comeback for manufactured homes, shipments of which have been on the rise since 2009. Consolidation among producers and the exodus of lenders have left a just few businesses -- including three owned by Warren Buffett's Berkshire Hathaway Inc. -- to dominate a market that looks primed for growth in the face of rising prices for site-built houses and the potential for regulatory change.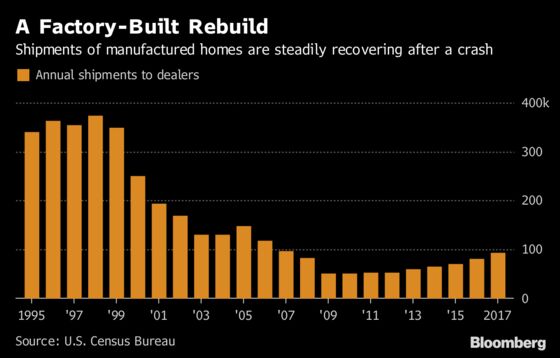 The hope is that more Americans will see the factory units not only as a more-affordable alternative to a traditional single-family house, but also an appealing one, without the old trailer-park stigma. It helps that they've been getting fancier.
Scott Richards, a salesman for Rona Homes in Pataskala, Ohio, said that when shoppers come to his lot, he can dazzle them with customization options like hickory cabinets, rainforest showers and built-in entertainment systems coupled with electric fireplaces.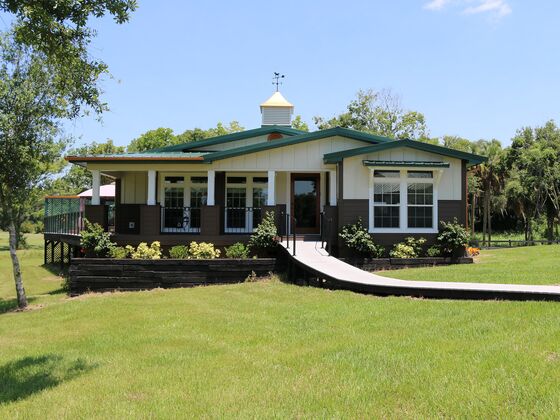 "We've got linoleum floors that look just like hardwood floors," said Richards, who got back into selling factory-made houses after leaving the industry in 2012. "You don't think about solid granite being in a manufactured home, but we have that as well."
Rona Homes revamped its display lot in March in response to growing demand. Where there once sat three models for customers to see, there are now 13 -- "a whole arsenal" Richards can use to sell buyers on the idea.
The company sells what most people probably picture when they think of manufactured homes -- single- and double-wide houses wholly built on a chassis in a factory -- as well as modular homes, which are factory-built in sections that are assembled on a lot. While a single- or double-wide is often much cheaper than a modular home, both offer cost advantages that come with putting construction on an assembly line.
Shipments of manufactured homes to dealers bottomed out in 2009 and have climbed in almost every year since then, according to Census Bureau data. This year, they're expected to cross the 100,000-unit mark for the first time in more than a decade, and Joe Stegmayer, CEO of Cavco Industries Inc., sees no reason why that number can't double.
"I think our industry's time has come," said Stegmayer, whose Phoenix-based company is the No. 3 maker of factory-built houses, behind Berkshire's Clayton Homes and Skyline-Champion Inc., the product of a merger that was completed in June.
An accommodating regulator could help speed up that growth. The Department of Housing and Urban Development is reviewing the rules it places on manufacturers, and in April, HUD Secretary Ben Carson said the agency is "positioned to usher in a new era of cooperation and coordination" with the industry.
Stegmayer said he's looking for some flexibility. Currently, a HUD inspection is required for on-site installation of certain features that are shipped separately from the homes, including dormers and French doors. The rules make the add-ons a hassle for Cavco, yet those modifications are what help the company woo mainstream buyers who might be put off by the boxy look of a typical factory-made home, he said.
Six years of steady price gains have put owning a traditional house out of reach of many Americans, especially in the market for previously owned properties, which make up the vast majority of sales. The Urban Institute's Housing Finance Policy Center has pointed to manufactured homes as a partial solution to the affordability crunch, and Vice President Laurie Goodman predicts annual shipments will continue to grow.
With affordable housing in such short supply, "there aren't a ton of alternatives," she said. "And MH is affordable."
Sale prices for new double-wide manufactured homes averaged $91,400 in March, according to the most recent Census Bureau data. For new single-family homes, including wholly site-built and modular houses, the average price in June was $363,300.
The industry faces challenges, including a widely held perception that factory-made houses are cheaply made and tacky. People who would have to stretch to buy a home have plenty of options for renting, including single-family houses. And as manufactured-home loans typically carry higher rates than conventional mortgages, would-be buyers might have difficulty financing a purchase.
Change may be coming on that front. Government-sponsored Fannie Mae and Freddie Mac are expanding their loan purchases to include so-called chattel loans, often used to finance manufactured houses that are on leased land. That's something they hadn't done "in any meaningful way" since the early 2000s, said Greg Palm, an analyst at Minneapolis-based Craig-Hallum Capital Group LLC. The program will start small, but if scaled up, could spur more lending and bring down borrowing costs for buyers.
In addition, Congress earlier this year voted to roll back a financial crisis-era regulation that kept dealers from steering their buyers to lenders. Glisson said the move should connect Triad with more of its target borrowers and cut down on screening costs.
Glisson said he's aiming for 10 percent growth as "the bare minimum" in the coming years at Triad, whose only larger competitors are 21st Mortgage Corp. and Vanderbilt Mortgage and Finance Inc., both owned by Berkshire Hathaway. The three firms combined control more than half of the market for manufactured-home loans in the U.S., according to Triad's publicly traded parent, Toronto-based ECN Capital Corp.
"As an industry, we're going to continue to grow," said Glisson, CEO of Triad since 2003. "Houses aren't getting cheaper."
To contact the reporter on this story: Jeremy Hill in New York at jhill273@bloomberg.net
To contact the editors responsible for this story: Daniel Taub at dtaub@bloomberg.net, Christine Maurus
Get Your
Daily Newsletter
Get market moving news, top news & compelling perspectives
---