Fight for Fox Local Sports Channels Could Shake Up Broadcasting
Fight for Fox Local Sports Channels Could Shake Up Broadcasting
(Bloomberg) -- Walt Disney Co.'s Bob Iger may not have planned it, but his $71.3 billion deal for 21st Century Fox Inc.'s entertainment assets could be about to reshape sports and regional broadcasting in the U.S.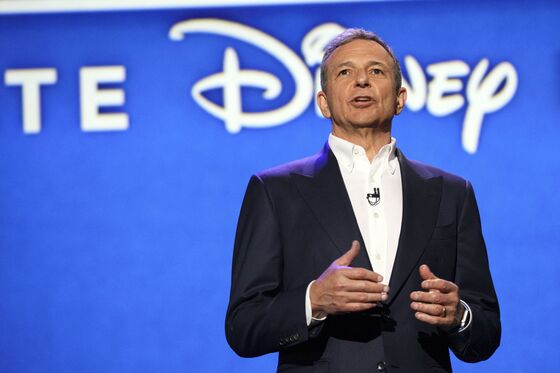 The assets are attracting preliminary interest from media and technology companies including Sinclair Broadcast Group Inc., YouTube Inc. and Amazon.com Inc., as well as buyout firms such as Blackstone Group LP, CVC Capital Partners and Apollo Global Management LLC, according to people with knowledge of the matter. Sinclair Chief Executive Officer Chris Ripley on Wednesday told analysts the networks would be a "good fit."
A sale process for the networks could kick off within weeks, the people said, even though Disney has at least three months after it completes its Fox asset acquisition to offload them. An auction could value the properties at about $20 billion thanks to high profitability and strong cash generation, said the people, who asked not to be identified because the matter is private.
Representatives for Amazon.com, Blackstone, CVC, Apollo and Disney declined to comment. YouTube didn't respond to requests for comment.
While station owners are likely to bid for the networks as a package or in pieces, private equity firms could be tempted to take it one step further. With the U.S. Federal Communications Commission preparing to loosen restrictions on how many television stations one company can own, some buyout firms are scoping out deals that could bring a station owner and the sports networks together, the people with knowledge of the matter said.
If the FCC scraps the rule, which prevents any one broadcaster from owning stations that reach more than 39 percent of the nation's households, Sinclair, Nexstar Media Group Inc. and Tegna Inc. would be better placed to compete as more of their viewers migrate to online platforms.
A private equity firm, for example, could partner with a broadcaster to acquire some of the regional sports networks, or it could buy a broadcaster and then combine it with a rival or the networks, or both, the people said. Regional sports isn't a new area for private equity -- Providence Equity Partners, for example, used to be a stakeholder in the YES network, the home of New York Yankees.
"If you look at private equity, often times they'll want to combine it with other operations in the TV space to be able to create a stronger position in negotiations" with cable and satellite providers, said Paul Wissmann, national sector leader for media and telecommunications for KPMG.
Distributors including Comcast Corp. and AT&T Inc.'s DirecTV pay fees for the right to carry the regional networks' signals. A company could argue it deserves more money from cable distributors if it's the exclusive provider of games featuring a city's pro sports teams, as well as one of a few sources of information for local news and weather in the same market.
Adding the sports channels could also give the stations more leverage when divvying up fees with their national networks, including NBC, CBS, Fox and ABC.
Some teams, including the Yankees, are weighing whether to buy back their own channels, people with knowledge said in June. Private equity firms could play a role in those types of transactions too, said the people.
Media mogul John Malone, who teamed up with Fox founder Rupert Murdoch in the mid-1990s in a regional sports venture in a bid to shake ESPN's hold on sports, has also expressed an interest in getting back into regional sports networks. The package of networks Disney is selling include some that were owned by the Fox/Liberty Networks back then.
The RSNs are set to come to market amid fast-paced media consolidation.
Gray Television Inc. in June said it's buying Raycom Media Inc. for $3.65 billion. Irving, Texas-based Nexstar Media has attracted interest from P2 Capital Partners and Apollo, while closely held Cox Communications Inc. is selling TV stations. Tribune Media Co., which terminated its $3.9 billion takeover by Sinclair, is also set to be back on the auction block and station owner Tegna is another name that could be targeted, people with knowledge said.
But buying regional sports networks comes with risk. The networks, which had long been seen as "must-carry" channels for TV distributors, have suffered from decisions by Comcast and Dish to kick them to less-popular packages or remove them from their lineups entirely in an effort to limit the cost of service.
A deal might also be trickier for technology companies like Amazon or YouTube, which would have to resolve limitations on digital rights to make any purchase worthwhile. The National Basketball Association and Major League Baseball let the regional networks broadcast live events only in specific markets while keeping national digital rights for their own services. That could put the leagues at odds with video services that operate on a national and even global basis.
Still, bulking up -- whether it's two broadcasters getting together or broadcasters combining with regional sports networks -- is sensible in an industry where only economies of scale can help traditional players combat digital content providers.
Sinclair CEO Ripley this week said the company continues "to seek scale" within the broadcast industry. "There's lots of deals coming on the marketplace," he said.
--With assistance from Melissa Mittelman, Alex Barinka, Lucas Shaw and Anousha Sakoui.
To contact the reporters on this story: Nabila Ahmed in New York at nahmed54@bloomberg.net;Gerry Smith in New York at gsmith233@bloomberg.net
To contact the editors responsible for this story: Elizabeth Fournier at efournier5@bloomberg.net, ;Nick Turner at nturner7@bloomberg.net, Michael Hytha
Get Your
Daily Newsletter
Get market moving news, top news & compelling perspectives
---