Airbus Spy Drone Stretches Flight-Endurance Record to 25 Days
Airbus Spy Drone Stretches Flight-Endurance Record to 25 Days
(Bloomberg) -- Floating almost motionless at an altitude of 70,000 feet, Airbus SE's Zephyr spy drone has extended the record for the longest flight within the Earth's atmosphere to 25 days, two-thirds more than the previous best.
The first production version of the solar-powered pseudo-satellite spent more than three weeks in the stratosphere on its maiden trip after taking off from Arizona on July 11, Airbus revealed Wednesday after the craft landed safely.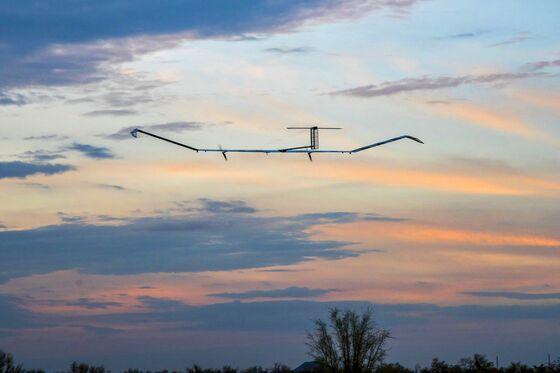 The flight broke the previous endurance record of 14 days set by a prototype Zephyr in 2015 and was aimed at establishing the drone's credentials as a less costly, more nimble alternative to conventional satellites. The craft, which has a 25-meter (82-foot) wingspan but weighs 75 kilos (165 pounds), is one of two ordered by Britain's defense ministry and was built at Farnborough, England.
Additional test flights are planned from a site in Western Australia, according to Airbus, which says the Zephyr could also play a part in remote communications, maritime surveillance, border patrols, gauging environmental change and monitoring the spread of wildfires and oil spills.
The Zephyr operates at an altitude above the planet's weather systems where only the Concorde, the U2 spy plane and Mach 3 SR-71 Blackbird previously flew. Its ultra-light construction means it can be hand-launched by three people.
To contact the reporter on this story: Christopher Jasper in London at cjasper@bloomberg.net
To contact the editor responsible for this story: Anthony Palazzo at apalazzo@bloomberg.net