Deutsche Bank Tries to Reboot Florida Outpost Plagued by Exits
Deutsche Bank Tries to Reboot Florida Outpost Plagued by Exits
(Bloomberg) -- As Deutsche Bank AG pares back in the U.S. from New York to Houston, there's one outpost where the beleaguered German lender is hiring: Jacksonville, Florida.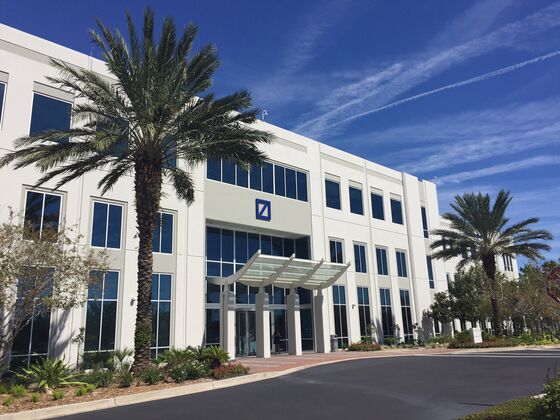 The company aims to boost the number of front-office workers there by year-end, to more than 200, largely in the corporate-finance and global-transaction businesses, according to a person with knowledge of the plans. In sum, more than 100 positions across the Jacksonville office will be added, the person said, asking not to be identified discussing company strategy.
The expansion is a U-turn for Deutsche Bank. Six years ago, it began building a trading operation in Jacksonville as a way to cut costs, reaching roughly 200 staffers about three years ago, only to have that number fall by half as the effort foundered. A simultaneous expansion of the Jacksonville back-office operation was largely successful.
The headcount for client-facing professionals is expected to be back to its peak by the end of 2018, according to the person.
"Our presence in Jacksonville is an essential part of our regional footprint in the Americas, and we place great value in our Jacksonville operations," Troy Gravitt, a spokesman for the bank, said in an emailed statement.
Deutsche Bank's previous attempt is a cautionary tale for potential applicants and other banks contemplating the "near-shoring" trend, where Wall Street firms look to lower-cost cities around the nation as a place to reduce spending.
By last year, after Deutsche Bank's front-office ranks in Jacksonville had thinned, those still at their desks were spending much of the day dumping small-time customers the firm decided weren't worth the effort, according to several former employees.
There were several missteps, the people said, asking not to be identified to protect their career prospects. Deutsche Bank left the outpost, led by Michael Drexler, struggling with low-revenue clients and little backing from the mother ship in New York, they said. And sales staff who managed to turn poor-performing customers into more lucrative accounts found those clients sometimes vacuumed up by the Wall Street office, according to the people.
Drexler didn't respond to requests for comment.
Former employees also said they got less pay than promised and fewer career opportunities than the bank had touted in urging them to make the shift to the Sunshine State.
After being told they were joining a growing operation, the bank's reversal left many of the transplants feeling misled, seven of the people said. Four of them said they left voluntarily, out of frustration, despite having few other large-bank job options in Jacksonville.
Other problems with the effort were a function of the 900 miles separating Jacksonville from Wall Street, the former employees said. When clients wanted to make transactions, Jacksonville staff often had to call up traders in New York. Those requests were treated as less important and could take longer to execute, according to three former employees.
Staff also reported to both a desk head in another location and a Jacksonville manager. With travel hard to come by, front-office workers had little face-time with the New York managers who held sway over their bonuses.
Front-office employees make up 5 percent to 10 percent of the broader Jacksonville operation. Overall, the outpost has continued to grow, with the bank saying in 2016 that it planned to add 350 additional workers to the 1,800 already in place. That compares with fewer than 100 employees in 2008.
In some ways the problems in Jacksonville mirror the German bank's nationwide retrenchment. The company said earlier this year it would scale back its U.S. operations as new Chief Executive Officer Christian Sewing grapples with years of scandals and poor performance. The bank has considered cutting as many as 20 percent of its U.S. employees, and is planning to reduce its rates sales and trading business in the region.
Deutsche Bank's annual sponsorship of a hospitality tent at the Players Championship, a golf tournament hosted near Jacksonville, offers a lesson for other Wall Street banks considering smaller locales to cut costs. While the tent was intended primarily for clients, by the day of the event it was largely filled with employees, the people said. Not enough Deutsche Bank customers lived close enough to make the trek.
To contact the reporter on this story: Ivan Levingston in New York at ilevingston@bloomberg.net
To contact the editors responsible for this story: Michael J. Moore at mmoore55@bloomberg.net, Steve Dickson, Steven Crabill