TV Crew Killed in Africa Probed Mercenaries of 'Putin's Cook'
Exiled oil tycoon and Kremlin critic Khodorkovsky had funded the investigation.
(Bloomberg) -- Three Russian journalists who were murdered while on assignment in the Central African Republic were probing the activities of a mercenary group linked to an ally of President Vladimir Putin, according to the exiled oil tycoon who funded their trip.
Orkhan Dzhemal, Kirill Radchenko and Alexander Rastorguev were "on an investigation into Russian private mercenaries, in particular the Wagner group," said Mikhail Khodorkovsky, the former Yukos Oil Co. chief and Kremlin critic, who added that they were working with an investigative news organization that he funds. "These were brave men who were not prepared simply to collect documentary material, but wanted to 'feel' it in the palms of their hands," Khodorkovsky said in a statement on his website.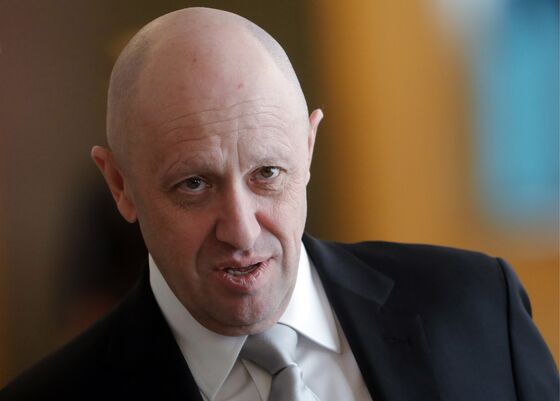 According to three people familiar with the matter, Wagner is controlled by Yevgeny Prigozhin, known as "Putin's Cook" because one of his companies, Concord Management, provides food services to the Kremlin. Prigozhin, who's known Putin since the 1990s, denies any link to the shadowy military contractor that maintains a training camp at a commando base in southern Russia and deploys mercenaries to eastern Ukraine and Syria.
The journalists were killed on Monday near the town of Sibut, 300 kilometres north of the CAR's capital, Bangui, according to local reports, the Russian Foreign Ministry said in a statement. Their bodies were brought to the capital and Russian diplomats are working with CAR officials to find out what happened, according to the statement.
The three men visited a base used by Russian mercenaries near Sibut on Sunday, the day after they arrived in the country, said Anastasia Gorshkova, deputy editor of the Investigation Control Center that's funded by Khodorkovsky. Guards refused entry, copied their identification documents and told the journalists to seek permission to film from the CAR government in Bangui, she said.
They were traveling at night on Monday from the capital to meet a United Nations contact when an unidentified group of people shot at their vehicle near Sibut and killed them, she said.
Russian Foreign Ministry spokeswoman Maria Zakharova confirmed the presence of military and civilian instructors in the CAR in a Facebook posting, but said the journalists died far from where the advisers are located.
Russia said in March that it sent a consignment of small arms as well as five military and 170 civilian instructors to train CAR forces with the consent of the UN Security Council, which imposed an arms embargo in 2013 after the African nation's ruler was overthrown by rebel groups. It's also "exploring the possibilities" of developing the CAR's mineral resources, according to the Foreign Ministry in Moscow.
In what the UN ranks as the world's poorest country, where most state institutions crumbled after the coup, President Faustin-Archange Touadera governs with support from a UN peacekeeping mission of 14,000 personnel who face a near impossible task of shielding civilians from armed groups roaming the countryside.
Prigozhin and three of his companies were named in a February indictment by Special Counsel Robert Mueller, which said he was one of 13 Russian citizens involved in a yearslong multimillion-dollar conspiracy aimed at undermining Democratic Party candidate Hillary Clinton while supporting her rival Bernie Sanders and Republican contender Donald Trump via social media, fake rallies and other methods. The companies included the Internet Research Agency that's been accused of running a vast troll operation designed to sow discord in the 2016 U.S. presidential election.
Prigozhin has denied any wrongdoing. In 2016, he was sanctioned by the U.S. Treasury, which said he has "extensive business dealings" with the Russian Defense Ministry.
To contact the reporters on this story: Tony Halpin in Moscow at thalpin5@bloomberg.net;Stepan Kravchenko in Moscow at skravchenko@bloomberg.net
To contact the editors responsible for this story: Gregory L. White at gwhite64@bloomberg.net, Tony Halpin
Get Your
Daily Newsletter
Get market moving news, top news & compelling perspectives
---