Facebook Insiders Sold $3.9 Billion of Shares Since Scandal
Facebook CEO Zuckerberg led the pack of sellers accounting for 85 percent of the total sale
(Bloomberg) -- Eight Facebook Inc. insiders combined to sell about $3.9 billion worth of stock since the Cambridge Analytica data-mining scandal first surfaced on March 17. The sales were part of pre-determined trading plans.
Chief Executive Officer Mark Zuckerberg accounted for about 90 percent of the total, according to data from InsiderInsights.com, which analyzes such transactions. Most of Zuckerberg's sales are part of a plan announced last September to sell as much as 18 percent of his Facebook stock. Zuckerberg and wife Priscilla Chan pledged in December 2015 to sell most of their shares over time to invest in philanthropic causes.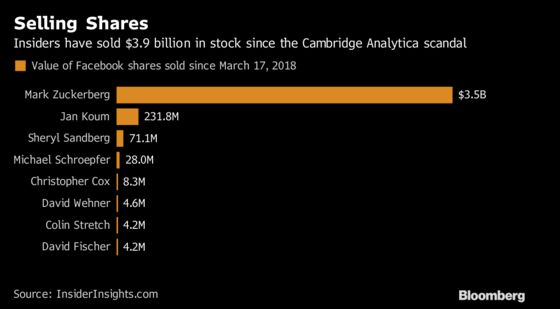 For more on Facebook's data-mining scandal, check out the Decrypted podcast:
The social media giant's stock fell 19 percent as of 1:25 p.m. Thursday in New York after second-quarter sales and user growth disappointed investors.
To contact the reporters on this story: Brandon Kochkodin in New York at bkochkodin@bloomberg.net;Tom Metcalf in New York at tmetcalf7@bloomberg.net
To contact the editors responsible for this story: Pierre Paulden at ppaulden@bloomberg.net, Steven Crabill