Boeing's $418 Million Tanker Writedown Rattles Investors
Boeing's $418 Million Tanker Writedown Rattles Investors
(Bloomberg) -- Boeing Co. absorbed a $426 million blow as it prepares to deliver the first of its delay-plagued aerial tankers to the U.S. Air Force, rattling investors accustomed to turbulence-free results from the world's largest planemaker.
The latest writedown covers the higher estimated expense of retrofitting eight of the three-dozen-odd KC-46 tankers in various stages of production ahead of final certification. Boeing had already amassed $3 billion in charges developing the aerial refueler based on its 767 jetliner.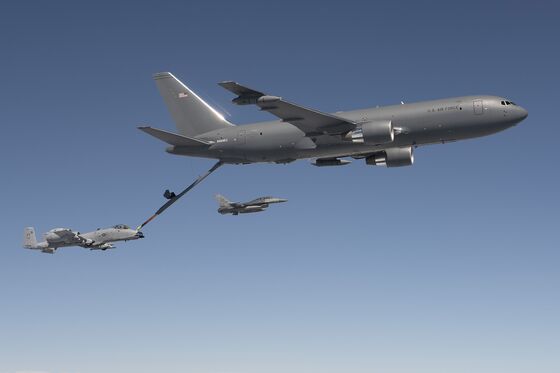 The tanker stumble marred an otherwise strong quarter for Boeing, with profit and sales exceeding Wall Street's estimates. The company's strong cash generation has made it one of the top performing U.S. industrial stocks for more than a year, but the ascent has slowed in recent months as tariffs imposed by President Donald Trump have fueled trade tensions and threatened to dent Boeing's order book. The new tanker hit added to the sense of caution.
"The KC-46 has returned to again haunt Boeing's results," Robert Stallard, an analyst with Vertical Research Partners, said in a note to clients. "Management has previously expressed confidence that there would be no more tanker charges, and yet they keep coming."
The shares fell 2.3 percent to $349.88 at 1:42 p.m. in New York, the worst performance on the Dow Jones Industrial Average. Boeing advanced 21 percent this year through Tuesday, the third-biggest gain among the Dow's 30 members.
Adjusted earnings rose to $3.33 a share, Boeing said in a statement Wednesday. That exceeded the $3.27 average of estimates compiled by Bloomberg. Revenue climbed 5 percent to $24.3 billion, $300 million more than analysts had predicted.
The Chicago-based company generated free cash flow of $4.3 billion, topping estimates of $2.1 billion, another sign its underlying business remains healthy. Boeing has pledged to return the equivalent of that measure to investors, and spent $3 billion to repurchase shares while paying out $1 billion in dividends.
"Other than tanker, it was a pretty good quarter," Canaccord Genuity analyst Ken Herbert said in an interview.
The manufacturer has finalized its design for the complex tanker, part of a potential $44.3 billion program, after wrapping up flight-testing earlier this month. Boeing has wrestled with a handful of technical issues, including the plane's 59-foot extended boom accidentally scraping the protective coating off military airplanes refueling in midair.
Boeing took a $307 million pretax charge in its commercial-airplane division because of the tanker and cited cost growth of $111 million in its defense unit, for a hit of $418 million. In addition, the global services operation took an $8 million blow, raising the total to $426 million.
The company expects to deliver the first of the KC-46 aircraft to the U.S. Air Force in October, more than two years behind schedule. The cost of preparing the tankers for that milestone weighed on Boeing's forecast for the year, Chief Financial Officer Greg Smith said on a conference call to discuss earnings.
The largest U.S. industrial company, known for steadily raising its profit forecast as the year progresses, kept two key financial measures steady this time: earnings per share and operating cash flow. Boeing also lowered the full-year operating margin for its defense business to a range of 10 percent to 10.5 percent from the 11 percent steer it had provided in April.
"For now it seems that taking the tanker program over the finish line has injected a bit more caution into the near-term outlook," Seth Seifman, analyst with JPMorgan Chase & Co., said in a note to clients.
Boeing did hoist its revenue forecast by $1 billion to a range of $97 billion to $99 billion, attributing the gain to higher foreign military-aircraft sales and a boom in demand for spare aircraft parts in its services division. The company also predicted an operating margin of greater than 11.5 percent for the commercial airplane division, despite the higher tanker cost.
The company has worked hard to improve productivity in its factories, while making good on pledges to increase cash flow and share the gains with shareholders. The balance of inventory and factory costs for the 787 Dreamliner fell $449 million to $24.2 billion, freeing up cash.
The tanker expense hampered an effort by the commercial airplane and defense divisions to achieve the mid-teen profit margins goal set by Boeing Chief Executive Officer Dennis Muilenburg. They reported operating margins of 11.4 percent and 9.3 percent, respectively. The measure also dipped to 14.7 percent from 16 percent a year earlier for Boeing Global Services, a new division offering spare parts, maintenance and other services.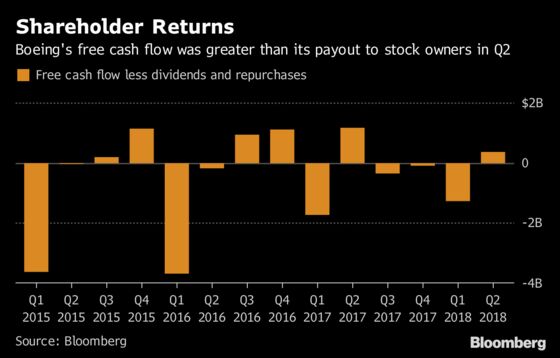 Investors have increasingly responded to cash rather than profit at Boeing, which has only missed targeted earnings twice this decade. The measure has been bolstered by cash advances from aircraft sales during a prolonged boom for commercial jets, as well as increasingly efficient 787 production following 10 years of losses.
Boeing anticipates completing the remaining $12 billion in share repurchases authorized by directors within the next two years, said Smith, the CFO. Since the end of 2012, the planemaker has poured more than $48 billion into share buybacks and dividends.
--With assistance from Herb Scheuren.
To contact the reporter on this story: Julie Johnsson in Chicago at jjohnsson@bloomberg.net
To contact the editors responsible for this story: Brendan Case at bcase4@bloomberg.net, Tony Robinson