Housing Downturn Puts $20 Billion Indian Bank Loans at Risk
Outstanding loans from banks to realty developers have been little changed at 1.8 trillion rupees for two years.
(Bloomberg) -- Indian lenders struggling to recoup loans worth about $20 billion to troubled property developers have to contend with another challenge: A lackluster recovery from the worst home-sales slump this decade.
To recover the dues, banks are taking control of land parcels and unfinished projects that can be sold along with loans. This comes at a time when home sales volumes have declined about 40 percent over four years and prices have dropped as much as 20 percent on average, said S. Sriniwasan, managing director of Kotak Investment Advisors, which oversees the alternate assets business of parent Kotak Mahindra Bank Ltd.
"Weaker hands are going out of business in realty and lenders are working on recovering $20 billion worth of stressed loans to developers," said Sriniwasan, who has been bidding to buy properties that banks are putting on the block. ''All those land banks, which developers used to tout as a valuation booster, are turning into bank lands now," and creditors will have to take haircuts while selling the collateral.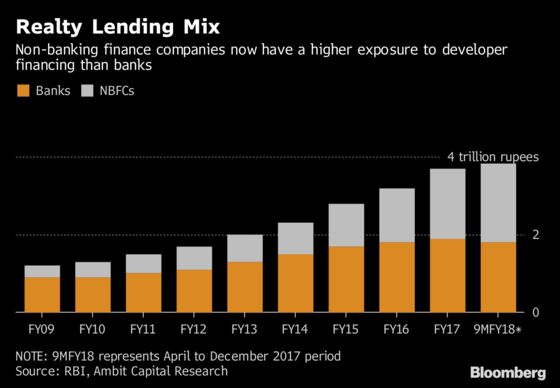 Developers, including Jaypee Infratech Ltd. and Unitech Ltd., have been taken before India's courts by irate homeowners and creditors as apartment sales slumped in the once red-hot South Asian market following the triple whammy of a surprise cash ban, tax reforms and a consumer-protection law for the sector. Last year, home sales plunged to a seven-year low and prices in some of India's biggest cities tumbled.
In the first half of 2018, residential property prices continued to fall across major cities and sales were about stagnant, even as project launches improved, according to a Knight Frank report published Wednesday. Federal elections next year along with rising inflation and interest rates may mean a "rocky way ahead" for the industry, said Chairman and Managing Director Shishir Baijal.
There is an oversupply of land parcels in the market, weighing down on pricing, as banks push to recover loans, according to Indiabulls Asset Reconstruction Company Ltd. The Mumbai-based bad loan buyer has already purchased stressed realty assets worth 4 billion rupees ($58 million) and is examining another three buyouts, said Kiran Shingwekar, chief executive officer of IARCL.
"Banks have limited head room and expertise in bringing a stressed realty project back on track and hence it makes sense for them to sell down the loans and assets to firms specializing in the segment," he said. "Their lack of willingness to take steep hair cuts has been delaying some of these deals."
Lenders may be running short of options though. India's central bank issued a directive in February forcing them to restructure loans quickly or take defaulters to bankruptcy court. The 180-day deadline to recast stressed debt -- replacing myriad schemes that could drag on indefinitely -- is expected to trigger a bout of deals.
Outstanding loans from banks to realty developers have been little changed at about 1.8 trillion rupees for the two years through May, according to data from the central bank. In addition, non-banking finance companies have an exposure of 2.2 trillion rupees to the sector till December, according to an Ambit Capital report published in April.
Lenders including banks and finance companies operate at the highest-risk end of the realty market, providing financing for land acquisition or construction, Sriniwasan said.
"This $20 billion stress is just at banks. We don't even know what level of non-performing loans is there in non-finance companies' books since their recognition norms are more relaxed and bad loans are not really coming out," he said. "The day of reckoning is not far."
--With assistance from Upmanyu Trivedi and Bhuma Shrivastava.
To contact the reporters on this story: Dhwani Pandya in Mumbai at dpandya11@bloomberg.net;Anto Antony in Mumbai at aantony1@bloomberg.net
To contact the editors responsible for this story: Marcus Wright at mwright115@bloomberg.net, Candice Zachariahs, Atul Prakash