China's Downgrade-Free Defaults Put Focus on Rating Firms
(Bloomberg) -- China's record-pacing defaults this year have exposed more than just which borrowers took on too much debt. It's also putting a spotlight on the nation's sluggish credit raters.
Any investor relying on domestic Chinese rating firms would have been ill served with Wintime Energy Co., which had not a single rating downgrade before it this month descended into China's biggest default of 2018. It's one of several examples where debt raters have failed to telegraph deteriorating credit quality this year.
The problem: until the past few years, China didn't let any company default, supporting ratings for the entire corporate universe. Now, without clear guidelines on which firms still have implicit guarantees, ratings companies are operating in a tricky new environment.
And the Wintime example shows they weren't necessarily wrong if they assumed the government would back the coal miner. The company, based in the northern province of Shanxi, did get a credit line from big state banks. But that came after it reneged on a payment for a one-year note, and may not end up being much help for bondholders.
"Chinese rating firms still assume local authorities may bail out defaulted companies that are state-backed, which is one of the reasons behind inflated credit ratings," said David Qu, an economist at Australia & New Zealand Banking Group Ltd. in Shanghai. "And unfair competition among rating firms for business somehow results in higher ratings than what borrowers deserve."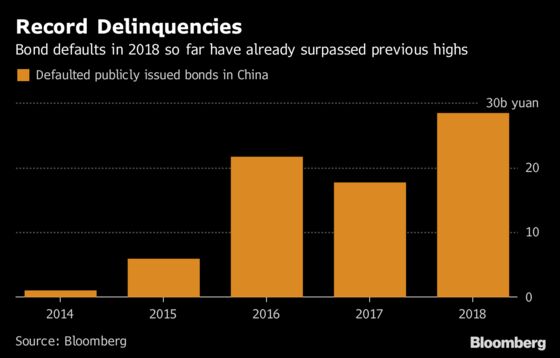 In the Wintime case, China Lianhe Credit Rating Co. kept its rating on the firm at AA+ with stable outlook -- an investment-grade score in China -- until two days after it missed its bond payment on July 5. It didn't change even as the bonds started plunging in June. Lianhe now rates it at CC, deep into junk.
Lianhe says that the AA+ rating was based on the firm's financial strength, and that it started scrutinizing Wintime's cash situation a few months ago. Even so, a representative of Lianhe declined to comment last week when asked why there was no rating downgrade on Wintime as its bond prices tumbled.
Unreliable ratings have been frequently cited by foreign funds as a key reason to steer clear of credit as they become active in China's onshore bond market, the world's third-largest and one that's increasingly open to overseas investment. Among recent examples of other downgrades that came too late:
IT services provider Zhong Rong Shuang Chuang Beijing Technology Group's rating was cut to BB from AA only after it defaulted on a 600 million yuan ($89 million) bond in June.

Dagong Global Credit Rating Co., which rates the bonds, didn't reply to an email seeking comment.

Yields on coal producer Zhongrong Xinda Group's yuan bond maturing in August surpassed 336 percent amid concern its business partner Wintime Energy's default would hurt its operations. Yet United Ratings still has Zhongrong Xinda as AAA.

United Ratings will reassess Zhongrong Xinda's rating, it said in an emailed response on July 15.
In mid-July, international peer Fitch Ratings cut Zhongrong Xinda's score by three levels and S&P Global Ratings lowered its rating by two notches.
In other cases, investors are moving ahead of the agencies -- read more here.
China's regulators have been trying to spur better due diligence. The China Securities Regulation Commission has issued warnings to five rating firms this year, documents on its website show. Most of the local firms are rated between AA and AAA by domestic debt assessors, which is six to seven levels higher than the scores given by foreign peers on similar issuers, according to a working paper from the nation's central bank last year. In order to speed reform and competition, China also opened the door for foreign rating agencies last year.
"As the credit rating sector opens to foreign agencies, the pressure to improve rating quality at local firms is likely to increase," Jiang Chao, fixed-income analyst at Haitong Securities Co. wrote in a research note last week.
To contact Bloomberg News staff for this story: Tongjian Dong in Shanghai at tdong28@bloomberg.net;Yuling Yang in Beijing at yyang329@bloomberg.net
To contact the editors responsible for this story: Neha D'silva at ndsilva1@bloomberg.net, Lianting Tu, Christopher Anstey
With assistance from Editorial Board