Mattis Urges Congress Not to Hit Turkey With Lockheed F-35 Ban
Mattis Urges Congress Not to Hit Turkey With Lockheed F-35 Ban
(Bloomberg) -- Defense Secretary Jim Mattis has warned Congress against punishing Turkey for its plans to buy a Russian anti-aircraft system by cutting off transfers of Lockheed Martin Corp.'s F-35 jet.
"At this time, I oppose removal of Turkey from the F-35," Mattis wrote in a previously undisclosed letter this month to lawmakers negotiating fiscal 2019 defense bills. He said a cutoff risks triggering an international "supply chain disruption" that would drive up costs and delay deliveries of the fighter.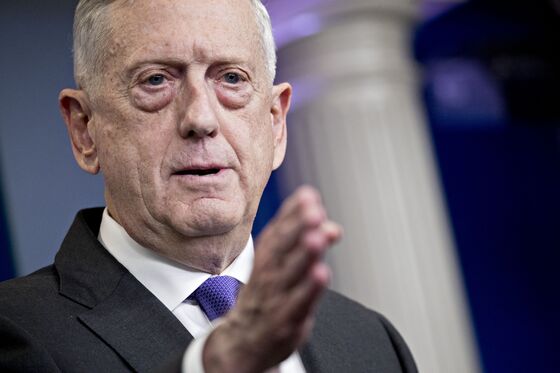 Senate versions of the defense policy and spending bills would place a hold on F-35 transfers to punish Turkey, a NATO ally, for seeking to buy Russia's advanced S-400 system and for detaining American pastor Andrew Brunson.
Read more: Trump Calls on Turkish President to Free U.S. Pastor
Mattis reminded lawmakers that Turkey is one of the original eight international partners for the F-35, which is dependent on international as well as U.S. sales. Turkey has invested $1.25 billion in the aircraft's development phase.
Under President Recep Tayyip Erdogan, Turkey plans to buy about 100 F-35s, joining the U.K. and Australia as the top international customers. At least 10 Turkish companies are building parts and components, such as the cockpit displays, for other partners, according to Bethesda, Maryland-based Lockheed.
"If the Turkish supply chain was disrupted today, it would result in an aircraft production break, delaying delivery of 50-75 jets and would take approximately 18-24 months to re-source parts" made by Turkish companies, Mattis wrote in a July 7 to House Armed Services Committee Chairman Mac Thornberry. A similar letter was sent the Senate Armed Services panel.
Mattis wrote that he understands and agrees "with congressional concerns about the authoritarian drift in Turkey and its impact on human rights and rule of law," including Brunson's confinement, Mattis wrote. "The administration is pressing Turkey on these issues as well as the potential acquisition of the S-400."
To contact the reporters on this story: Tony Capaccio in Washington at acapaccio@bloomberg.net;Roxana Tiron in Washington at rtiron@bloomberg.net
To contact the editors responsible for this story: Bill Faries at wfaries@bloomberg.net, Larry Liebert, Jonathan Nicholson