Heatwave Threatens Nordic Crops as Lapland Gets New Heat Record
(Bloomberg) -- The heatwave that's gripping northern Europe is sending power prices skyrocketing, threatening Nordic grain crops and forcing Sweden to seek help from Italy and France to help combat wildfires.
As the chart below shows, there's no let up until early August when the temperatures could start to fall back toward more normal summer levels. Even in Finnish Lapland, the home of Santa, a new heat record of 33.4 degrees Celsius (92 Fahrenheit) was reached on Wednesday.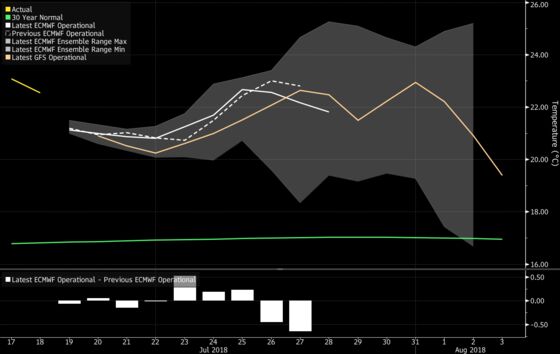 Finland's grain harvest will probably fall by as much as 30 percent from last year, said Max Schulman, advisor at the Central Union of Agricultural Producers and Forest Owners MTK in Helsinki. The drought that began in early May has affected cereals and oilseed plants through their growth cycle, meaning the crops sprouted late, yields are small, their quality uneven and harvesting may become impossible, he said.
"The weather pattern in the entire Baltic Sea region has been exceptionally dry and warm since the spring sowing season, with wind further drying out the land," Schulman said. "Some farms will lose their entire crops."
The dry spring has cut hydro reservoir levels from Norway to Finland and benchmark power futures are trading at their highest level in seven years on Nasdaq Inc.'s exchange in Oslo.
Power supplies were reduced after a fire in a transformer at a Fingrid switch yard at the Olkiluoto nuclear plant on the nation's west coast caused Teollisuuden Voima Oyj's number 2 reactor to fall off the network on Wednesday morning, and later that day a network glitch caused Olkiluoto-1 unit to also drop from the grid. The reactors are being re-connected to the grid and are seen reaching full power on Sunday, TVO said.
Fingrid has sought more bids on the region's balancing power market, and some power producers have offered to sell extra electricity, Arto Pahkin, Fingrid's manager of network operations, said by phone.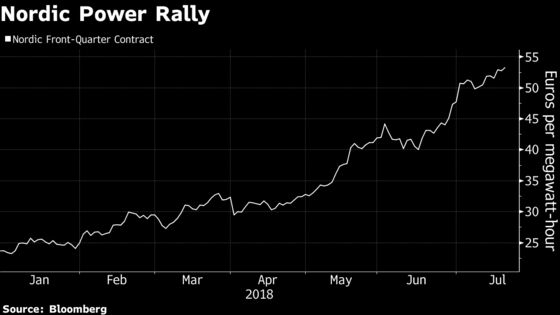 The risk of fires means some forestry work cannot be undertaken, as metal machinery hitting rocks can set off sparks. A blaze raging in Pyharanta, on Finland's west coast, had by Thursday claimed 100 hectares of land, the equivalent of about 140 soccer pitches.
Read more about how the heatwave is posing a weather risk for the Nordic Forest Industry
In neighboring Sweden, firefighters are battling as many as 35 forest fires across the country, three times as many as in July last year, with the dry and hot weather causing the Swedish Meteorological and Hydrological Institute to warn of "extremely high temperatures" and "an extreme" fire risk. Sweden has sought international help to battle the fires, using Italian and French water-bombing aircraft to put them out.
The past year has been "extraordinary" for the forest industry, said Tomi Salo, director of the forests unit at the Finnish Forest Industries Federation.
"It's been the most challenging year in decades for timber deliveries to mills," Salo said by phone. "We've gone from one extreme to another: first a wet autumn that hampered harvesting as roads couldn't support the machinery and now an exceptionally dry and hot spring and summer."
--With assistance from Karoliina Liimatainen, Niklas Magnusson and Lars Paulsson.
To contact the reporter on this story: Kati Pohjanpalo in Helsinki at kpohjanpalo@bloomberg.net
To contact the editors responsible for this story: Tasneem Hanfi Brögger at tbrogger@bloomberg.net, Lars Paulsson, Jonathan Tirone