Wells Fargo Falls Most in Month on Drag From Lending, Expenses
Wells Fargo Mortgage Fees Drop by a Third as Interest Rates Rise
(Bloomberg) -- Wells Fargo & Co. fell the most in more than a month after reporting that loans dropped in the second quarter while expenses came in higher than analysts had expected.
Total average loans fell $6.9 billion from the previous three-month period to the lowest in more than two years, fueled by drops in both commercial and consumer lending, the San Francisco-based firm said Friday in a statement. Non-interest expenses increased 3 percent, while analysts had predicted a slight decline.
"The broad-based weakness of Wells Fargo's results is troubling, with many indicators such as deposits, commercial and consumer lending trending down," Octavio Marenzi, chief executive officer of consultant Opimas, said in an emailed statement. "It appears that the slew of scandals that Wells Fargo has been involved in are taking their toll."
Shares of Wells Fargo dropped 3.9 percent to $53.86 at 9:51 a.m. in New York, the most intraday since May 29 and the worst performance in the 24-company KBW Bank Index. The stock has fallen 11 percent this year.
In February, the Fed prohibited Wells Fargo from increasing assets until it fixes missteps involving misleading sales practices at its consumer bank. Since then, the nation's third-largest lender by assets has faced more scrutiny, with the U.S. Department of Justice and Securities and Exchange Commission examining the wealth-management unit, a person familiar with the probes had said.
The bank accrued a $114 million expense to refund wealth-unit customers who had been overcharged in the last seven years, and $171 million for foreign-exchange clients, including those who may have received pricing "inconsistent with commitments made" to them, Wells Fargo said.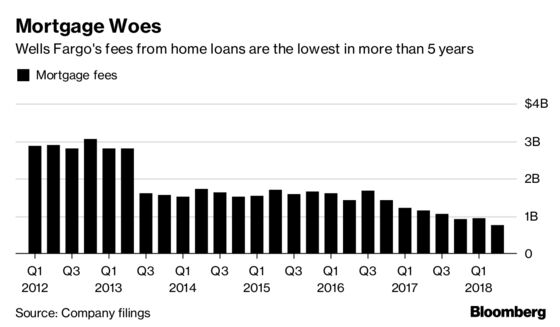 Mortgage fees declined by a third in the quarter to $770 million, the lowest in more than five years, while total average loans slipped 1 percent to $944.1 billion. Net income missed analysts' estimates as the bank took a $481 million tax expense.
Lenders including Wells Fargo are battling for a smaller mortgage pie as rising interest rates make home loans more expensive and nonbank competitors take greater market share.
CEO Tim Sloan had warned investors of "overcapacity" in mortgages at an investor conference in May.
JPMorgan Chase & Co. and Citigroup Inc. also reported results Friday, posting profit that beat analysts' estimates. JPMorgan, the largest U.S. bank, generated better-than-expected loan growth and trading revenue in the quarter, while Citigroup had record fees from its treasury and trade solutions business.
Here's how Wells Fargo did:
Net income fell 11 percent to $5.2 billion, or 98 cents a share, from $5.86 billion, or $1.08, a year earlier. Excluding the tax charge, per share profit was $1.08, missing the $1.12 average estimate of 27 analysts surveyed by Bloomberg.
Revenue declined 2.7 percent to $21.6 billion, in line with analysts' expectations.
Net interest margin, the difference between what a bank charges borrowers and pays depositors, increased 9 basis points from the previous three-month period and 3 basis points from a year earlier.
Efficiency ratio, a measure of profitability, improved to 65 percent from 69 percent in the first quarter. Sloan is targeting 55 percent to 59 percent in the long term, excluding litigation costs.
To contact the reporter on this story: Hannah Levitt in New York at hlevitt@bloomberg.net
To contact the editors responsible for this story: Michael J. Moore at mmoore55@bloomberg.net, Steven Crabill, Daniel Taub