Delta to Lift Fares, Trim Flights With Fuel Costs Crimping Profit
Delta to Lift Fares, Trim Flights With Fuel Costs Crimping Profit
(Bloomberg) -- Travelers beware: Delta Air Lines Inc. is looking to offset the rising price of jet fuel by raising fares and cutting some flights.
A benchmark gauge of pricing power will climb as much as 5.5 percent in the third quarter, the No. 2 U.S. carrier said in a statement Thursday as it reported second-quarter earnings, implying higher fares. Delta also will take some seats off the market by paring "underperforming capacity'' and said it continues looking for more places to trim.
Delta is rushing to offset the pain from pricier jet kerosene, which drove a 33 percent increase in the airline's second-quarter fuel costs and prompted the company to cut its annual profit forecast. While a strong domestic economy has boosted travel demand, there is typically a six- to 12-month lag before airlines can raise fares to help offset higher spending.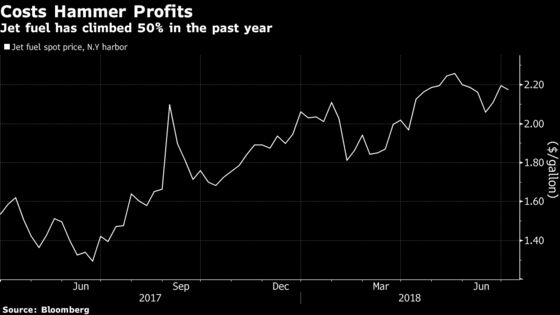 "Delta's focus going forward will be to overcome the rise in jet-fuel costs by raising ticket prices,'' Helane Becker, an analyst at Cowen & Co., said in a note to clients. "The near-term revenue outlook remains optimistic.''
Delta advanced 1.4 percent to $50.55 at 1:11 p.m. in New York. The shares fell 11 percent this year through Wednesday.
The airline said it's trimming capacity of flights and seats 0.5 percent to 1 percent by eliminating weaker routes, an action investors have been calling for because tightening supply during high demand periods makes it easier to raise ticket prices.
Because growth was tracking above plans during the first half, the carrier will still expand capacity about 3 percent for the full year, at the high end of its prior range. The lack of a larger reduction in flights and seats drew skepticism from Jamie Baker, a JPMorgan Chase & Co. analyst.
"Running ahead of your capacity plan as margins decline, and then reducing capacity back to the high-end of your original range is not the type of capacity cut we believe managements should look investors in the eye and take credit for," Baker said in a note Thursday.
Delta said its adjusted profit will be $5.35 to $5.70 a share for the full year, a dollar less at both ends than the previous forecast. That's lower than the $5.77 a share average of analyst estimates compiled by Bloomberg.
The carrier lowered its earnings outlook a day after American Airlines Group Inc. tumbled the most in two years because of signs of U.S. fare weakness. Delta acknowledged domestic yields, or average fare per mile, are below what it would have anticipated given strong demand.
"That's the piece that we're working on every day to try to improve," Delta President Glen Hauenstein said on a conference call with analysts. The carrier's domestic yields were up 2.5 percent last quarter, with only Latin America being lower among geographic regions.
American, which will release second-quarter financial results late this month, pared its 2018 profit forecast in April. United Continental Holdings Inc. reports earnings next week.
Record second-quarter travel helped boost Delta's total revenue for each seat flown a mile, a closely watched measure of demand and fares, by 4.6 percent. The expected increase of 3.5 percent to 5.5 percent in the third quarter would extend those gains.
"We have seen early success in addressing the fuel-cost increase and offset two-thirds of the impact in the June quarter," Chief Executive Officer Ed Bastian said in the statement. "We have positioned Delta to return to margin expansion by year end."
A Brent crude price near $75 a barrel "does not scare us," he said on the call to discuss results. The international benchmark oil price is currently at about $73.50 a barrel.
Second-quarter adjusted profit rose to $1.77 a share from a year earlier, beating the $1.72 expected by analysts. The carrier cut its outlook for the period last month from $2 a share. Adjusted revenue increased 8.2 percent to $11.6 billion.
Delta expects sales to increase as much as 8 percent this year, above its previous outlook for 4 percent to 6 percent.
To contact the reporter on this story: Mary Schlangenstein in Dallas at maryc.s@bloomberg.net
To contact the editors responsible for this story: Brendan Case at bcase4@bloomberg.net, Susan Warren