Papa John's Founder Apologizes for Slur After Misstep Hits Stock
(Bloomberg) -- Papa John's International Inc.'s outspoken chairman John Schnatter has apologized after another controversy over his comments battered the shares of the pizza chain he founded.
Just seven months after exiting the CEO role after making critical comments about the NFL's national-anthem dispute, Schnatter came under fire following a media report that he used a racial slur and graphic descriptions of violence against minorities on a May conference call with a media agency.
Schnatter admitted to using an offensive racial term during the call and apologized, according to a company statement Wednesday.
"News reports attributing the use of inappropriate and hurtful language to me during a media training session regarding race are true," Schnatter said in the statement. "Regardless of the context, I apologize. Simply stated, racism has no place in our society."
The shares fell as much as 5.9 percent on Wednesday to $47.80, the lowest intraday level since February 2016.
Schnatter apologized last November for "divisive" remarks when he criticized the NFL for its handling of players' national-anthem protests, saying it hurt the pizza chain's sales. Schnatter stepped down as Papa John's CEO in January.
A media agency working with Papa John's decided to cut ties after Schnatter's behavior on the May call, according to Forbes. The agency, Laundry Service, didn't respond to requests for comment.
Laundry Service, owned by sports agency owner Casey Wasserman, told staff in a May 31 letter that it would be ending its work with an unnamed client due to "the regrettable recent events that several employees of Laundry Service witnessed during interactions with a client's executive," according to a copy of the letter obtained by Bloomberg News.
The agency didn't name either the client or the executive in the letter.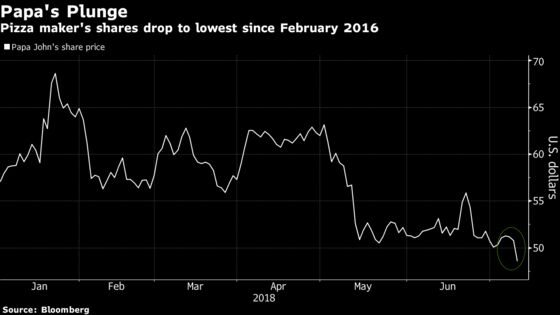 Following the incident, Laundry Service said it held a call with the client's chief executive officer to discuss winding down the media agency's work with the company. "We also instructed the client that during this transition, the executive who made the offensive remarks must not communicate directly with any Laundry Service employee," according to the letter. "We are proud to share an understanding with you that racism, and other forms of discrimination, will not be tolerated."
Papa John's CEO Steve Ritchie sent an internal memo to team members, franchisees and operators on Wednesday addressing the event, though without mentioning Schnatter by name.
"You may have read the media reports today tied to our company culture. We want to make it clear to all of you that racism has no place at Papa John's," according to the memo obtained by Bloomberg News.
"The past six months we've had to take a hard look in the mirror and acknowledge that we've lost a bit of focus on the core values that this brand was built on and that delivered success for so many years," Ritchie said. "We've got to own up and take the hit for our missteps and refocus on the constant pursuit of better that is the DNA of our brand."
Forbes reported that the incident took place on a call arranged between Papa John's executives and Laundry Service as a role-playing exercise for Schnatter to prevent future public-relations missteps.
To contact the reporters on this story: Craig Giammona in New York at cgiammona@bloomberg.net;Matthew Boyle in New York at mboyle20@bloomberg.net
To contact the editors responsible for this story: Crayton Harrison at tharrison5@bloomberg.net, Anne Riley Moffat, Jonathan Roeder