(Bloomberg Opinion) -- The European Central Bank lost control of the euro money market yield curve, and it wants it back. It has just snapped back on the leash by sending as clear a message as it can — within the incredibly tight framework it has set for itself — that it thinks rate expectations are too low.
At its last policy meeting, on June 14, the ECB sought to soften its decision to end QE this year with a forward commitment not to raise rates until after the summer of 2019. The money markets have increasingly taken this to mean that rates may not rise until the December meeting in that year. As of Monday, 10-year bund yields had slipped below 30 basis points, having halved since mid-May. The euro fell nearly two percent against the dollar following the ECB meeting, and has only partially recovered.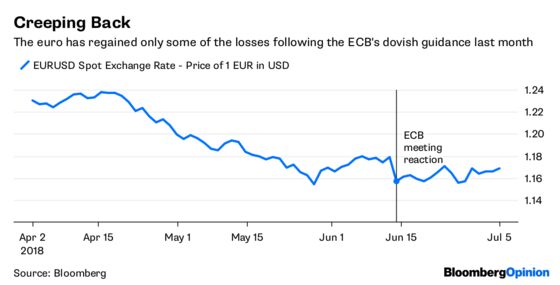 But comments earlier this week from Chief Economist Peter Praet and a Bloomberg News story on Thursday show that some officials saw this as too late. Forward rates out to December 2020 have moved up as much as four basis points, and the euro rose half a point higher versus the dollar. The German curve rose across the board, with 10-year yields gaining about three basis points.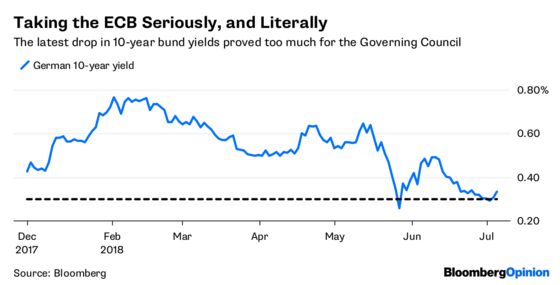 When investors receive central bank guidance for policy in more than a year's time, their natural response is to stretch expectations even further. Hinting that you may hike in 14 months' time is as good as saying you aren't going to hike — and that sentiment only got more entrenched as economic data pointed to a slower pace of growth. The recent bout of market complacency was a problem of the ECB's making.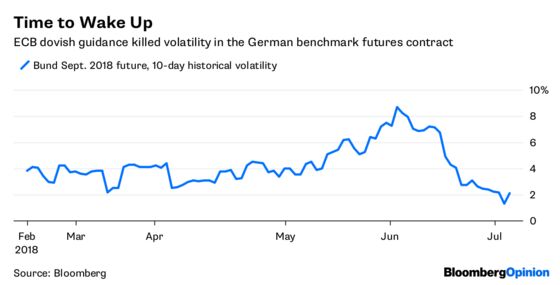 The message now is that the first rate increase could come in September or October. The latter looks more likely, given policy maker Vitas Vasiliauskas' comment that the bank's guidance should be interpreted as "until the end of September." This is useful in case President Mario Draghi wanted to make sure he had at least one rate hike to show for his eight-year term — October is his last meeting before he steps down. 
The question is whether all corners of the markets have learned the ECB's new lesson. The euro could have room for further gains, though at the very least the communication shift should bolster the argument I made Tuesday, that downside risks to the currency are fading. It also looks set to create some upward pressure on bond yields, and higher volatility in futures contracts can't be ruled out.
So the ECB has managed to shift expectations by two months. At least this shows that their communication tools are working.
However, this micromanaging suggests that officials have in fact discovered a crystal ball through which they have divined an incredibly precise reading of the economy in 15 months' time. This is at best fanciful. A trade war could literally start tomorrow, and who knows how that, or Brexit, will pan out. The impact of these on the bloc's economy is anyone's guess, this far away.
To contact the editor responsible for this story: Jennifer Ryan at jryan13@bloomberg.net
Get Your
Daily Newsletter
Get market moving news, top news & compelling perspectives
---