Wind Turbines Take a Break as Heatwave Is About to Hit Britain
Wind Turbines Take a Break Just as Hot Weather Hits Europe
(Bloomberg) -- Thousands of wind turbines from Germany to the U.K. are set to grind to a halt next week, cutting electricity supplies at the same time as the next wave of hot weather arrives.
As the warmest second quarter in 30 years draws to a close, next-month power prices in Europe's biggest economy are already trading at their highest for this time of year since 2011. The drop in wind, coupled with forecasts for hotter-than-normal weather across Northwest Europe, could give wholesale rates another lift.
"The potent combination of low wind availability and a heat wave could lead to power prices spiking, with utilities ramping up output from higher-cost thermal power stations," said Elchin Mammadov, a utilities analyst at Bloomberg Intelligence in London.
The white line in the chart below shows German wind output is poised to fall to just above 3 gigawatts by June 27, based on a Bloomberg model. That compares with actual production of almost 25 gigawatts on Friday. The blue bands show the maximum and minimum range for the forecast.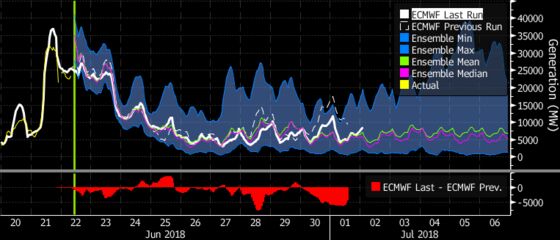 German wind farms have underpinned the country's radical shift away from fossil fuels. Since they get priority to feed electricity into the grid, they've hurt traditional utilities by preventing coal and gas plants from selling their power at times, reducing margins at those facilities.
Temperatures in England and Wales could reach as high as 32 degrees Celsius (90 Fahrenheit) next week, according to the Met Office. Much warmer-than-usual weather will spread from the U.K. and southern Scandinavia into France and Germany by the end of the month, forecaster Radiant Solutions said in a report on Friday.
"We'll certainly be looking at conditions which many of us would call a heatwave," said Frank Saunders, chief Meteorologist at the Met Office.
Read More here about why European power prices are rising
All wind farms experience lulls from time to time. In Britain, turbines produced almost no electricity for more than a week at the start of this month. The U.K. also is due to have fewer breezes in the coming days than it did this week.
The current examples of Britain and Germany show that despite the boom in renewable energy, Europe still needs conventional power plants, Mammadov said.
The nations will have to spend billions of euros over the next several years to expand its flexible but stable fleet of gas-fired generators as old coal and nuclear plants are shuttering, said John Baldwin, managing director of CNG Services Ltd., a British gas provider.
"People are underestimating how many gas stations are needed for a windless week," he said.
--With assistance from Mathew Carr.
To contact the reporter on this story: Lars Paulsson in London at lpaulsson@bloomberg.net
To contact the editors responsible for this story: Reed Landberg at landberg@bloomberg.net, Andrew Reierson