Chanel Breaks Financial Secrecy to Reveal a $46 Billion Fortune
Chanel opens its books for the first time to reveal almost $10 billion in sales last year.
(Bloomberg) -- Chanel Ltd., known for No. 5 perfume, little black dresses and financial secrecy, opened its books for the first time to reveal almost $10 billion in sales last year -- a level that rivals luxury leader Louis Vuitton.
It also reveals a vastly larger fortune for the two brothers that own the luxury giant than prior estimates. Alain and Gerard Wertheimer each have about $23 billion based on the results, about $8.7 billion more than previously calculated by the Bloomberg Billionaires Index. That makes them the fourth- and fifth-richest people in France and among the 40 wealthiest on the planet.
The closely held French fashion house said it disclosed the numbers partly to repel rumors it could be taken over. Chanel recorded net profit of $1.8 billion last year on revenue of $9.6 billion. Sales rose 11 percent on a constant-currency basis as the industry benefited from Asian demand.
"Our financial strength gives us the means to remain independent and to focus on the long term," Chief Financial Officer Philippe Blondiaux said in a statement.
A Chanel spokesman said the company had no immediate comment on the brothers' net worth.
The billionaires' grandfather purchased a majority stake in the business from Gabrielle "Coco" Chanel in the 1920s. She founded her namesake brand in 1910 and revolutionized fashion with a sporty and chic silhouette that put a swift end to the corsets and frills of the Belle Epoque. In 1983, the Wertheimers hired the German designer Karl Lagerfeld to take over as artistic director. Lagerfeld, instantly recognizable for his uniform of powder-white wig and dark sunglasses, is now 84 years old, and the company has disclosed no plans for his succession.
"We're a very discreet family, we never talk," Gerard was quoted as saying in an article in the New York Times in February 2002. "It's about Coco Chanel. It's about Karl. It's about everyone who works and creates at Chanel. It's not about the Wertheimers."
Chanel's financial disclosure fuels a race for bragging rights among the fashion industry's biggest brands, after Kering SA's Gucci said it aims to lift revenue to 10 billion euros ($11.6 billion) from 6.2 billion last year. That would rival LVMH's Louis Vuitton, long the biggest and most profitable name in luxury. With a 45 percent sales increase last year, Gucci pulled ahead of Hermes International.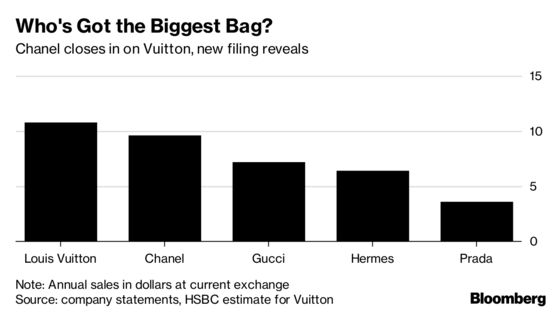 While Gucci is growing more rapidly, Chanel has relied on the strength of its cosmetics division even as its main rivals focused more on fashion and handbags. Chanel said growth last year was fueled by the new Gabrielle Chanel fragrance, as well as ready-to-wear and leather collections.
--With assistance from Marthe Fourcade.
To contact the reporters on this story: Robert Williams in Paris at rwilliams323@bloomberg.net;Katya Kazakina in New York at kkazakina@bloomberg.net
To contact the editors responsible for this story: Pierre Paulden at ppaulden@bloomberg.net, ;Eric Pfanner at epfanner1@bloomberg.net, Steven Crabill