Stockholm Wins Europe iGaming Capital Title as Sweden Draws IPOs
(Bloomberg) -- Stockholm has emerged as the European betting capital, with more listed iGaming companies than any other stock exchange in Europe.
Better Collective A/S's initial public offering this month followed IPOs of Aspire Global AB in 2017 and LeoVegas AB in 2016, among others, giving Sweden 19 listed betting companies, according to data from Nasdaq Inc. That's the most in Europe, beating out London's 16.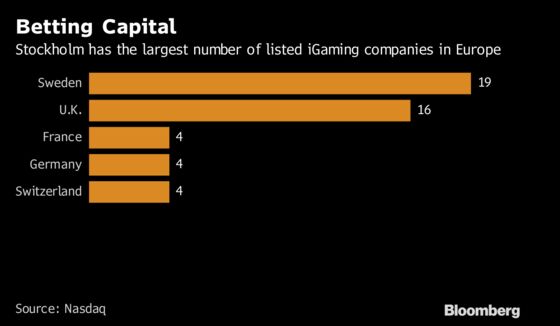 A concentration in Sweden of entrepreneurs who've proved early adoptors of technology and innovation explains the local iGaming cluster, said Adam Kostyal, head of European listings at Nasdaq. He expects more listings in Stockholm this year, and not just by local firms.
"There's a handful of international companies that are actively evaluating a new or parallel listing in Stockholm right now, both on the main market and the First North" alternative platform, Kostyal said in a phone interview.
Sweden is attractive as it has developed a community of companies, experts and investors, Kostyal said. That turns it into a destination of choice for new or parallel listings, he said. "Not because they want to grow geographically here, but because they want to reach the expertise that they lack in their domestic markets."
Better Collective, a Copenhagen-based company that had its first day of trading on June 8, picked Stockholm to list because the Swedish capital is the leading stock exchange for gaming companies, thanks to the high level of "investor interest and investor knowledge," Chief Executive Officer Jesper Sogaard said.
Seven iGaming companies have listed on Nasdaq's main Stockholm board or First North market since the start of 2017, either through IPOs or a move from another platform. They include Cherry AB and LeoVegas AB, which migrated from smaller, alternative markets. Their post-listing fortunes have varied, ranging from a gain of 35 percent for Global Gaming AB to a slump of 30 percent for LeoVegas.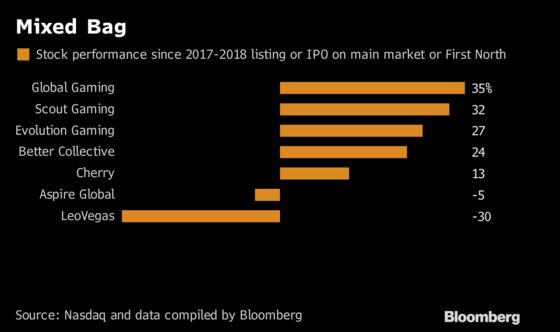 As the industry grows, so does competition for skilled employees. Pontus Lindwall, the CEO of online gaming company Betsson AB, said the rising number of gaming companies makes it harder to recruit, even though his company "is in a good position."
There are also risks related to investing in companies new to the scrutiny of market regulation, as shown in the example of Cherry. The company last month asked CEO Anders Holmgren to leave immediately after he was detained by a Stockholm court on suspicion of insider trading.
Figures from Nasdaq show the extent of dominance by Sweden and the U.K. of the iGaming industry: While Stockholm has more listings, the betting companies traded in London have a higher combined market capitalization. Together, the cities account for about 80 percent of the value of iGaming firms listed in Europe.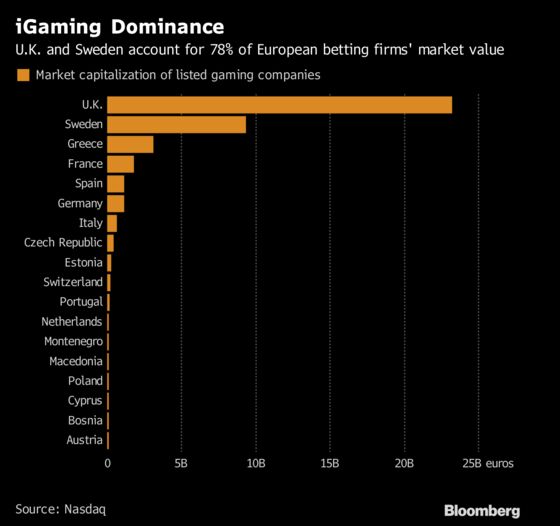 To contact the reporter on this story: Hanna Hoikkala in Stockholm at hhoikkala@bloomberg.net
To contact the editors responsible for this story: Celeste Perri at cperri@bloomberg.net, John Viljoen, Niklas Magnusson