Massive Argentine Currency Plunge Deepens Emerging-Market Rout
(Bloomberg) -- The brutal tumble of Argentina's peso added to the list of concerns over the ability of developing economies to defend their currencies as the era of cheap money wanes. Emerging-market assets extended losses a day after the Federal Reserve's more hawkish signals.
A measure of currencies in developing nations slid to the lowest since December, while the MSCI Emerging Markets Index sank -- led by industrial and technology companies. The Argentine peso slumped more than 6 percent on reports of changes at the country's central bank and after truck drivers began a strike. The Brazilian real dropped a fourth day as the impact of a massive sale of foreign-exchange swaps was short lived.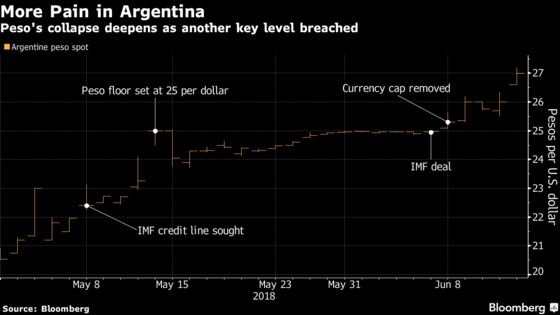 Developing-nation assets took a beating as signals of a slightly more aggressive pace of Fed hikes added to concern over further currency depreciation in developing economies. Meanwhile, the European Central Bank said a rate increase won't come until the summer of 2019, though it announced it would end stimulus in December, setting the euro area up for an exit from years of heavy monetary support.
Selloff in emerging-market currencies could be big enough to push Mexico, Brazil, South Africa to raise interest rates, wrote Neil Shearing, an economist at CapEcon

History suggests central banks raise rates when currency falls more than 10% within two months and inflation is running above target and/or is on a rising trend

Argentine peso could overshoot and hit "stratospheric" lows without intervention, according to Alejandro Cuadrado, the global head of foreign exchange at BBVA

"We are still very much flow dependent. And the ARS is quite naked"

"The market knows the central bank [of Brazil] allows itself to get deeply behind the curve, and is merely acting rationally by selling the real and shorting bonds," said James Gulbrandsen, a Rio de Janeiro-based money manager who helps oversee $3.5 billion of assets at NCH Capital. "This is economics 101. If you suppress prices, you create market distortions and arbitrage. And the market always wins"
MSCI Emerging Markets Index declined 0.9 percent to 1,125.71
CBOE EM ETF Volatility Index extended 2-day advance to 5.9 percent
21 out of 24 developing-nation currencies tracked by Bloomberg fell
Risk premium on EM sovereigns +3bps to 354bps: JPMorgan indexes
ARGENTINA:

Merval Index dipped 0.4 percent to 30,114.88
Peso sank 6.1 percent to 27.70 per dollar -- record low
Argentine columnist Marcelo Bonelli reported that three central bank directors would be resigning from their posts soon. The central bank declined to comment
In another setback for President Mauricio Macri, truck drivers went on a nationwide strike as other labor unions have threatened to join the stoppage
Banks Lead Argentina Losses as Peso Falls to Record Lows
As Argentine Peso Craters, Stock Pickers Pin Hope on Upgrade

BRAZIL:

Ibovespa dipped 1 percent to 71,421.20
Real declined 2.2 percent to 3.81 per dollar
10-year local-bond yield gained 51 basis points to 12.35 percent
Real Extends Decline Even After BCB's Record Intervention
Brazil Sells All 20,000 FX Swaps Offered in 3nd Extra Auction
Brazil's FX Intervention Pledge Questioned After Rate Surprise
It is difficult to justify a Selic hike in Brazil at next week's policy meeting as currency is close to the level it was seen at the previous decision, when traders were looking for a rate cut: MRJ Marejo

MEXICO:

Mexbol index increased 0.9 percent to 47,197.24
Peso little changed at 20.8775 per dollar
10-year local-bond yield gained three basis points to 7.987 percent
Mexico's peso looks set for more pain as the country's presidential vote approaches, according to a technical indicator
Mexico's Obrador Will Work to Calm Markets, Campaign Chief Says
Nafta Talks to Continue Through Summer in Push For Deal: Canada
Winning on Peso Volatility Requires Getting the Price Right

Click for market news on ANDES
TURKEY:

Borsa Istanbul 100 Index rose 1.1 percent to 94,540.84
Lira declined 1.7 percent to 4.7264 per dollar - weakest on record
10-year local-bond yield rose to 15.69 percent, highest on record
Turkey Cenbank Expects Pressure on Inflation to Continue in June
Turkey Elections 'Expected to Have Unstable Outcome': ABN Amro
Erdogan: Turkey to Conduct an Operation Against Moody's

SOUTH AFRICA:
RUSSIA:

MOEX Russia Index dipped 0.8 percent to 2,253.48
Ruble declined 0.2 percent to 62.63 per dollar
10-year local-bond yield fell two basis points to 7.56 percent
Exactly half of the 42 economists surveyed by Bloomberg predict the key rate will stay at 7.25 percent, while the rest say the central bank will come down in favor of a cut to bring the benchmark to the 7 percent top end of the neutral band
Russia on Cusp of Rate Threshold Will Think Twice About Next Cut
Russia Plans to Raise Retirement Age, Increase Value-Added Tax

Click for market news on POLAND and HUNGARY
CHINA:

Shanghai Composite Index dipped 0.2 percent to 3,044.16
Offshore yuan declined 0.4 percent to 6.4173 per dollar
10-year local-bond yield slid three basis points to 3.6475 percent
The unexpected move by the PBOC to keep borrowing costs is a sign of confidence the yuan can withstand pressure, according to analysts
"It appears that the PBOC holds strong confidence on yuan stability and even a symbolic hike in reverse repo yield is not needed," Mizuho Bank senior currency strategist Ken Cheung wrote
Trump Says He May Upset China on Trade as U.S. Tariffs Loom

INDIA:

Sensex Index fell 0.4 percent to 35,599.82
Rupee little changed at 67.631 per dollar
10-year local-bond yield gained one basis point to 7.942 percent
India's wholesale price inflation accelerated to the highest in 14 months in May, underpinning a view that price pressures were growing and could push the central bank to further tighten policy
Nomura Says Intervention Can Snap India Bonds' Vicious Cycle
India Inc. Sells Record Debt to Savers Amid Tight Credit

Click for more on markets in ASIA
To contact the reporter on this story: Rita Nazareth in New York at rnazareth@bloomberg.net
To contact the editor responsible for this story: Rita Nazareth at rnazareth@bloomberg.net