Deutsche Bank Chair Talks Commerzbank Deal to Snap Doom Loop
Germany's largest lender is struggling with its turnaround plan.
10 Jun 2018, 12:21 PM IST
(Bloomberg) -- Deutsche Bank AG Chairman Paul Achleitner is on his third strategic overhaul and fourth chief executive officer. Now, he's mulling a solution that's been raised countless times: merging Germany's weakened banks to create one that thrives.
Achleitner has spoken with top shareholders and key government officials about potentially combining Deutsche Bank with Commerzbank AG, according to people familiar with the matter. There are currently no formal discussions and a deal isn't imminent. Yet such pairings have been floated -- and sometimes pushed through -- over the past decade as Germany has struggled to sustain a financial titan to match its massive economy. The concept's re-emergence now shows pressure is building on Achleitner to snap Deutsche Bank out of what it calls a "vicious circle."
Such a plan might even work if the banks are able to combine retail businesses, decrease headcount and sell off some global operations, including trading infrastructure, said Roy Smith, emeritus professor of management practice at New York University's Stern School of Business. Still, he sees that as a long shot.
"It's like tying two drunks together to give them more stability," Smith said in an interview.
Deutsche Bank fell 1.5 percent at 11:49 a.m. in Frankfurt trading. The shares hit a record low last week and are down 40 percent this year, giving the company a market capitalization of 19.6 billion euros ($23 billion). Commerzbank was down 1.5 percent, bringing this year's losses to 25 percent and valuing the lender at 11.7 billion euros.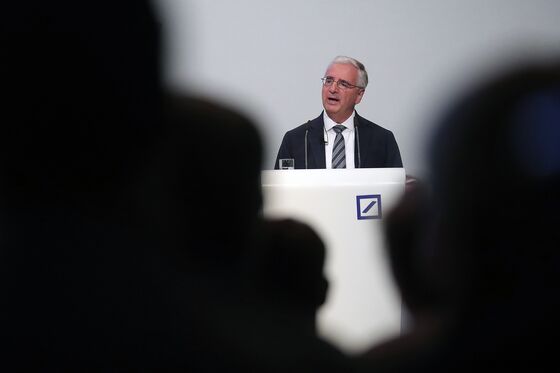 While some people familiar with the talks said Achleitner floated the idea, Deutsche Bank says the question has come from investors. The German Finance Ministry and Economy Ministry could not immediately be reached for comment.
"The chairman is asked constantly about this matter," said Joerg Eigendorf, a spokesman for Deutsche Bank. "His answer is always the same: 'All the pro and contra arguments can be read in analyst reports and the media. So what do you think?' "
Achleitner "sees no reason to actively raise this issue," Eigendorf said.
Still, just this week, Deutsche Bank Chief Financial Officer James von Moltke described to investors the feedback loop that's bedeviled his firm: Multiple turnaround plans in recent years have failed to deliver revenue that justifies expenses, prompting downgrades to credit ratings and rising funding costs. A strategic overhaul announced in April -- paring businesses to improve profitability -- should eventually turn things around, creating a "virtuous circle," he said.
By comparison, a merger down the road would be much bolder. A key obstacle is Deutsche Bank's depressed share price, with investors telling Achleitner that they don't want a merger with Commerzbank at the moment because it would be highly dilutive and potentially trigger a capital increase and hefty writedowns, the people said. The two banks held talks in the summer of 2016, but decided then against a deal while they focused on restructuring their own businesses, a person with knowledge of the matter said at the time.
Profitability and cost control are "key conditions" for bank mergers in Europe, Goldman Sachs Group Inc. Germany head Wolfgang Fink said on Bloomberg TV on Friday. "We're not there yet. This is coming, but I think we have some time to go until it is really doable," he said, referring to deals in general. Deutsche Bank recorded a third straight year of losses in 2017 while Commerzbank's return on equity was below 1 percent.
Deutsche Bank has struggled to maintain the confidence of investors amid a tumultuous management reshuffle and a plan to significantly reduce its global footprint and workforce under new Chief Executive Officer Christian Sewing. Last week, S&P Global Ratings cut it to the third-lowest investment grade.
Commerzbank's shares have been sliding as the bank tries to avoid a third straight year of declining revenue. Low interest rates and increasing competition have weighed on the retail and corporate lending businesses that CEO Martin Zielke has earmarked for growth. It tried to beef up during the 2008 financial crisis by buying German rival Dresdner Bank AG.
A merger would "lead to tremendous cost cutting as both banks have significant exposure to Germany," Natixis analyst Alex Koagne wrote in a note. "But we indeed think that such a move is not possible at this stage as both banks still need to clean their balance sheet first. Going forward, we view this deal one of the only ways to save Deutsche Bank."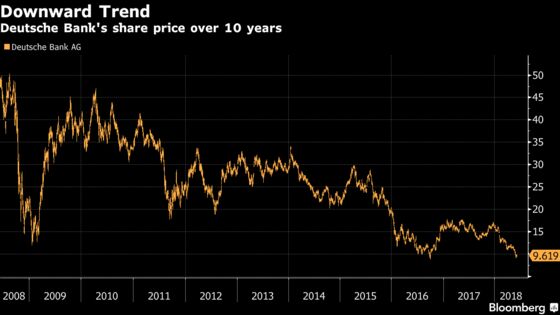 Speculation about a merger of the two German lenders -- or of one of them with an international competitor -- has increased in the past year after private-equity firm Cerberus Capital took a stake in both banks.
While a deal would potentially create massive synergies because the two could dramatically cut retail outlets in their German home market, the ensuing job reductions would likely meet resistance from labor unions, which exert considerable influence on the boards of both companies.
The German government would also play a major role in any deal, given it's the largest shareholder in Commerzbank, with a stake of more than 15 percent. The government has repeatedly said the country needs a strong international bank, with Finance Minister Olaf Scholz reiterating that message as recently as April.
Deutsche Bank will probably report another quarter of declining revenue for the three months through June as it scales back investment-banking operations and cuts thousands of jobs.
The lender will probably do "a little worse" than peers who have indicated they expect a flat top line, "given the quarter that we've had and the transition that we've been through," the CFO said Wednesday.
A decline in the second quarter would be the sixth consecutive quarterly drop in revenue. Deutsche Bank has said it expects "essentially flat" revenue for the full year.
--With assistance from Birgit Jennen, William Mathis, David Scheer and Christoph Rauwald.
To contact the reporters on this story: Eyk Henning in Frankfurt at ehenning1@bloomberg.net;Dinesh Nair in London at dnair5@bloomberg.net;Steven Arons in Frankfurt at sarons@bloomberg.net;Elisa Martinuzzi in London at emartinuzzi@bloomberg.net
To contact the editors responsible for this story: Dale Crofts at dcrofts@bloomberg.net, ;Chad Thomas at cthomas16@bloomberg.net, Geoffrey Smith