Brexit Trade Threat Prompts Retail, Pharma Workaround Plans
Merck Is Said to Prepare for Supply Blackout in Brexit Planning
(Bloomberg) -- Companies facing the potential threat of tariffs and other trade barriers after Brexit are stepping up contingency planning, with some retailers creating new sites in continental Europe to avoid snags.
U.S. pharmaceutical giant Merck & Co. is planning for the possibility of a temporary supply blackout when the U.K. leaves the European Union and may stockpile as much as six months worth of goods and revise trade routes in preparation, according to a person familiar with the matter.
C&J Clark Ltd., the seller of Clarks shoes, plans to open a distribution center in continental Europe, according to people familiar with the situation. The Hut Group Ltd., which sells beauty, wellness and luxury products online, is constructing a facility in Wroclaw, Poland -- a site that was also picked for protection against potential trade hurdles, a person with knowledge of the matter said.
With the U.K. determined to leave the customs union and single market, businesses are trying to limit their exposure to border checks and delays in moving goods between the EU and Britain, as well as preparing for a potential divergence in regulation. Business leaders this week urged Prime Minister Theresa May to get on with key Brexit decisions.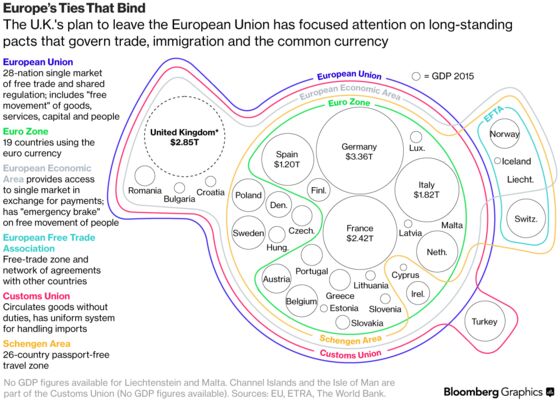 Merck's contingency plans, outlined in a May report, include factoring in as much as two extra days of travel on routes between U.K. and EU destinations to allow for delays caused by document checks, according to the person familiar with the situation, who asked not to be identified because the plans aren't public. Merck, based in Kenilworth, New Jersey, is also looking at adding about 30 employees at its Haarlem, Netherlands, facility to cope with regulatory demands, according to the person.
Global drugmakers have warned of added costs and supply disruptions due to Brexit's potential trade and regulatory hurdles. U.K.-based AstraZeneca Plc and GlaxoSmithKline Plc have said the rupture may force them to expand their use of facilities in the EU to allow timely testing and release of drugs. Drugmakers have warned that Brexit may raise barriers to patient access to their products, as they contend with the upheaval in the U.K. pharma sector.
"At this stage, these are just contingency plans and therefore may not be implemented," said a spokeswoman for MSD -- the name Merck uses outside North America -- declining to comment on the specific arrangements. "Our first and foremost focus at this time is to develop plans which ensure continued access to our medicines throughout the Brexit process."
Clarks, which began selling shoes almost 200 years ago, is reviewing two possible locations for its facility, one of which is in Germany, two of the people said, asking not to be named discussing private information. The site will be run by a third-party logistics provider and handle the retailer's sales to customers in the European Union, a person said.
"Before the Brexit referendum we had already begun looking at how we could better deliver our products to consumers in our European markets, which includes the option of a European distribution centre," Clarks said in an emailed comment.
The Hut's Polish facility will eventually handle the bulk of the company's orders from the EU, which are currently processed by a distribution center in England, a spokeswoman said. The new site "should facilitate bringing next-day delivery to our 8 million customers across mainland Europe," she said in an email.
The Hut, backed by BlackRock Inc. and KKR & Co., is a rare success story in the U.K.'s beleaguered retail sector. In 2017 the company's sales jumped 47 percent to 736 million pounds ($987 million), 70 percent of which was outside of the U.K. It disclosed plans for the new site in Poland earlier this year but did not cite Brexit as a reason.
A departure from the customs union poses particular threats to e-commerce sellers. If Clarks or The Hut handled European orders from the U.K., many products would need to be imported and then shipped out again to customers on the continent. If a product were exchanged, it would need to cross borders twice more.
Merck, meanwhile, is considering asking some customers if they can take on as much as two months of extra stock in advance, the person familiar with the matter said. While the drugmaker's plans could change as the government's Brexit negotiations progress, they provide an insight into the options companies are reviewing.
In a corporate filing earlier this year, Merck outlined Brexit risks including potential restrictions on imports and exports. Glaxo, the U.K.'s biggest drugmaker, said it started implementing its contingency plan in January, focusing on supply chains. The drugmaker has estimated Brexit-related costs rising as high as 70 million pounds over the next two to three years, due to retesting medicines, transferring marketing authorizations in the U.K. to the EU, changing manufacturing licenses and other steps.
To contact the reporters on this story: Suzi Ring in London at sring5@bloomberg.net;James Paton in London at jpaton4@bloomberg.net;Sam Chambers in London at schambers7@bloomberg.net
To contact the editors responsible for this story: Eric Pfanner at epfanner1@bloomberg.net, John Lauerman