'Green New Deal' Tests Ocasio-Cortez's Clout in Democratic House
(Bloomberg) -- Hundreds of young activists stormed Nancy Pelosi's office after Democrats won the House in November, inspired by the new hero of the left, Representative Alexandria Ocasio-Cortez, who briefly joined them in a live-streamed protest to demand passage of a radical plan to fight climate change.
More than two months later, political reality is setting in.
The so-called Green New Deal -- a loosely defined legislative wish list to slow global warming by drastically reducing greenhouse gas emissions -- may never make it to the House floor for a vote. While House Speaker Pelosi wants the chamber to take action on climate change, the progressives' blueprint lacks political support among moderate Democrats let alone Republicans.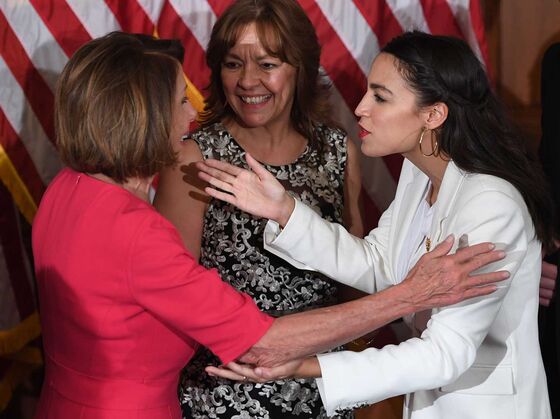 Pelosi has yet to throw her weight behind a Green New Deal, and when asked in an interview earlier this month if she'd be willing to take up elements of the plan, Pelosi dodged.
"It goes to the committees of jurisdiction," she said. "I want the entire Congress to take responsibility for the generational challenge that we have to protect our climate."
Read more: Backers Plan Green New Deal House Resolution
The fight puts Pelosi, who has said addressing climate change will be a major part of her agenda, in a bind. Ocasio-Cortez, the 29-year-old Bronx, New York, politician has become a key voice for a new and diverse generation thanks to her come-from-nowhere 2018 Democratic primary win and 3.5 million combined followers on Twitter and Instagram. At the same time, Pelosi has to be able to act without forcing members of her caucus from moderate districts to cast votes that could put their seats in jeopardy in 2020.
Even with its long odds in the House, the idea is attracting support from the party's presidential hopefuls. California Democratic Senator Kamala Harris on Tuesday became the latest 2020 candidate to throw her weight behind the plan.
The goal of the Green New Deal is to virtually eliminate U.S. greenhouse gas emissions and remake the economy, but details are scant. Proposals include phasing out the use of fossil fuels and transitioning to 100 percent renewable energy within a decade, a living-wage job guarantee, as well as smaller items like new tax credits for electric vehicles and energy efficiency upgrades for homes and buildings.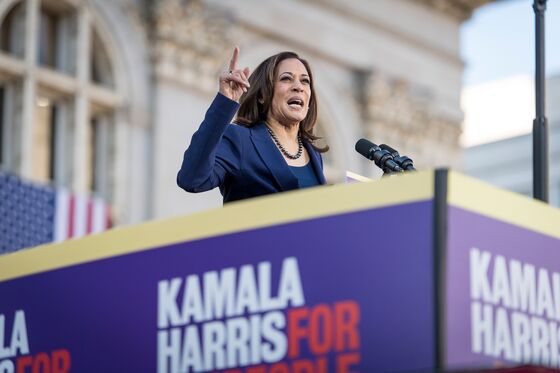 More than 40 House Democrats back the concept of a Green New Deal, which was inspired by Franklin Delano Roosevelt's economic New Deal to pull the nation out of the Great Depression. Many of the supporters are freshman lawmakers such as Ocasio-Cortez who helped the party capture control of the House. But others include some senior members, such as House Rules Committee Chairman Jim McGovern, a Massachusetts Democrat.
While the Green New Deal would certainly never pass muster with coal-state Senate Majority Leader Mitch McConnell and President Donald Trump, some of the plan's backers believe it's important to show it has the blessing of the House Democrats in advance of the 2020 presidential elections.
"One of the mistakes Republicans made when they got all three branches of government is they didn't have governing legislation and that slowed them down," California Democratic Representative Ro Khanna, said in an interview. "We ought to have strong legislation on climate change ready to go so when we have the right president they can sign it."
But it's been met with skepticism from some top Democrats. Pelosi rejected calls by Ocasio-Cortez to create a select committee devoted to crafting the plan, with the power to pass legislation and subpoena officials. And New Jersey Democratic Representative Frank Pallone, the top Democrat on the House Energy and Commerce Committee, said some tenets of the Green New Deal, such as phasing out fossil fuels, may not be achievable.
"This is something we should look at but some of it may not be technologically or politically feasible," Pallone said in an interview with WNYC earlier this month.
Ocasio-Cortez said she still pushing for a vote on the plan and is crafting a non-binding resolution that will outline the details of what will be in the plan.
"I absolutely do think there is a path forward," Ocasio-Cortez said in an interview, adding she is working on convincing fellow lawmakers while marshaling her energetic supporters.
Opponents have taken aim at the plan even before the details are released. Representative Markwayne Mullin, an Oklahoma Republican, lists it among the "liberal ideas and leftist platforms" that would "drive our country straight into socialism."
Other lawmakers, like early Green New Deal backer Vermont Democratic Representative Peter Welch, say embracing the goal of the plan is more important than congressional passage.
"The Green New Deal sets a marker, like an Apollo-type project, that we have got to address climate change," Welch said in an interview. "We can lay the foundation now."
To be sure, not all backers are giving up on House passage, hoping they may be able to find a way to force a vote. And others are pursuing a piecemeal approach.
Green New Deal backers like Khanna, who represents California's Silicon Valley, said a bill he's working on to create a "huge tax credit" for electric vehicles fits the mantel of greening the environment and creating green tech jobs. Other ideas range from legislation on environmental racism to reducing carbon emissions. Data For Progress, a left-leaning think tank that has played an integral role in sketching out what a Green New Deal might look like, has pointed to a slew of already introduced bills that could be included.
"It includes everything from carbon emissions to environmental racism," said Sean McElwee, the group's co-founder said in an interview. "It's really hard to do it one bill."
Some deal supporters like the Sunrise Movement, the grassroots group that partnered with Ocasio-Cortez in pushing for the environmental plan, are instead focusing their efforts on gaining support from Democratic 2020 presidential candidates.
"There is no actual pathway for legislation," said Varshini Prakash, co-founder and spokeswoman for the Sunrise Movement. "We will be pushing any Democrat who wants to be on the slate ahead of the 2020 primary to be strong on climate and back a green new deal."
A 15-city tour is planned as part of a national campaign to make the Green New Deal one of the defining issues of the election, she said.
That strategy got a boost from Harris, the California senator and presidential candidate, who declared during a CNN town hall in Iowa that "I support a Green New Deal."
"Climate change is an existential threat to us, and we have got to deal with the reality of it," she said.
Other Democratic contenders that have embraced the Green New Deal to varying degrees include senators Elizabeth Warren of Massachusetts and Kirsten Gillibrand of New York as well as potential candidates such as Senators Bernie Sanders, Cory Booker and Jeff Merkley as well as former Representative Beto O'Rourke.
Former New York Mayor Michael Bloomberg, who is considering a bid for the Democratic nomination, announced in a tweet Tuesday that he plans to outline his own plan for a Green New Deal that would accelerate the U.S. to 100 percent clean energy. Bloomberg, the founder and majority owner of Bloomberg LP, has said he wants to make climate change a focal point in the 2020 presidential race regardless of whether he runs. He has made that issue and gun control central to his post-mayoral work.
Ocasio-Cortez said she doesn't plan to pick favorites in the presidential contest.
"In terms of the 2020 primary, I don't have any plans. I just hope that I can do what I can to influence the overall conversation," she said in a recent interview. "To introduce new ideas -- because that, overall, is what the American people are asking for. They want to see alternatives to the lack of vision that we've seen from this administration over the last couple of years."
Some argue embracing the Green New Deal comes with risk.
"Democrats have to thread the needle between aggressive policies that will really make a difference and making sure rural and swing state members can embrace them," said Paul Bledsoe, who worked on climate change in the Clinton White House. "If we can't do that then we can't win back the White House and the Senate. Climate has to bring Democrats together against Republicans, not fighting among themselves."
--With assistance from Sahil Kapur.
To contact the reporter on this story: Ari Natter in Washington at anatter5@bloomberg.net
To contact the editors responsible for this story: Jon Morgan at jmorgan97@bloomberg.net, Elizabeth Wasserman