Victoria's Secret Has More Than a Jeffrey Epstein Problem
Although he wasn't an employee at Victoria's Secret, Epstein also influenced the way the lingerie company operated.
(Bloomberg Businessweek) -- Time isn't being kind to Victoria's Secret. The lingerie retailer has a problem with the past and a problem with the future—and that leaves the present in a muddle of controversy.
Jeffrey Epstein is supposed to be history at Victoria's Secret—and at its parent company, L Brands Inc., for that matter—but he's that skeleton that keeps rattling around the closet to remind everyone that he once was an all-too-lively part of the business. Epstein had a two-decade-long reign as close confidant, financial manager, and right hand to the corporation's chief executive officer, Leslie Wexner. He even had the CEO's power of attorney at one time.
Although he wasn't an employee at Victoria's Secret, Epstein also influenced the way the lingerie company operated, associating with the division's chief marketing officer, Ed Razek. In 2005, for example, Razek was a guest at Epstein's Manhattan mansion, welcomed by young women who said they were working as models for Epstein. Razek told fellow guest William Mook, head of Mok Industries LLC in Columbus, Ohio, that Victoria's Secret used Epstein models and that his girls were in "the major league," according to Mook.
Epstein's relationship with Wexner and L Brands officially ended in 2007, a year and a half after the financier was charged with several counts of sexual misconduct in Florida. He pleaded guilty to one charge and spent just 13 months in prison with work-release privileges. That penalty was widely derided as exceedingly lenient and, after sex trafficking charges against Epstein were resurrected in July, fresh outrage over the 2007 plea deal led to the resignation of U.S. Labor Secretary Alex Acosta, who'd been U.S. attorney in Miami in charge of the prosecution. Epstein is now sitting in a Manhattan jail awaiting trial—and perhaps more revelations of salacious secrets. Last week he was found injured in his cell and put on suicide watch.
L Brands' efforts to distance itself from Epstein may not have been all that clean a break. Epstein at one point had a $1 million investment in MC2 Model Management, according to a sworn deposition by a former company bookkeeper. MC2 is owned by Jean-Luc Brunel, a Frenchman who is alleged in a civil lawsuit to have brought girls as young as age 12 to the U.S. for sexual purposes and provided them to his friends including Epstein. Brunel even visited Epstein when he was first imprisoned in 2008. Victoria's Secret continued to work with MC2-represented models after Wexner severed ties with Epstein. At least three MC2 models walked in Victoria's Secret's 2015 fashion show, and the agency's models were at auditions in 2017 and 2018. They've also posed for its catalogs and website. In a 2014 letter to Brunel, his business partner, MC2 President Jeff Fuller, cited worries by Saks, Nordstrom, Macy's, and other clients about Brunel's friendship with Epstein. There was no mention of concern on the part of Victoria's Secret. 
 MC2 didn't respond to a request for comment. A representative of L Brands declined to comment beyond statements already issued. L Brands has hired an external law firm to probe any ties between the company and Epstein.
Epstein is the ghost of Victoria's Secret's past. But the company has more to worry about than history. Its business model—perhaps the very idea it was founded on—is increasingly at odds with society's changing definition of beauty and the #MeToo movement, both of which are sparking a very different vision of how to portray women and their bodies. This isn't just an exercise in political correctness. Since 2015, Wexner's lingerie empire has lost $20 billion in market value, raising the question of whether a male-dominated company that has long presented a male point of view of women as lingerie-clad "angels" may be out of step with today's consumer.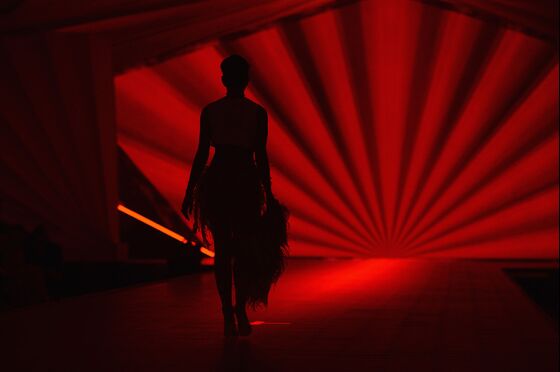 That Victoria's Secret has gotten caught up, even tangentially, in a scandal involving men with a strong interest in the female body probably is the last thing the company needs. The chain's founder, Roy Raymond, came up with the idea of a women's lingerie store aimed at men after he went to a department store to buy his wife some lingerie in the 1970s. He didn't love the experience and felt there should be a place where men would be comfortable shopping for women's underwear.
He opened the first Victoria's Secret in 1977. Wexner, already owner of retailers Limited, Lane Bryant, and Express, bought the company for $1 million in 1982. Through savvy marketing under Wexner, the brand sold directly to women who wanted to look sexy in pushup bras and skimpy panties.
As the brand grew, it still provided plenty of eye candy for men—especially through its glittery annual fashion show, which became a marketing coup and a much-anticipated event for the men who flocked to view it. The first was staged in New York's Plaza Hotel in 1995 (the same year then-real estate developer Donald Trump was forced to sell the legendary hostelry to avoid bankruptcy) and included model Stephanie Seymour gliding down the catwalk. Models wore white and black bras and underwear, but not the large white angel wings that the models in subsequent shows would make famous. Over the years the extravaganza grew with more lights and pop stars. Supermodels such as Gisele Bündchen and Tyra Banks graced the stage. As such, it cast a sex-infused spotlight on a product that our grandmothers viewed as utilitarian and likely purchased from the old Sears catalog.
Plenty of clothing retailers have used sex to sell. American Apparel's ads of pouty-faced young women in suggestive poses often had the look of soft porn shot in someone's basement rathskeller. And Abercrombie & Fitch's now-defunct "magalog," A&F Quarterly, was notorious for including nude models and racy content such as its 2003 discussion on the pleasures of group sex.
But few retailers have fused themselves to the notion of sexiness more than Victoria's Secret—it uses the word "sexy" in the name of many of its products—and the company has spent countless hours making sure the outside world gets that message. Wexner has never shown a lot of personal interest in the models for his brand, according to a former executive. Instead, that task falls to Razek, who's worked for Wexner since the 1980s and is part of the CEO's inner circle. The 71-year-old marketing chief and his team decide which models are worthy of walking the Victoria's Secret runway in angel wings and lingerie. GQ and Forbes have called him one of the most important people in the modeling industry.
Razek takes his role as keeper of the sexy angel mystique seriously, people in the industry and former employees say. An L Brands spokeswoman didn't respond to an earlier request for an interview with Razek. Between tapings of the 2011 fashion show, for instance, the Victoria's Secret angels would crowd around Razek as if he were a coach giving a locker room pep talk before the big game. In a speech that year to his assembled models, which included Adriana Lima and Alessandra Ambrosio, Razek said their job is the "most impossible job in the world, literally in the history of the world.
"In the history of the world, as of this show, only 165 women have ever been in this show," he said in the recording to the dozens of models present. "There have only been 140 pairs of wings in the entire history of this show. That means each of you, every one of you, because there are 7 billion people on the planet. Each of you is one in 45 million human beings. Let's start with that."
But like fashion, times change. Abercrombie in late 2014 parted ways with its longtime CEO Mike Jeffries, who once famously told Salon magazine that his chain refused to carry women's clothing larger than a size 10 "because good-looking people attract other good-looking people, and we want to market to cool, good-looking people. We don't market to anyone other than that." The chain also has dropped its highly sexualized marketing as it lost favor with mall shoppers. American Apparel founder Dov Charney was ousted in 2015 after allegations of sexual harassment, and the company later filed for bankruptcy.
Likewise, fashion companies are increasingly embracing a broadened definition of beauty. Younger designers such as Christian Siriano and Becca McCharen-Tran have added plus-size fashions and models to their shows. And Unilever's Dove soap brand in 2004 launched its Real Beauty campaign featuring women of various sizes and shapes as marketing icons.
Victoria's Secret hasn't strayed much from its uniformly tall and thin angels. Last November, Razek told Vogue magazine that, after consideration, he'd decided not to use transgender models in his fashion shows. "Well, why not? Because the show is a fantasy," Razek said, sparking some outraged celebrities and customers to call for his resignation.
Some in the industry say such tone-deafness may be a result of the 2016 departure of Victoria's Secret's longtime CEO Sharen Jester Turney, who'd guided the brand for a decade while managing to convince many consumers that its celebration of the feminine body was a form of female empowerment. Turney left because she didn't agree with the direction that Wexner wanted to take the business, according to a person familiar with their conversations. "With her gone, the men really just took over," says one former Victoria's Secret executive. "And these were men who had one ideal of women, and it's not based in reality."
Jan Singer, who replaced Turney, left last year shortly after Razek made comments that some plus-size models and the transgender community found demeaning. Singer was replaced by a man, leaving L Brands with only two women among the 10 listed executive officers and brand leaders. At the urging of activist investor Barington Capital Group, L Brands this spring added two more women to its board.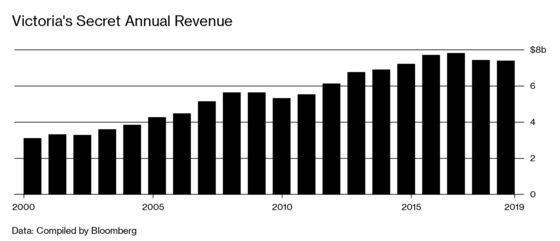 The failure to embrace changing norms about women and beauty may already be having an impact on Victoria's Secret's finances. Sales, which had been on a steady rise since 2010, fell to $7.4 billion in fiscal 2017—the first drop in seven years—and edged slightly lower again last year. Sales at stores open for more than 12 months, a closely watched measure in retailing, also slipped in 2018, with operating income at the unit tumbling 45%, to $512.4 million.
Those poor results have led L Brands to tighten its purse strings, resulting in the shuttering of dozens of underperforming locations. L Brands announced in February plans to close about 53 Victoria's Secrets in North America this year, more than three times the 15 it's historically closed in an average year. "Given the decline in performance at Victoria's Secret, we have substantially pulled back on capital investment in that business," L Brands executives said in prepared earnings commentary in May after reporting a further 5% drop in same-store sales in the first quarter of 2019. "Although results were consistent with our guidance, we are clearly not satisfied and are working hard to improve performance."
Earlier this year, Wexner told employees that he was taking a "fresh look" at everything, including brand positioning, marketing, and real estate, in an effort to recharge the business. One notable change: In May, Victoria's Secret pulled its fashion show from network television after 23 years. Ratings bottomed out in 2018, with only 3.3 million viewers, down from the previous all-time low of 5 million the year prior. In a memo Wexner sent employees about "re-birthing" Victoria's Secret, he said network TV is no longer the right fit for its signature fashion show, which is expected to move to streaming.
Yet there may be limits to just how much Victoria's Secret can change its messaging. American Eagle Outfitters Inc.'s rival Aerie line has found a base of passionate customers who are younger and more diverse and are calling for brands to have body-inclusive messages. That's helped Aerie log 18 consecutive quarters of double-digit same-store sales—far faster than the L Brands unit. One advantage is that Aerie doesn't have 40 years of branding to overcome. "There's been very interesting growth in consumers embracing this more holistic body-image view, but it's probably too far of a step away from what the DNA of Victoria's Secret is," says Alex Arnold, a managing director of the consumer practice at investment bank Odeon Capital Group LLC. "It would be a wholesale repositioning of the company."
 
Read more: Billionaire Behind Victoria's Secret Built His Version of the American Heartland
To contact the editor responsible for this story: James Ellis at jellis27@bloomberg.net, Anne Reifenberg