The 'State' Of Bihar And Why It Matters
Bihar symbolises the challenge which must haunt those attempting to write India's future, writes Shankkar Aiyar.
It conjures imagery of misery, of huddled masses left behind by its politicians. It could well be the Indian version of a Greek tragedy. To paraphrase the Greek tragedian Sophocles, for the wretched in Bihar every election is like the previous one, and for the blessed of India a seasonal distraction which could well be an episode on Amazon Prime.
Politics matters. The process of democracy, however noisy and messy, is intrinsic to the ideal. As Bihar goes to the polls, the discourse is perpetually and peculiarly enveloped in the politics of caste, about which caste will cast its vote for which party, whether the decision of LJP to go it alone is a gambit to oust Nitish Kumar from the top job, whether the BJP will get to anoint its own.
The politics of Bihar matters, for Bihar is a neglected part of the 'India Story'. Tragically though the discourse scarcely dwells on why Bihar is, well, like Bihar. Beyond the opera of emotional eloquence and riveting rhetoric, Bihar matters because it vividly represents the other India. It illustrates the shadow of demographic disaster and the potential of possibilities.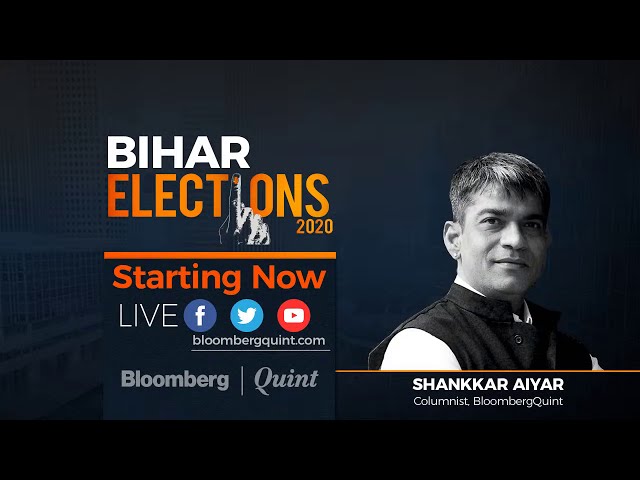 Bihar accounts for nearly a tenth of India's population—12 crore of India's 139 crore—but punches way below its demographic heft. India's gross domestic product is around Rs 145 lakh crore. That of Bihar is a fraction of it, roughly Rs 4.1 lakh crore (at constant). The data on gross output though doesn't quite convey the magnitude of poverty and penury at the granular level.
A telling indicator is per capita income. Bihar's per capita income in 2019-20, as per the National Statistical Office is Rs 46,664 – barely a third of the national average of Rs 134,226 and a fifth of Haryana.
Simply put, in terms of per capita income, Bihar is where India was in 2009-10.
As non-resident Biharis often refer to it, and only half in jest, the 'Republic of Bihar' if it was a country it would rank at 176, below Togo and above Sierra Leone.
Averages don't give the full picture. As Nobel laureate Angus Deaton said, "averages are no consolation to those left behind". The picture of penury at the district level is shocking. The economic survey of Bihar reveals per capita GSDP in 12 districts, including those of Sheohar, Banka, and Supaul, at less than a sixth of what they are in Patna and one-fourth of the state.
Over 4 crore or 40 million persons, which is one of three persons in Bihar, live below the poverty line.
A farmer speaks during an interview at his home in Raghopur, Bihar. (Photographer: Prashanth Vishwanathan/Bloomberg)
Bihar Elections: No Longer Bipolar And Predictable
Money makes governance possible. Bihar's own revenues and share of tax devolution from the centre can fund just over half its expenditure – for the rest, it depends on grants-in-aid from the centre and borrowings. In 2019-20 Bihar spent Rs 2.05 lakh crore – a third of this went towards salaries, pension, and interest on borrowings. There is revenue constraint and then there is the pattern of spending. Naturally, this has implications for the provision of public services.
The data tells the story eloquently, particularly in the context of the pandemic. Parliament was informed on Sept. 30 that Bihar, with over 12 crore persons, has just over 44,642 registered allopathic doctors. Drill down and it gets worse as the bulk of them are working for private hospitals.
The 2019 Economic Survey of Bihar presents a chilling picture. "In 2018-19, there were 3,821 regular doctors in Bihar, against 6,261 sanctioned posts" of the "sanctioned posts for 2,314 contractual doctors, of which only 533 posts were filled up" and in seven districts "a government doctor has to serve more than 5 lakh people". The picture is worse for paramedics – for instance, only 1,994 of the 4,704 posts for nurses were filled.
An ambulance stands outside the Primary Health Care Center in Raghopur, Bihar. (Photographer: Prashanth Vishwanathan/Bloomberg)
Hygiene is important and doctors say wash your hands – and the Government of Bihar provided rural households with a bucket, mug, and soap. However as per the Jal Shakti Ministry of the 1.78 crore rural households, barely 3.36 lakh can boast of access to piped water.
Take education. There has been much praise—as indeed there should be—for the idea of giving bicycles to girls going to school. But what happens once they get to schools?
On Sept. 19, the Union Education Minister revealed that 39.9% or four in ten teacher posts are vacant across government schools in Bihar – that is a total of 2.7 lakh posts.
The story of higher education is not very different and even access is constrained – the district of Sheohar has just one college.
Bihar has among the highest infant mortality rates at 35 per 1,000 births and an under-five mortality rate of 41 per 1,000 births. Anganwadi centres are critical as they connect the people with the programmes of the government. Of the 1.04 lakh anganwadi centres in Bihar, over 38,000 do not have toilets and over 13,500 have no drinking water facility.
Law and order, rather the lack of it, has been a bane of Bihar for decades and is a primary reason for lack of investment interest in the state. There is cognition of this but follow-up action to build capacity is stranded. Bihar is second only to Uttar Pradesh in vacant police posts. As per the Ministry of Home Affairs, of the 1.28 lakh sanctioned posts over 50,200 are lying vacant.
Yes, it has better roads – partly to higher outlays and central funding for the rural roads and national highways programmes. But its road density is still the lowest at 181 kilometres per 1 lakh popuation, as against the national average of 386 km/lakh. It is also true that both access and availability of power supply havee improved – thanks to the Modi government's rapid electrification of villages and systemic changes in maintenance enabled by the state. That said, the flip side is per capita consumption is 345 kilowatt-hour compared to 1,181 kWh nationally – and no revenue is realised on a third of power distributed.
People walk through the construction site for an overpass in Patna, Bihar. (Photographer: Prashanth Vishwanathan/Bloomberg)
As Bihar Votes, All The Key Stats You Need To Know
Demography Is Not Destiny
Theory has it that a younger population and workforce can translate into higher demand, consumption, investment, incomes, and potential for prosperity.
Bihar boasts of the youngest population in the country – in 2011 Bihar's median age was under 20 and will be under 30 even in 2036. And on the face of it, Bihar is among the fastest-growing states – in 2017-18 it topped the charts at 11.3% and in 2018-19 it grew at 10.5%.
Yet despite the high growth millions are forced to leave the state looking for a source of livelihood. The conundrum of joblessness is such that the state has one of the lowest labour force participation rates at 38.2% and its worker population ratio is also way below the national average.
Effectively, the rate of unemployment in Bihar is persistently in double digits – even before the pandemic in the April-Jan period unemployment rate for Bihar as per CMIE was 17.21%. And an attendant tragic factor has been the phenomenon of child labour – over 1 lakh children in 19 districts were estimated to be working as child labour as per Census 2011.
Data on the source of livelihood reveals a shocking picture.
Over 55% or every second person is defined as self-employed, over 32% are earning a living as casual labour, and only 11% boast of a salaried job. This is the lowest in states across India.
Farmers use a log to till a field in Raghopur, Bihar. (Photographer: Prashanth Vishwanathan/Bloomberg)
The bulk of them, 44.6% are engaged in agriculture which contributes 20% of the SGDP and is wracked by low yields and uncertainty. Over 17% earn a livelihood in construction and just over 9% in manufacturing which contributes 19% to the state GDP.
The sectoral data is not very different from the national picture. The factor holding the state back is simply the low level of economic activity aggravated by the lack of investments. Bihar shows up on the FDI map for two government-driven projects – the GE diesel locomotive factory in Marhowra, and the Alstom project in Madhepura.
Political Socialisation Of Socialism
Conventional wisdom, backed by facts and some folklore, blames Bihar's backwardness on decades of neglect – first by Congress and later under Lalu Yadav. Context is critical in the analysis of politics and policies. The fact is Bihar has been Congress-Mukt since 1989 and 'Jungle Raj Mukt' since 2005. Indeed, Bihar has been under Nitish Kumar aka 'Sushasan Babu', under one banner or the other, for the better part of 15 years.
So what explains the persistence of backwardness? The answer has much to do with the template of power politics, the leverage of identity politics, particularly in the post-Mandal era. This led to the socialisation of the Bihar brand of socialism where the rule of law depends on the law of who is ruling, ensuring the allocation of resources for electoral efficiency – essentially enrichment of the few was presented as the empowerment of the many.
The Bihar model of politics and economics is at an intersection.
Bihar Chief Minister Nitish Kumar and RJD chief Lalu Prasad at Gandhi Maidan, Patna. (Photograph: PTI)
The ongoing reconfiguration of political alignments affords a window to uproot the consensus of convenience. Post pandemic supply chain economics and the recently reformed policy landscape offer opportunities to open up Bihar to investment, industrialisation, and urbanisation.
Why not create a NOIDA in Bihar – use the recently launched productivity linked initiative to bring electronics manufacturing to Bihar to serve the east. Its location in the hinterland can be overcome – there is the promise of river transport and proximity to Kolkata – to set up SEZs like in Xinjiang in China. If Bangladesh can emerge as an export hub for labour-intensive textile and garments why can't Bihar? The state could emerge as a hub for agri-foods if the recent agriculture reforms are leveraged via star-ups for modernisation and value addition in farming.
The question is not whether socialisation of the Bihar brand of socialism can be dismantled, but whether India can afford its political perpetuation and persistence. India can scarcely shift orbit without Bihar, not if nearly a tenth of its population is colonised by petty politics. Bihar matters because it symbolises the challenge which must haunt those attempting to write India's future.
Shankkar Aiyar, political-economy analyst, is the author of 'The Gated Republic – India's Public Policy Failures and Private Solutions', 'Aadhaar: A Biometric History of India's 12-Digit Revolution'; and 'Accidental India'.
The views expressed here are those of the author and do not necessarily represent the views of BloombergQuint or its editorial team.