An Egyptian Billionaire Resurrected This Swiss Skiers' Paradise
Switzerland's Andermatt has all the makings of an ultra-luxury ski destination.
(Bloomberg Businessweek) -- The first time Egyptian real estate mogul Samih Sawiris took a helicopter ride over the sleepy Swiss ski village of Andermatt, 14 years ago, he was struck by its remote wildness. The resort was only a 90-minute drive from Zurich, yet it felt like a secret hidden in the mountains of Uri, arguably the rugged country's least discovered canton.
What the silver-haired chairman of Orascom Development Holding AG must have also seen was a blank slate. The appeal of European ski resorts, unlike that of their purpose-­built American counterparts, is their sense of history. Think skiing into farming villages steeped in tradition, where the slopes and hotels and restaurants have been attracting winter tourists for—in some cases—well over a century.
Andermatt offered exactly the opposite. This was a resort that, after two boom-and-bust cycles, felt virtually empty, a veritable ghost town notched high up in a secluded pocket of the Alps. History hadn't been kind to the valley. First the Gotthard Tunnel rerouted the railway tourists who'd once stopped here during the belle epoque. Then the Swiss military, who'd made Andermatt a big base of operations, pulled out in the 1990s, leaving the resort a husk of its former self. All that remained was a picturesque main street flanked by timber chalets and old hotels and a few antiquated lifts ferrying skiers to the tops of the towering mountains that encircle the town. No-frills free riders came for the plentiful powder and off-piste faces lining the Gemsstock, the highest lift-­serviced peak in the area, but they didn't do much for the local economy when it came to spending money in town.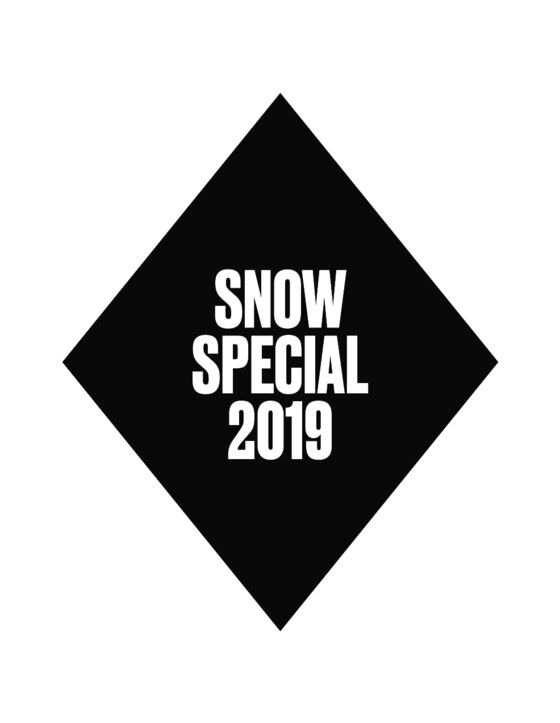 To Sawiris—whose holdings include El Gouna, an Egyptian resort town along the Red Sea with some 20,000 residents—the underdeveloped resort's lack of infrastructure marked its appeal.
"Mr. Sawiris doesn't only create tourism destinations, he creates towns," says Stefan Kern, a spokesman for Andermatt Swiss Alps AG, the company Sawiris founded to transform Andermatt from a down-on-its-luck Alpine hamlet into a destination resort capable of rivaling Zermatt, St. Moritz, and Verbier.
In 2007, Sawiris proposed an audacious three-pronged resuscitation plan, one that would see more than $1 billion go toward an opulent luxury hotel and 18-hole Scottish-style golf course, a revamped and expanded ski area, and an ambitious development of holiday apartments and private chalets. To succeed at that third component—the one most critical to his bottom line—Sawiris had to find a way around a Swiss law that restricted foreigners from purchasing second homes. He did just that, getting the government to grant Andermatt an exemption as a special economic development zone. Once the town voted in favor of his plan, almost unanimously, Sawiris was off and running.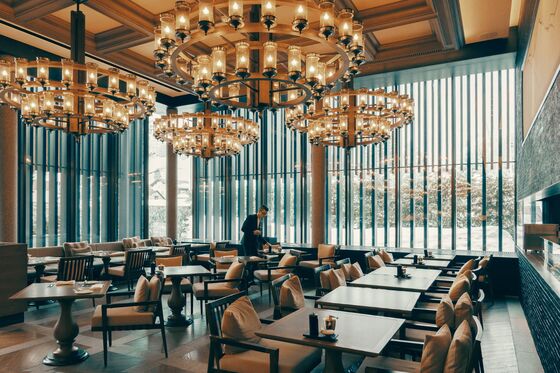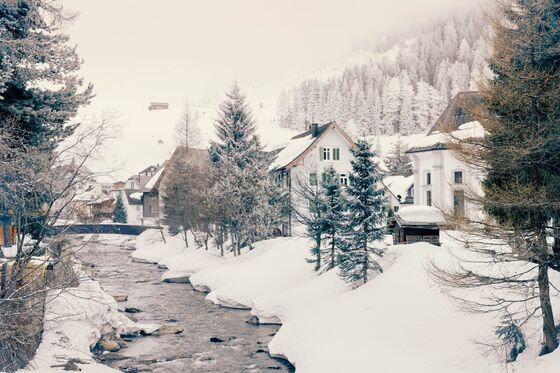 Spread out across nine ­peaked-roof chalets, the five-star 169-room Chedi opened its doors in 2013 and now forms the heart of the new Andermatt. The hotel has become a destination in and of itself for moneyed ­travelers—some skiers, some not—who want to unplug amid blissed-out luxury in the seclusion of the Swiss Alps. During a visit in early April, as the snow still dumped outside, an international array of guests milled about the sleek black-stone and timber lobby, ate farm-fresh breakfasts in the 250-­person dining room beside an open kitchen, and floated downstairs to spa appointments. There's a 6,000-­bottle wine cellar, plus a Michelin-starred Japanese restaurant (a 10-course kaiseki menu is recommended) and, for those who can afford further seclusion, the two-floor Furka suite, which comes replete with a private spa and rents for $15,000 a night.
Still, despite its sheer size and over-the-top amenities, the Chedi doesn't dominate Andermatt. Nor does Sawiris's residential development on the north side of town, Andermatt Reuss, which is home to the recently opened four-star Radisson Blu hotel, a 650-seat classical music concert hall, and apartment buildings surrounding a central piazza. (Eighty percent of finished apartments have already been sold.) Instead, as you drive up the circuitous bends and through a crack in the mountains and into town, you're greeted by the broad valley's open snowfields, a few remaining military barracks, perhaps a red train trundling along on your right-hand side, and serrated peaks in every direction.
"Some people driving into the village don't even realize the Chedi is there," says Mari Russi, co-owner of Art 87 Andermatt, a contemporary gallery located just off the cobblestones of Gotthardstrasse. The hotel's entrance "is very discreet. There's no big sign—you really have to look for it."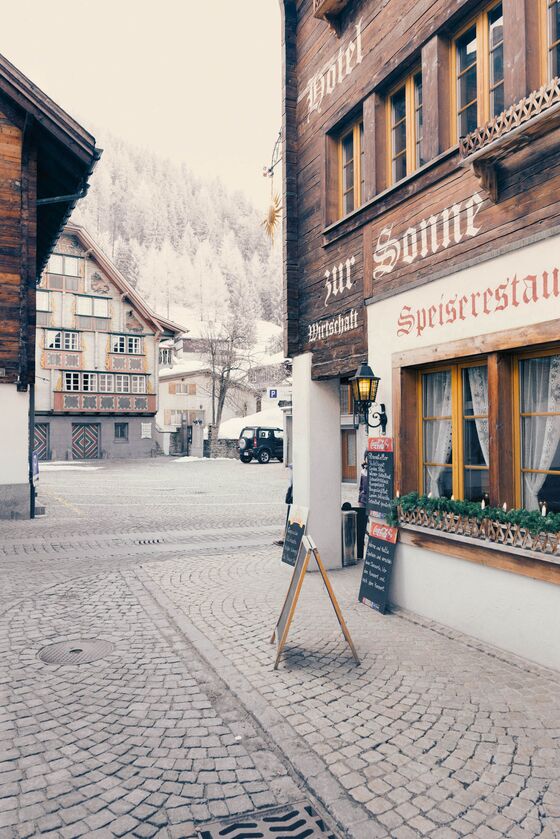 Russi hails from Sweden, but it was her Swiss husband, Bernhard Russi—Andermatt Swiss Alps board member and winner of the 1972 Olympic downhill—who introduced her to his hometown more than 30 years ago. A lot has changed since then, but like most locals she takes an all-ships-rise attitude toward Sawiris's development. Now her clients are the type of people who won't bat an eye at the $50,000 price tags of her gallery's most expensive pieces.
"Everyone is happy the Chedi is here," says Louie Gougouth, assistant manager at the Hotel Sonne, a 150-year-old ­family-owned institution that remains perhaps the most picturesque building in town. Originally from Morocco, Gougouth came to Switzerland to study at a hotel school, then wound up in Andermatt because of a job offer at a now-­defunct hotel. He stayed because of the clean air, the unspoiled mountains, and the people who say "Uela!" to you—the local ­greeting—on the street every morning.
In April the atmospheric wood-­paneled dining room at the 20-room Sonne was still busy, as it had been all season, with a mix of German and British families huddled around piping hot pots of fondue. "In the beginning it was just military," Gougouth says, reflecting on his first years in Andermatt. "We were just seeing green, green, green, because of the uniforms. But now we see people from around the world. Even celebrities. Singers from the USA, golf players. This year we saw 50% growth over last year," he says.
Making good on his plan to expand the ski area, Sawiris pumped $140 million into ­on-mountain infrastructure in only three years. Last season a gleaming eight-person gondola replaced a couple of old chairs; it now whisks skiers to the top of the Gütsch peak, from which they can ski a network of gentle and intermediate slopes before taking another new 10-person gondola into the neighboring resort of Sedrun, in the canton of Graubünden.
The most seasoned of skiers still lap off-piste runs from the Gemsstock's cable car, but the multigenerational clans who now come to Andermatt make their migration east each morning toward Sedrun, skiing far above the tree line in the high alpine, partaking in that grand, stress-free European ski experience of lazily schussing from village to village.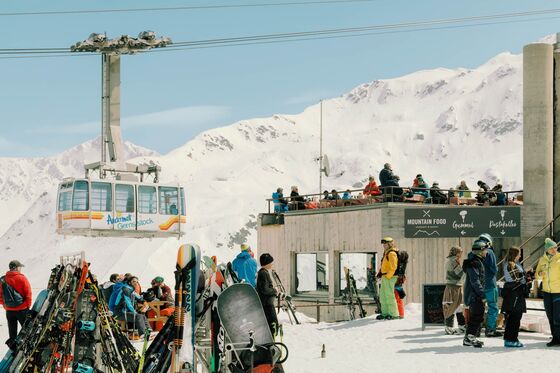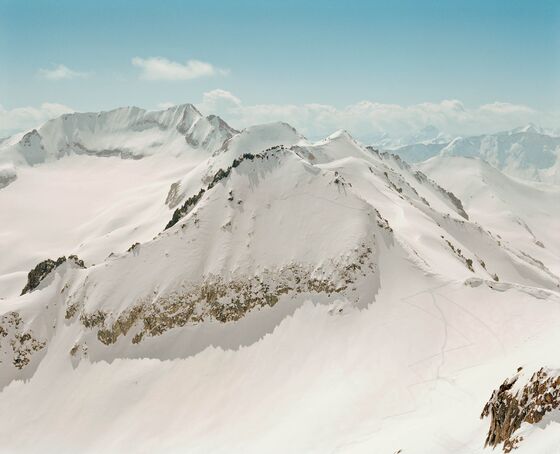 All told, the interconnected ski area will boast 112 miles of slopes and 33 lifts. That's two lifts more than Vail, Colo. A further lift connection will open during the 2019-20 winter season, allowing guests to ski all the way to the rolling, family-friendly slopes of Disentis.
Sawiris's "if you build it, they will come" attitude appears to be working. Last season, Andermatt almost doubled its ­single-day skier record, attracting 12,000 guests. (Given the size of the expanded resort, that means the slopes were still relatively uncrowded.) But this growth isn't necessarily what all locals want.
"The core atmosphere of the town is gone, it's dead, it doesn't exist anymore," says Kevin Obschlager, who along with his wife owns the River House, a red-­shingled boutique hotel and whiskey bar that opened more than a decade ago and catered to the hardcore skiers who flocked to Andermatt for its soulful atmosphere.
Obschlager likens Andermatt's genesis—or perhaps downfall—to that of Telluride, which went from funky hippie hideaway to posh enclave, attracting Tom Cruise, Ralph Lauren, Oprah Winfrey, and other celebrities: "Now it's luxury, luxury, luxury. Before, this place would be packed with smiling faces after powder days. People would come every weekend." He shrugs. "Now people come once, and then they're gone—they go to the Caribbean the next weekend."
During the visit in April at least, Andermatt still felt undiscovered and refreshingly unpretentious. Snow fell at night, a ghostly mist hung among the narrow cobbled lanes cutting through town, and the few remaining military cadets filed into bars or shared cigarettes under the milky glow of streetlights. The slopes were equally uncrowded, and from the summit of the Gemsstock, with 3 feet of fresh snow blanketing the 5,000 feet of vertical leading to the valley, and the rugged mountains of Uri standing like sentinels keeping the rest of the world at bay, one thing was certain: The time to book your trip is most certainly now.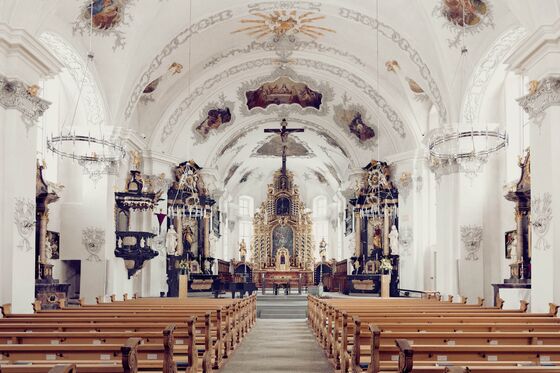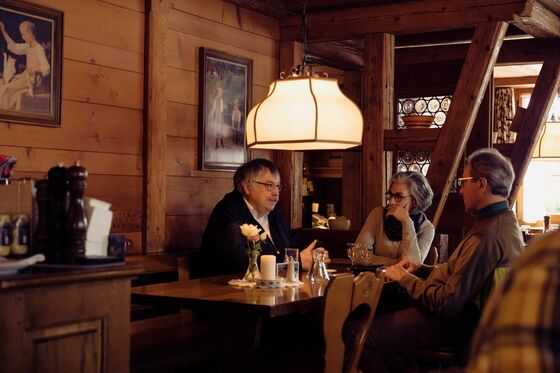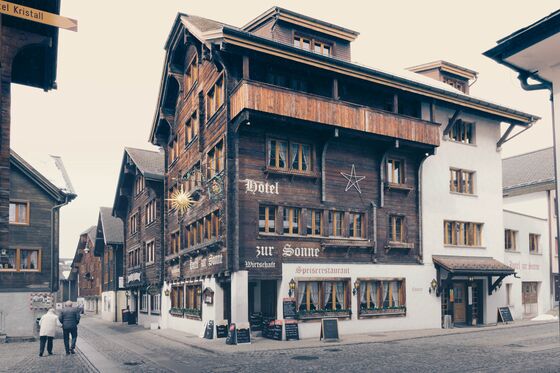 To contact the editor responsible for this story: Chris Rovzar at crovzar@bloomberg.net, James Gaddy