Mukesh Ambani Won the World's Most Expensive Sibling Rivalry
Being the brother of Asia's richest man is harder than you think.  
(Bloomberg Businessweek) -- Even by the sky-high standards of Indian nuptials, the wedding of Akash Ambani and Shloka Mehta in March of last year was ambitious. The festivities began in the Swiss Alps, with inner-circle guests flown by private jet to St. Moritz, where the diversions included a winter carnival and a performance by Coldplay's Chris Martin. Then it was back to Mumbai for three days of events, culminating in a grand reception that took over a brand-new convention center. It had been transformed for the occasion into a fantasia of undulating columns, fountains, and screens composed from vivid sheets of live flowers. In one spot, an ingeniously designed peacock sculpture fanned out its floral plumage for the amusement of passersby. The centerpiece was a giant statue of the Hindu god Krishna, made entirely of plants.
The cost was easily in the tens of millions of dollars, but for Akash's father, Mukesh, it was pocket change. Mukesh is the chairman of Reliance Industries Ltd., which owns oil refineries, chemical plants, supermarkets, and India's largest mobile network. With a personal net worth of about $53 billion, according to the Bloomberg Billionaires Index, Mukesh is the richest person in Asia and, apart from Prime Minister Narendra Modi, probably India's most powerful citizen. The economic centrality of Reliance, which accounts for almost 10% of India's total exports, is difficult to overstate. In American terms, it's as though Dow Chemical, AT&T, Exxon Mobil, and Amazon were a single conglomerate. Even the coronavirus pandemic has barely slowed it down. While the collapse in oil prices battered Reliance stock, it's recouped almost all the losses, thanks in part to a $5.7 billion deal to sell a stake in its digital arm to Facebook Inc.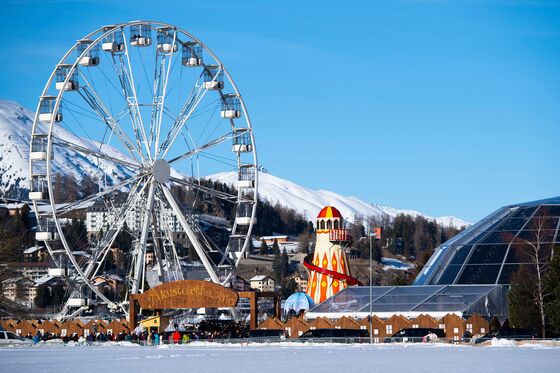 As the wedding began, Mukesh's brother, Anil Ambani, who's also a prominent businessman, lingered near the entrance to greet guests. He performed his familial duties with aplomb, making sure everyone was suitably refreshed and properly oriented through the plant life and advising Akash on how to make a grand entrance.
The outward harmony, though, papered over a tense situation. At the time of the wedding, Anil was 10 days away from a court-imposed deadline to repay $80 million in debt, with failure potentially punishable by imprisonment—the most extreme example of a legal crackdown on large-scale borrowing by Indian businesspeople. For weeks he and Mukesh had been locked in negotiations over a bailout, mediated in part by their mother, who urged them to find a solution that would protect Anil and keep the Ambani name from being associated with financial ruin. But Mukesh wasn't going to help his brother avoid debtor's prison for nothing, and Anil had yet to offer collateral he was willing to accept.
The last-minute talks were the low point of a domestic breakdown that's captivated the Indian business world. The Ambani brothers began their careers as intimate collaborators, with Anil once describing their approach as "two bodies, one mind." But after the death of their father, Dhirubhai, who founded Reliance almost five decades ago, they grew increasingly estranged, first splitting his empire and then becoming direct competitors. Their sibling rivalry since then has become an object lesson in the promise and perils of India's economy under Modi. Since the Hindu nationalist leader came to office in 2014, tycoons who can help deliver on his agenda of Indian self-sufficiency—above all, Mukesh—have seen their fortunes and influence swell, while others—Anil included—have found their margin for error drastically reduced. Neither Mukesh, Anil, nor their companies replied to repeated requests for comment on this story and its contents. Bloomberg News is currently defending against litigation brought by Anil in connection with previous reporting.
The negotiations between the brothers continued nearly to the deadline. Although the Ambani clan publicly characterized them as amicable, two people familiar with the talks, who asked to remain anonymous discussing a family matter, used a different descriptor. Mukesh, both said, made Anil "beg."
The Ambanis' story has the ring of an entrepreneurial fairy tale. A former gas station attendant from a remote town in the western state of Gujarat, Dhirubhai spotted a gap in the consumer market in the early 1970s: supplying nylon, polyester, and other synthetic materials, which were still novelties in India. He founded Reliance in 1973 as a trading house, then gradually turned it into a vertically integrated operation, first by manufacturing the fibers, then producing the chemical precursors they needed, then refining the oil used to make those, too. By the late 1980s the company was the dominant, and in some cases exclusive, domestic manufacturer of a range of key petrochemicals.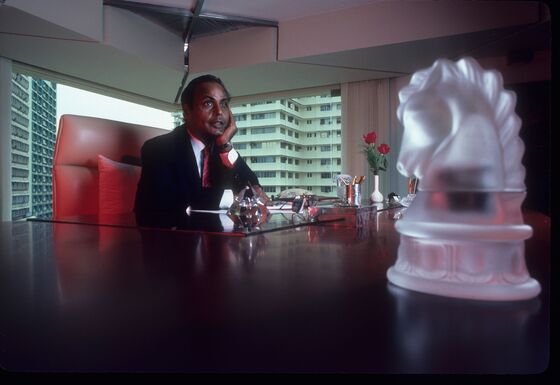 In the business world, Dhirubhai—his real name was Dhirajlal, but he was almost always called by the nickname, which incorporates the Hindi word for "brother"—was known as more than a skilled factory operator. Until the 1990s the biggest headache for India's companies was the so-called License Raj, an ever-shifting system of import quotas, permit requirements, and price controls that governed most of the economy. Dhirubhai seemed always to be one step ahead of its strictures. According to Reliance veterans, he maintained an office building on the outskirts of Delhi, stuffed with retired bureaucrats assigned to keep tabs on their former colleagues. Among other tasks, they tracked the ages of senior officials' children so they could be offered Reliance-funded scholarships to study abroad when they reached university age. During Diwali, the former employees said, Reliance would send mailroom assistants at important ministries boxes of candy, each with a small piece of gold or silver hidden inside—a common practice, but also a reminder to keep the company informed of what their superiors were working on.
Dhirubhai took a similarly deliberate approach to raising Mukesh and Anil, who were born in 1957 and 1959, respectively. On weekends, Anil has said, their father would lead them on "incentive-oriented outings"—for instance, a 10-kilometer hike through the rain, with a box of mangoes as a reward. Mukesh recounted that, to punish the boys for acting out while guests were visiting, Dhirubhai once confined them for "two days in the garage on water and roti." There was never any doubt that both would join the family business, and by their mid-20s they'd assumed prominent roles: Mukesh as a hands-on manager of facilities, including Reliance's first domestic polyester plant, and Anil as an executive dealing with government officials, investors, and the press.
Their roles suited their personalities. Mukesh wore little that was fancier than an untucked short-sleeve shirt, married a woman chosen for him by his parents at 27, and spent most evenings watching old movies at home. Anil, who slicked back his hair and dressed in sharp suits, was part of Mumbai's fast crowd, friendly with socialites and Bollywood stars, whom he sometimes took on getaways in a corporate jet. He married at 31, late in India, and his parents made no secret of their disapproval of his choice of spouse, the actress Tina Munim. While Mukesh was rarely seen in public, on many evenings reporters could find Anil outside Reliance's headquarters, sitting on the hood of a Cadillac and munching on street food while talking up the company's prospects to anyone who'd listen.
There was plenty to brag about. By 2001, Reliance was India's most important corporation by virtually every measure, with big plans for expansion in financial services, electricity generation, and telecommunications, plus an oil refining operation on its way to being so large that the national trade deficit rises substantially when it closes for maintenance. Any tensions between the Ambani sons were kept hidden while their father was alive. But in 2002, Dhirubhai died suddenly from a stroke. He was only 69 and hadn't left a formal succession plan. With no indication of how he wished his heirs to divide power, they sorted themselves by age, Mukesh becoming Reliance's chairman and Anil vice chairman.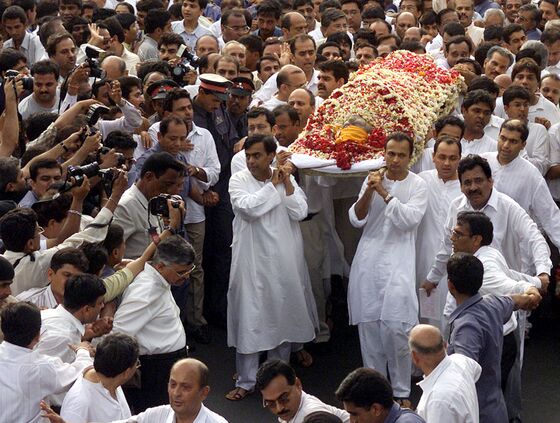 Their relationship soon grew strained, according to people close to them at the time. Each believed the other was making decisions without enough consultation: Mukesh was annoyed when Anil announced a power-generation project without discussing it, and Anil was infuriated when Mukesh restructured the entities that managed the family's Reliance shares without his input. Underlying it all was a dispute about the basic nature of the relationship. Mukesh saw himself as the undisputed boss, whereas Anil considered himself an equal partner.
The brothers' discord burst out into the open two years after Dhirubhai's death, when Reliance's board passed a motion indicating that Anil would henceforth be "under the overall authority of the chairman." He viewed it as a humiliation, according to a person knowledgeable about his thinking. A sort of Ambani civil war ensued. Anil refused to sign off on Reliance's financial statements, citing what he said were inadequate disclosures, and directors at a subsidiary he ran resigned to show their loyalty. At one point, India's finance minister pleaded with the brothers to repair their relationship. After a year the family matriarch, Kokilaben Ambani, decided she'd had enough. In June 2005 she declared in a statement that she'd "amicably resolved the issues of my two sons" with an arrangement that would "resolutely uphold the values of their father and work towards protecting and enhancing value."
Her solution was a split. Mukesh would take the profitable but slow-growing refinery and petrochemicals businesses, while Anil would get the operations that seemed to have more long-term potential: financial services, power generation, and telecommunications. It was a remarkable move, divvying up a substantial portion of India's economy as though it were a set of heirloom china. It also seemed, at least for a while, like a reasonably equitable deal. In 2007, according to estimates by Forbes India, Anil's net worth tripled, to $45 billion, making him the country's third-richest citizen. His brother was a mere $4 billion ahead. With plenty of cash to play with, Anil adopted billionaire hobbies such as film production, becoming one of the main backers of Steven Spielberg's DreamWorks Pictures. Sometimes he invited members of Mumbai's elite to screenings of upcoming releases at his home. Mukesh wasn't seen among the guests.
The truce between the brothers included an unusual proviso: a fraternal noncompete clause that forbade each from entering the other's industries for a period of 10 years. Eventually, though, Anil's businesses began to struggle. Power projects failed as state authorities mandated lower electricity rates; he had to rebuild a national mobile network from scratch when it became clear its technology would soon be obsolete. Mukesh, whose company was raking in more than $40 billion a year, saw an opportunity. As part of a 2010 deal to supply natural gas that Anil needed to make failing power plants viable, people close to the younger Ambani said, Mukesh insisted that the noncompete deal be annulled.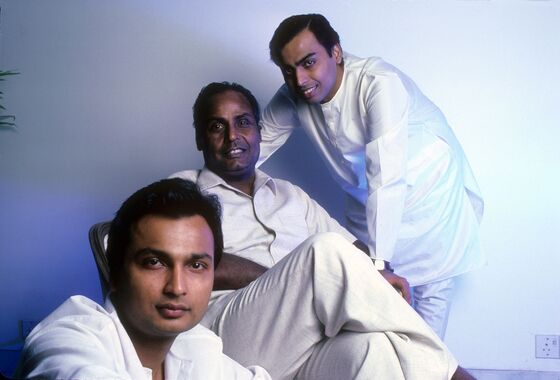 The business he was eyeing was telecommunications. At the time only about half of India's population had a mobile phone, which meant there was a massive pool of potential customers. In 2016, Reliance unveiled Jio, a mobile operator that promised much cheaper rates than competitors. "Mobile internet will be the single most defining technology of this century for human development," Mukesh said in an interview promoting the launch. "We feel fortunate to be the ones to bring the mobile broadband revolution to 1.2 billion Indians."
The circumstances of Jio's creation reminded some Ambani watchers of Dhirubhai's early success navigating the Indian regulatory state. Jio's wireless spectrum had been originally purchased not by Reliance but by a little-known company called Infotel Broadband Services Ltd., which Reliance acquired just hours afterward. A little under three years later, the national communications regulator changed the rules to allow that spectrum to be used for voice calls as well as data. Had that been the case at the time of the auction, public auditors estimated, the sale price of roughly $2.7 billion would have been about $533 million higher. An earlier draft of the auditors' report, leaked to Indian media outlets, put the difference at $3.6 billion. (Reliance has said the acquisition of Jio's spectrum complied with all relevant rules.)
With Jio, Mukesh aspired not just to enter but to dominate India's ultracompetitive wireless market, which at times has had as many as a dozen operators. He believed he could do so by turning those hundreds of millions of largely poor people without mobile service, let alone a smartphone, into online consumers. With vast cash reserves, Reliance could lose money on cut-rate packages for years if necessary while it built a large, loyal customer base that could eventually turn profitable.
At first, Jio's service was practically free, offered as an extended beta test to what competitors claimed were as many as 3 million customers. When it went national, its data rates were far cheaper than anyone else's—sometimes just 7.5 rupees (about 10¢) per gigabyte, with no charges for voice calls. Rivals accused Jio of predatory behavior—a suggestion it rejected—and a price war followed, hitting Anil's already shaky cellular business, Reliance Communications, particularly hard. According to a person familiar with Mukesh's strategy, he saw the likelihood that Jio would crush his brother's company as neither incentive nor deterrent. Rather, the person said, he saw Anil as simply another competitor, deserving of no special consideration as he moved into an industry he viewed as the future.
Whatever Mukesh's motives, Jio sealed Anil's fate. In 2019, Reliance Communications filed for bankruptcy.
For three days in early 2019, Room 6 in New Delhi's stately Supreme Court building was packed. The crowd was there to gawk at something remarkable: Anil, no longer a billionaire, had been summoned to answer a criminal contempt charge. It stemmed from an ill-advised decision to personally guarantee an $80 million debt Reliance Communications owed a creditor, Swedish gearmaker Ericsson AB. Despite promising the court he would pay, Anil hadn't.
The indignities began on the first day. Anil arrived early but for some reason didn't have a seat, and he spent hours standing against a back wall. With the court enforcing a policy against using air conditioning in winter, and the bodies in the room driving the temperature to sweltering heights, he grew wan and disheveled, first removing the jacket of his excellently tailored suit and then his tie.
The two judges listened impassively as Anil's lawyers argued that his promise Ericsson would be paid was contingent on an asset sale that had never been concluded. After they finished, he left without saying a word to the reporters shouting questions.
Anil returned a month later for the ruling, this time occupying a seat. The two judges entered, and Justice Rohinton Fali Nariman read the verdict: guilty. For a moment it seemed that guards might take Anil directly to jail from the courtroom. But then Nariman reached the final point of the decision. "We are of the view," he said, "that the contempt of this court needs to be purged by payment." Anil, he continued, would be given a month to nullify the case by handing over the cash. The ruling shocked Anil, according to a person with knowledge of his reaction. He was so accustomed to getting his way, the person said, that he'd never expected the court to rule against him.
After round-the-clock negotiations that continued until days before Anil was to be taken into custody, he and Mukesh reached a deal. In a press release announcing the breakthrough, Anil was quoted thanking his brother for "staying true to our strong family values." In exchange for Mukesh's cash, people with knowledge of the agreement said, he surrendered a pair of 99-year leases on office buildings in Mumbai. Although the statement included several quotations from Anil, it had been drafted by Mukesh's side, according to one of the people. The person said it wasn't shown to Anil before it was published.
Anil probably shouldn't have been so surprised by his loss in court. Since Modi was elected on a platform of economic reform, India's government and courts have taken a much harder line with billionaires in financial trouble. The cheap loans from state-linked banks and fortuitously timed government contracts that many used to receive have disappeared, and in 2016 Modi's party passed a bankruptcy law that made it harder to shield assets from angry creditors. The courts and law enforcement have also become much more severe with delinquent borrowers, even pursuing criminal charges when a default is suspected to have been intentional. Vijay Mallya, a fallen beer baron who once styled himself as India's "King of Good Times," is fighting extradition from the U.K. over such a case; two other industrialists, brothers Shashi and Ravi Ruia, recently lost control of a bankrupt steel mill after the Supreme Court ruled against them.
The Modi era has been far kinder to Mukesh, whose success flatters the vision of an investment-friendly, modernizing India the prime minister has sought to promote. Mukesh began developing a relationship with Modi in the 1990s, when the latter was an obscure party functionary. According to Ambani family aides, Mukesh rarely has to request a meeting with Modi; instead, he's invited for regular consultations at the prime minister's residence.
This favor may stem, too, from Mukesh's habit of aligning Reliance explicitly with government goals. After Modi made the controversial decision last year to revoke the special constitutional status of Muslim-majority Kashmir, Reliance swiftly sent a team of 25 executives to the territory to explore potential investments. And Mukesh has pitched initiatives that complement Modi's nationalist policies, such as a plan to keep Indian user information onshore to avoid what he calls "data colonization" by Westerners. Modi's office didn't respond to requests for comment.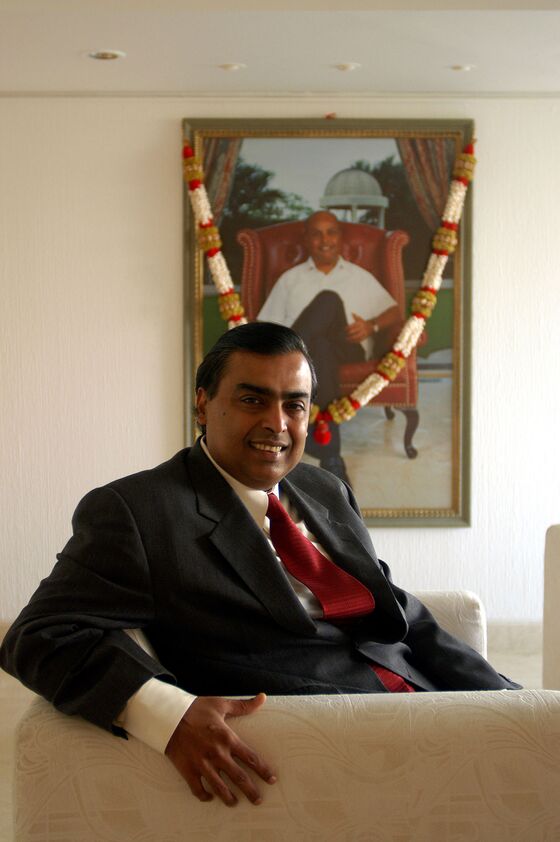 Mukesh has also capitalized on some crucial regulatory decisions. In 2016, Amazon.com Inc. announced plans to pour an additional $3 billion into India, betting it could consolidate a fragmented retail landscape. Two years later, Walmart Inc. spent $16 billion to buy Flipkart, India's largest homegrown e-commerce player. But just after Walmart announced its deal, the government unveiled stringent new rules on online retail, forbidding foreign companies from selling their own inventory. Instead, they'd be allowed to operate only as EBay-style platforms for others' goods. Both Amazon and Walmart had to pull thousands of items from their virtual Indian shelves.
A few weeks later, Mukesh made his move. Appearing alongside Modi at an event in Gujarat, he announced that Reliance would enter the online shopping business, combining its vast retail network—it operates almost 11,000 convenience stores, clothing outlets, jewelers, and supermarkets—with a comprehensive e-commerce offering. The idea is for these locations, plus thousands of small shops Mukesh said the company would "empower and enrich" by signing them up as fulfillment centers, to comprise a physical footprint Amazon and Walmart can't replicate. And as a domestic player, Reliance isn't bound by the same restrictions on online inventory. Over the past two years, the company's shares have climbed 60%, driving its market value to $124 billion. Reliance is now India's most valuable corporation by a comfortable margin.
Most recently, Mukesh's digital strategy has found a fan in Mark Zuckerberg. Facebook's deal in late April to buy about 10% of Jio Platforms, a division that includes Reliance's mobile and e-commerce operations, was the U.S. company's biggest acquisition since it bought WhatsApp in 2014. Working with Jio, Facebook executives said at the time of the announcement, could help turn WhatsApp, which is wildly popular in India and other emerging markets, into a retail platform as well. Other Silicon Valley players want a piece of the action: In the weeks since, several top-drawer U.S. investors, including KKR & Co. and Silver Lake Partners, have also bought stakes in Jio.
In business circles, Mukesh's mounting success has inspired both awe and a certain amount of fear. During a recent meeting, an accomplished Mumbai lawyer flat-out refused to discuss any subject relating to India's richest citizen, even with total anonymity. "The walls have ears," the lawyer said.
Buoyed by his good fortune, Mukesh has come out of his shell, acquaintances say. For much of his career he avoided photographers and submitted to media interviews only grudgingly, fidgeting awkwardly on camera. Now he stays masterfully on message in interviews promoting Jio, and he's a regular panelist at events such as the World Economic Forum and the Future Investment Initiative, Saudi Arabia's "Davos in the Desert." He and his wife, Nita, are increasingly the social anchors of high-society Mumbai. Before the pandemic struck, hardly a week went by without a major event at Antilia, their 27-story mansion in one of the city's toniest districts. According to an acquaintance, Nita keeps an interior designer on the premises full time.
Anil, by contrast, has dropped almost entirely from view. Long a fitness buff, he's in even better shape than usual, starting some mornings with a punishing 10-mile run. People who know him say he's become more religious, praying at Hindu shrines with his mother and telling friends he now finds material success hollow compared with spiritual fulfillment. He's still trying to turn things around, working as many as 14 hours a day to rescue his companies and protect his remaining assets. According to a person with knowledge of his situation, Anil has been advised to declare bankruptcy and start over. But he's refused, the person says, believing that giving up could mean missing some unforeseen chance at a comeback.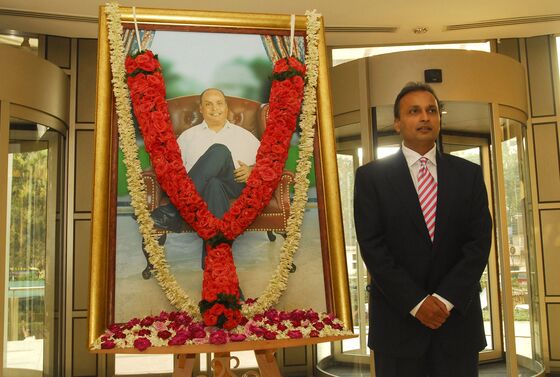 In the meantime, the problems keep piling up. Another of Anil's companies, a defense contractor he hoped would lead a turnaround, has entered bankruptcy. At a September shareholder meeting, a lawyer who said he'd lost most of the money he put into Anil's businesses berated him with angry criticism and said he would try to put together a class-action investor lawsuit, though none has yet materialized. Anyone looking for a piece of Anil's diminished fortune will have to get in line. He's being pursued by more than a dozen creditors. Among them is a group of three state-controlled Chinese banks that loaned $925 million to Reliance Communications to build its new network in 2012 and recently sued him in London, claiming he personally guaranteed the debt.
In a February hearing, Anil argued he never provided a personal guarantee and had nothing to give the banks anyway. He said his current personal assets amounted to $9 million, set against liabilities of more than $300 million. Judge David Waksman, however, expressed doubt that Anil's financial situation was really so dire. Given his access to a private jet, a yacht, and an 11-car motor pool, "there is good reason to suppose he is not being frank," Waksman said. Besides, the judge continued, there was always the possibility of more assistance from Mukesh; any suggestion Anil's brother couldn't afford to help would be "absurd."
In a statement read to the court, Anil disagreed. The fraternal bailout, he argued, was an event that wouldn't be repeated. "I confirm I have made inquiries," he said, "but I am unable to raise any finance from external sources." —With Upmanyu Trivedi, Ravil Shirodkar, Jonathan Browning, Bhuma Shrivastava, and Archana Chaudhary