India's Hindu Temples Use 'God's Gold' to Pay Pandemic Bills
With donations down because of Covid, they're tapping their Fort Knox-size trove.
(Bloomberg Businessweek) -- Collectively, Indians own the biggest private stash of gold in the world, and religious adherents have long donated gold to temples, often to honor deities associated with individual temples. Over the centuries, that's made the country's 3 million religious houses some of the world's largest holders of the precious metal. But now India's temples—shut for months because of the coronavirus pandemic and deprived of donations—are being forced to consider depositing some of their famed stashes of gold with banks to pay mounting bills.
Hindu temples hold as much as 4,000 tons of the precious metal, according to the World Gold Council, a stockpile as big as Fort Knox's and administered by trusts empowered by Indian law to act on behalf of the deity. The Travancore Devaswom Board, a prominent temple association in the southern state of Kerala, has for the first time decided to deposit some of its treasures with banks—which pay interest on gold deposits of varying terms—to raise funds and pay salaries, according to the board's president, N. Vasu. The Mint, an Indian financial newspaper, has reported that the Travancore Trust spends about 500 million rupees ($6.8 million) each month on salaries and other costs. "There is some opposition against using God's gold to pay wages," Vasu says. "But we took this tough decision because this is one of the toughest periods we have ever faced."
The Travancore Trust—which governs 1,248 temples including the Sabarimala shrine, a major pilgrimage destination—is looking at putting about a ton of the metal in a government-sponsored gold plan. It expects to earn interest of about 100 million rupees. A final decision will be taken only after inventorying holdings and evaluating opinions from devotees and bankers, Vasu says. The trust won't monetize any gold used in daily rituals, or ornaments that adorn the idols, he says. It's also petitioned the local high court for necessary permission to deposit its gold.
Gold is an emotional investment for Indians, and the temples' willingness to free their hoard from ancient vaults will confer much-needed legitimacy on banks' efforts to get people to monetize their personal holdings of the metal, says N. Anantha Padmanaban, chairman of the All India Gem and Jewellery Domestic Council. More gold in the market will mean the government won't need to import as much, conserving precious foreign currency and preserving the value of the Indian rupee.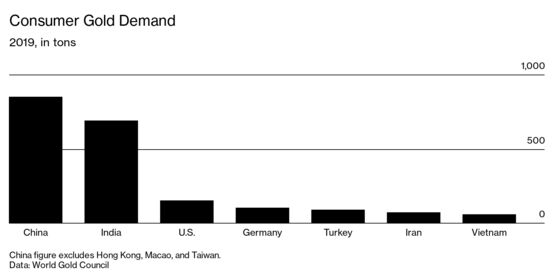 India imported a walrus's weight in gold every day in 2019, totaling about 647 tons for the year, about 60% of which is used to create jewelry that's often given as bridal gifts. Although UBS Group AG forecasts that demand for gold could fall by more than a third in 2020 as millions of citizens lose their jobs because of the pandemic, authorities could divert household savings toward more productive uses if they can persuade people to recycle gold.
Indian governments have been trying to do so for decades. The latest attempt came in 2015, when Prime Minister Narendra Modi announced a program where people can deposit gold with banks and receive interest payments. On maturity, they can choose to be repaid in gold or in rupees. The problem with the plan is that all the metal gets melted down to check for purity before being resold, which means depositors can never get their beloved heirlooms back.
Official data show the program collected only 20.5 tons from temples and trusts, mutual funds, gold exchange-traded funds, and others from its start in November 2015 to January 2020, a pittance compared with India's annual 700 to 900 tons of gold imports.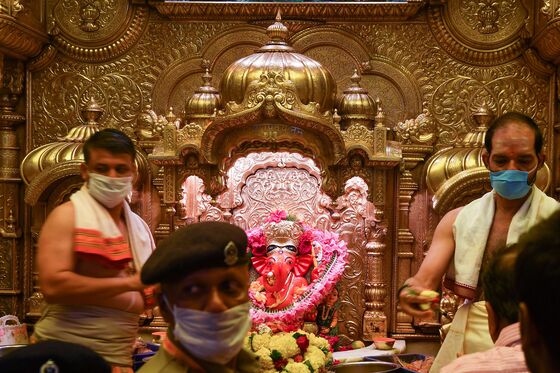 "The gold of the temple belongs to the gods," says Prayar Gopalakrishnan, a former president of the Travancore Devaswom Board. "Historically, governments used to exploit gold and land reserves of temples for their own revenue streams, leaving temples high and dry. If the temples want to use gold, there should be a sound legal framework that is as strong as traditional covenants."
The Tirumala Tirupati Devasthanams, among the wealthiest temple trusts in India, is also exploring ways to use its gold to increase monthly revenue, according to a statement on its website. Meanwhile, Modi's government held talks in August with top gold trade bodies and the biggest jewelers to figure out how to make its gold program more popular, Padmanaban says.
Not everyone is convinced it will work. "India's deep-rooted connection with gold suggests that a fundamental shift in mentality and attitudes is needed" before people can come around to recycling it, analysts at UBS, led by Tanvee Gupta Jain, wrote in an Aug. 25 report. "And this could take generations to play out."
 
Read next: The Strange Tale of Nelson Mandela's Gold-Cast Hands